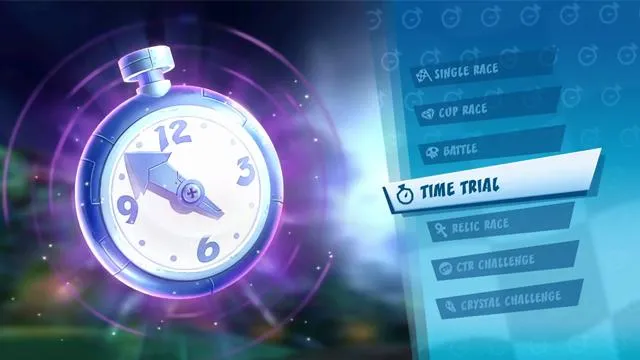 Time Trial in Crash Team Racing is a one-player game mode (as part of Local Arcade), where you race against the clock.
Pick any of the 32 tracks in CTR Nitro-Fueled, and speed through it as fast as you can for three laps to rank in the High Scores.
There are no rival racers here to slow you down, making this a great mode to practice your driving skills. Unlike Relic Races, there are also no time crates or power-ups, so this race comes down to just you against the road, and the clock.
After a Time Trial, your highest score is logged as a "Ghost" which is an exact replay of the best race you ran. Race against your "Ghost" and shave seconds off your own best time! Improve enough, and you will unlock N.Tropy's ghost, followed by the ultra-fast ghost of Nitros Oxide as a challenge for the real speed demons.
Beating all N. Tropy Ghost Times in all tracks unlocks him as a playable character and awards you "The New Time-Master" Trophy/Achievement. Beating all Nitros Oxide Ghost Times unlocks the "Gasmoxian Slug" Trophy/Achievement.
CTR Nitro-Fueled Time Trials Full List
Below you find the full list of Ghost Times to beat, for both N. Tropy and Nitros Oxide, in the Time Trials of all the 32 tracks available in the game.