Saints Row Vehicles List (2022) All Confirmed Cars and Bikes
On this page, you can find the full list of all the confirmed Saints Row Vehicles available in the game. Saints Row includes all kinds of Cars, Motorcycles, Trucks, aerial vehicles like Planes and Helicopters, as well as Boats and Drones.
Riding around in a vehicle in practically any video game is a good time, but when it comes to Saints Row, the joyriding experience is elevated to a whole new level. Saints Rows is known to make traversing its world exhilarating and beyond bonkers, whether you are cruising on a bike or flying around in a VTOL. Thankfully, this torch will be carried by the new installment of the franchise, Saints Row (2022).
Your car riding experience will not only continue where you left off, but it will amplify once the game drops in August. This addition to the Saints Row franchise is said by developers to have the deepest vehicle customization sets in the series.
You will have over 80 rides to collect and a pool of customization options to roam through. So far, there have been many vehicles confirmed for Saints Row, but before getting into that, let's check out the customization options.
Saints Row 2022 Vehicle Customization
There is an absurd amount of customization options just waiting for you come August.
It all starts with Jim Rob's, the shop for all your customization needs. Here, you can spend hours customizing your ride to be uniquely you.
You can also choose one of the presets that come with each vehicle if you'd rather get right into the action. After sprucing up your ride, you will be ready to take on all that Saints Row has to offer.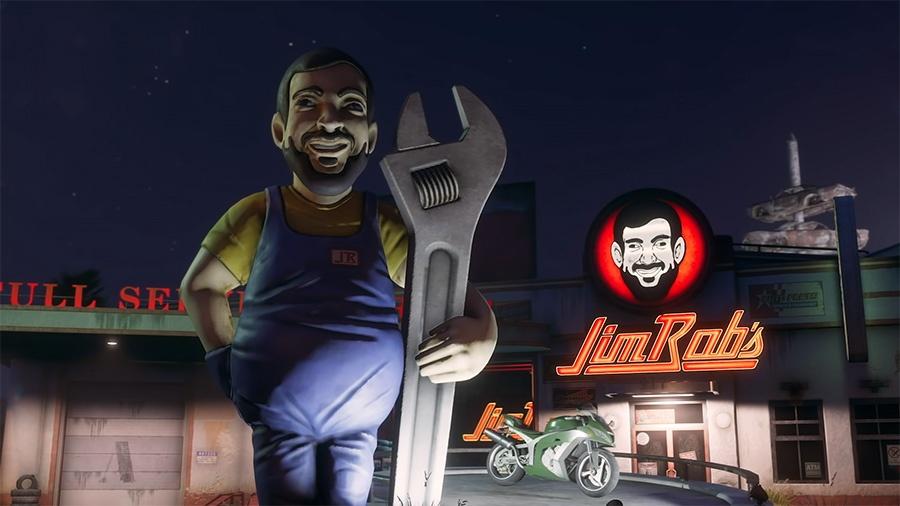 Saints Row Paint Job and Wheels
You will be able to sink your teeth into all this game has to offer, from the paint options to the wide range of wheels. You can change up the tire size, width, and profiles of our tires. You can also swap rim types and the axles on your car.
The paint job is the most important aspect of any vehicle and will ensure yours stands out from the bunch. Saints Row makes it possible to change not only your vehicle's color but the grime and age of your vehicle. You can also change parts of the vehicle's surfaces, like trim paint, interior color, rim paint, window tints, and decals.
Saints Row Vehicles Signature Abilities
We can't forget to mention the signature abilities for the 2022 Saints Row vehicles. Signature abilities allow you to ride around in style.
Craft Steering - No more sliding! With this ability's precise movements, you will escape the cops with ease.
Ball and Chain - Create pure chaos with this ball and chain. You will get the cops off your back and smash them senselessly.
Ejector Seats - Ejecto seato, cuz! After ejecting out of your ride, you can equip your wingsuit to ride around in the city.
Kneecappers - With this ability, cops will think twice before slamming into your tricked-out ride. You will slash the tires of your enemies and leave them in the dust.
Infinite Boost - You can stay ahead of the game (and the police) with this boost that never dies down.
More signature abilities will be revealed when the game comes out.
Other Features
There is much more this game has to offer, including the different body mods and audio options for your engine, horn, and transmission. Body mods allow you to customize vehicle parts, such as the body, bumpers, grille, hood, mirrors, skirts, and spoilers. Also, certain types of vehicles allow for more customization options.
There is an upgrade kit for all vehicles, each with a unique upgrade tier. You have the option of using nitro, an off-road kit, and a towing cable. To top it all off, you can match your driving style by adjusting the acceleration, nitro, and raw speed of your vehicle. This is only a glimpse into all you can do in Saints Row. Check out the confirmed Saints Row vehicles list below to know what to expect when the game comes out.
Saints Row 2022 Confirmed Vehicles List:
There are many types of vehicles ready for you when you start up Saints Row in August. This includes boats, food trucks, hoverboards, VTOLs, helicopters, and more.
If you've been on the lookout, you may have spotted a familiar car or two. It has been confirmed that there will be some returns in the returning series, but there are some new additions to the Saints Row cars catalog ready to make a big splash.
Here are the Saint Row vehicles that are confirmed for the game:
Attrazione
Bowelrod
Bullpup
Chicken a la King
Compton 1
Compton 2
Compton 3
Dreadnaught 1
Dreadnaught 2
Dustrider
Emu
Estada
Ethel
Frying Dutchman
Frying Dutchman 2
Gargantua
Gentry
Gibraltar
Grandad
Hammerhead
Heavyweight
Hopper
I Dream Of Weenie
MDI- 344T
MDI- 707B
MDI- 707B 2
Maximillian
Mockingbird
Mule
Olive
Olive 2
Palanquin
Phoenix
Ridglord
Saguaro
Shifty
Shifty 2
Six Shooter Samurai
Snake
Titan
Twisty Cream
Vindicator
Vindicator 2
Widowmaker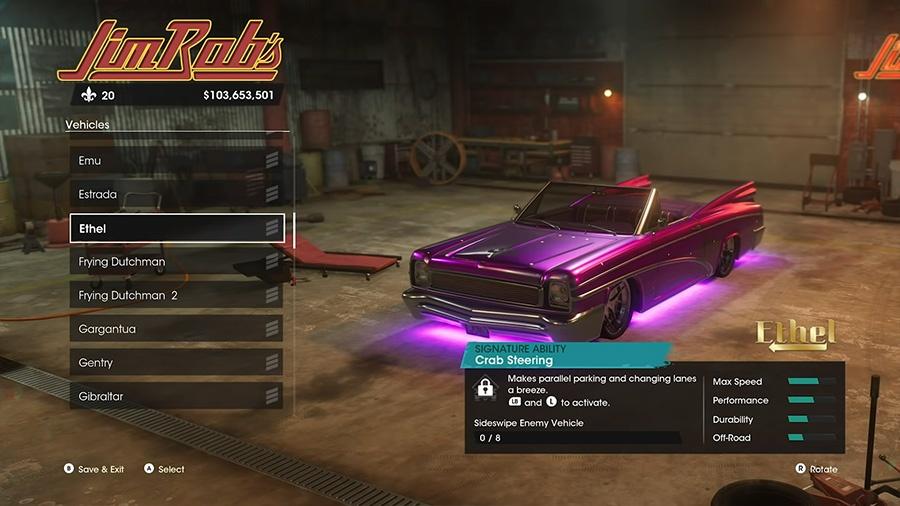 These are all the confirmed vehicles as of now. So, you can let out that sigh of relief now that the mainstay of the Saints Row series, the Attrazione, is back. There is also a hauntingly delicious new addition to the scene with the Frying Dutchman, a driving pirate ship.
Each ride sounds unique, so you should keep some on your radar. Based on the name alone, the Grandad should pique your interest. Also, there's a golden marker next to Bowelrod, which is still kind of a mystery in terms of meaning. Which of these vehicles could be among Saints Row's fastest cars or which has the potential to top your favorite?
What Vehicles Should Return in Saints Row 2022?
Saints Row has had some memorable vehicles throughout the years, but what would you like to see make a return? Specter is one of the Saints Row bikes from the past that would be perfect for the 80+ vehicles in the upcoming video game. Also, Salem and Yarnie would be a great way to dive into this wacky new journey.
Many of Saints Row's best cars could be on the horizon, and your favorite could be on the list. Saints Row 2022 cars will likely be the best in the franchise and we know you can't wait. But for now, hold on until August for that itch to be scratched.
---
Saints Row will release this summer on August 23, 2022, for Xbox Series X|S, PlayStation 5, Xbox One, PlayStation 4, and Windows PC via the EpicGames store.