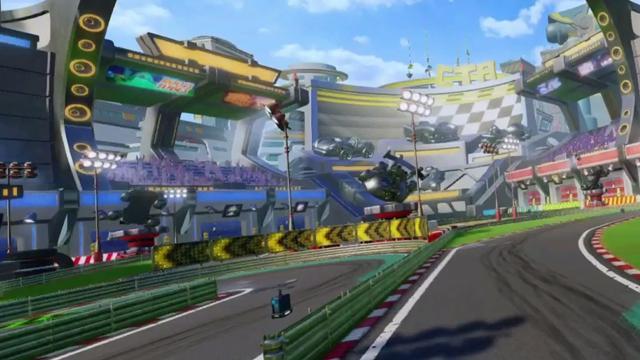 Turbo Track is a bonus track unlocked by completing all Gem Cups. It has only a relic race available in Adventure Mode.
As the track name suggests, there are many turbos throughout the course.
Track Information
How To Unlock

Complete all Gem Cups in Adventure Mode.

Track Number

18

Original Game

Crash Team Racing
Hub World Area

Gem Stone Valley

Wumpa Coins Rewards

1st
2nd
3rd
4th - 8th
Standard Reward
45
41
38
34
Weekend Bonus

x2

90
82
76
68
*Online Wumpa Time

x5

225
205
190
170
*Online + Weekend

x10

450
410
380
340

*When playing Online, each day WC Rewards get a x5 Daily Bonus Multiplier (called "Wumpa Time") during the first 30 minutes of gameplay. On weekends, there is a further x2 Multiplier.

WC per minute

19.85

WC (average based on Oxide Ghost Time)

Time Trial Ghosts

N. Tropy Time: 2:18:54
Nitros Oxide Time: 2:06:35

Relic Race Times

Sapphire: 1:45:00
Gold: 1:32:00
Platinum: 1:19:00

Notes

Adventure Mode Requirements: 1x Key + Red gem + Green gem + Blue gem + Yellow gem + Purple gem
Screenshots
Coming soon.
Video