Crash Team Racing Nitro-Fueled Battle Modes & Battle Arenas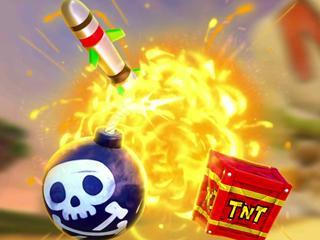 Got a score to settle? Battle Mode in Crash Team Racing Nitro-Fueled is where up to 4 local players or 8 online players can compete in several multiplayer match-ups.
Instead of racing on tracks, Battles consist in collecting weapons and attacking opponents on a host of dedicated Battle Arenas, strewn with weapons and power-ups.
In this page you find the full list of Battle Modes and all the Battle Arenas included in Crash Team Racing Nitro-Fueled.
CTR Nitro-Fueled Battle Modes
Crash Team Racing Nitro-Fueled includes the five unique Battle Modes featured in Crash Nitro Kart. Players compete to either deplete all of the other players' lives to zero, reach a certain score first, or gain the most points before the time runs out.
Before the game starts, you can adjust the rules to your preference. You can play in Free-For-All or Team Battles, and the available Weapons can be toggled on and off.
Limit Battle: Hit opponents with your favorite Power Ups to score points.
Capture the Flag: Grab the other team's flag and drive it through your team's portal to win. If you're holding the opponent's flag, your kart will be slower!
Crystal Grab: Collect the most crystals within the time limit. Getting hit by an enemy will prove to be costly!
Last Kart Driving: With a limited number of lives, hit your opponents before they hit you and be the last kart driving!
Steal the Bacon: There's only one flag for everyone in the middle of the arena. Grab it as quickly as you can and bring it back to your home portal. As with Capture the Flag, you'll be slower while holding the flag.
---
CTR Nitro-Fueled Battle Arenas
All Battle Arenas from both the original Crash Team Racing and Crash Nitro Kart are included in the game, for a total of twelve arenas.
Battle Arenas from Crash Team Racing
Battle Arenas from Crash Nitro Kart
Battle Arenas are also the home of Crystal Challenges, a game mode where you must collect 20 crystals before the Timer runs out. Four Arenas Crystal Challenges are featured as "Bonus Rounds" in Adventure Mode, while the others can be played in Local Arcade.
Completing the Crystal Challenges on all of the Battle Arenas unlocks the "Oh, Shiny!" Trophy / Achievement.
---
Battle Mode Rules Settings
When setting up a Battle Mode match-up, you can customize several rules and win conditions.
In Crash Team Racing Nitro-Fueled it's possible to play Battle Mode even as a single player, thanks to the addition of the AI Drivers setting.
Here is the full list of options available:
Type: The Battle can have a Point Limit, Time Limit or Life Limit System. In certain modes the type cannot be changed, while in other modes multiple limit types can be active at the same time:

Point Limit: The first player to achieve 5, 10, or 15 Points wins.
Life Limit: Each player has a set amount of Lives (3, 6, or 9), and the battle can also have a time limit. The battle lasts until only one player is left standing.
Time Limit: The player with the highest points or lives left after 3, 6, or 9 Minutes wins.

Players: Select the number of human-controlled drivers, from 1 to 4 local players, or from 1 to 8 online players.*
AI Count: Select the number of computer-controlled drivers, from 0 (none) to 7.*

AI Difficulty: Select the difficulty level of computer-controlled drivers (Easy, Medium, or Hard)

Teams: Certain battles can be played in Free-For-All or Team variations. There can be any number of Teams set up, as long as the number of drivers (Players + AI) is higher than the number of Teams.
Power-Ups: Select the weapons and power-up that will be available in crates during the Battle. Each weapon can be toggled on and off. Battle Mode also has two exclusive power-ups: Invisibility and Super Engine.
*The combined total number of drivers (Players + AI) must always be a minimum of 2 and a maximum of 8.