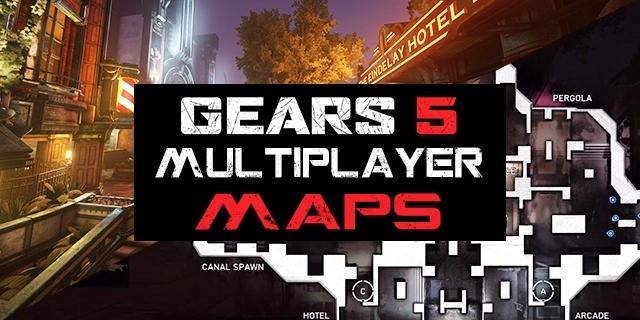 Gears 5 Maps List
This page features all Gears 5 Multiplayer Maps available in the game. The full list of Gears of War 5 Maps includes all the playable areas for multiplayer modes Versus, Escalation, King of the Hill, Team Deathmatch, Escape, Horde, Arcade, and the rest of the mainstay online modes. Click on a Map to see all the levels' info, layout / overhead images, and points of interest.
Arena-Style Maps (Versus & Horde Modes):


---
Free For All Maps:
14 players go head-to-head and the first to 30 kills wins. This fan-favorite game type is back with more mayhem than ever before. No team, just skill.
2v2 Gnasher Maps:
Grab your partner and your Gnashers- this old favorite is back. The ultimate game type for quick, up-close action.
---
Full list of Gears 5 Multiplayer Maps:
Asylum
Bunker
District
Exhibit
Icebound
Training Grounds
Vasgar
Returning from Gears 4:
Dam
Forge
Foundation
Harbor
Reclaimed
Lift
Launch Hives Maps (Escape Mode):

The Hive
The Descent
The Mines
The Gauntlet
READ MORE: Gears 5 Multiplayer Characters
Operation Maps / Extra DLC Maps
There will be also further DLC maps which will include brand new maps and remastered maps from older Gears of War games. The Coalition has confirmed that Gears 5 has no Season Pass, and that all maps added to the game after launch will be totally free. Gears 5 will make DLC maps free for matchmaking and private play to not divide up the community of players.
Gears 5 Operation 2 Maps List:
Allfathers Arena
Lift
Core (FFA Map)
Nethercutt (FFA Map)
Pit (FFA Map)
Boxes (2v2 Map)
Mid (2v2 Map)
Gears 5 Operation 3 Maps List - Gridiron:
Pahanu
Canals
Arena (2v2 Map)
Annex (2v2 Map)
Gears 5 Operation 4 Maps List - Brothers In Arms:
Blood Drive
Checkout
Reactor
Gears 5 Operation 5 Maps List - Hollow Storm:
Clocktower
Gridlock
Nexus
Regency
River
War Room (FFA Map)
Gears 5 Operation 6 Maps List:
Gears 5 Operation 7 Maps List:
Ephyra
Mercy
Mercy (2v2 Map)
Gears 5 Operation 8 Maps List:
Map Builder
Players will be able to create, play, and share, custom Escape hive map with the brand-new Map Builder. Create your own Escape levels with lots of different kinds of customization options and challenge your friends.


Gears of War 5 released on September 10, 2019, for Xbox One, Xbox One X, and Windows PC.