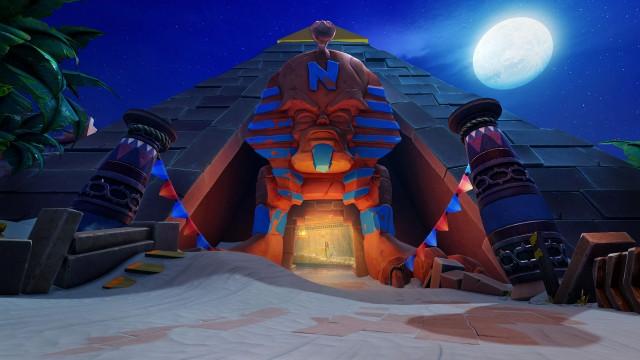 Twilight Tour is a new original track in Crash Team Racing Nitro-Fueled added as part of the "Nitro Tour Grand Prix" seasonal event.
The track is a combination of the Ancient Egypt and Arabia themes present in Crash Bandicoot: Warped. The track starts at night time in Egypt, before entering an ancient tomb that emerges into Arabia at day time. This then leads into a market street that re-emerges back into Egypt at night.
Track Information
Wumpa Coins Rewards

1st
2nd
3rd
4th - 8th
Standard Reward
50
45
43
38
Weekend Bonus

x2

100
90
86
76
*Online Wumpa Time

x5

250
225
215
190
*Online + Weekend

x10

500
450
430
380

*When playing Online, each day WC Rewards get a x5 Daily Bonus Multiplier (called "Wumpa Time") during the first 30 minutes of gameplay. On weekends, there is a further x2 Multiplier.

WC per minute

18.29

WC (average based on Oxide Ghost Time)

Time Trial Ghosts

N. Tropy Time: 2:44:23
Nitros Oxide Time: 2:34:22

Relic Race Times

Sapphire: 2:00:00
Gold: 1:50:00
Platinum: 1:34:00

Notes

New Original Track added to the game as part of the "Nitro Tour Grand Prix" (Season 1), on July 3, 2019.
Screenshots
Video