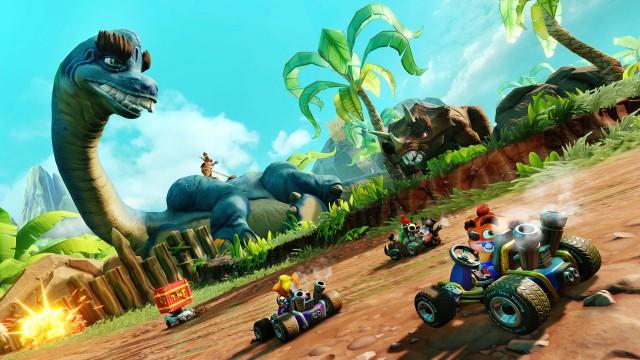 Prehistoric Playground is a new original track in Crash Team Racing Nitro-Fueled added as part of the "Back N. Time Grand Prix" seasonal event. As the name implies, the track has a prehistoric theme.
This new track for the Back N. Time Grand Prix will immerse racers in an epic world with Jurassic-sized flora, violent geysers bursting from the ground, caves with mysterious wall-paintings, and of course, giant dinosaurs roaming the land.
There are also some other, strangely familiar, characters throughout – let's just say that Fake Crash would feel very comfortable in this Prehistoric world home to an ancient tribe that bears a striking resemblance...
Track Information
Wumpa Coins Rewards

1st
2nd
3rd
4th - 8th
Standard Reward
59
53
50
44
Weekend Bonus

x2

118
106
100
88
*Online Wumpa Time

x5

295
265
250
220
*Online + Weekend

x10

590
530
500
440

*When playing Online, each day WC Rewards get a x5 Daily Bonus Multiplier (called "Wumpa Time") during the first 30 minutes of gameplay. On weekends, there is a further x2 Multiplier.

WC per minute

20.7

WC (average based on Oxide Ghost Time)

Time Trial Ghosts

N. Tropy Time: 3:00:08
Nitros Oxide Time: 2:41:36

Relic Race Times

Sapphire: 2:25:00
Gold: 2:05:00
Platinum: 1:40:00

Notes

New Original Track added to the game as part of the "Back N. Time Grand Prix" (Season 2) on August 2, 2019.
Screenshots
Video