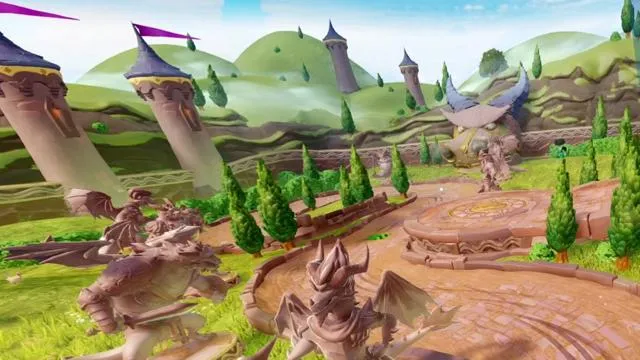 Spyro Circuit is a new original track in Crash Team Racing Nitro-Fueled added as part of the "Spyro N. Friends Grand Prix" seasonal event.
The track is based on several different worlds from the Spyro universe, and Beenox has gone the extra mile to really add some Spyro flair to it:
The Wumpa Fruit have been replaced by gems, power-up crates are now chests, and Sparx appears instead of invincibility masks! Even the soundtrack will be familiar to Spyro fans.
Track Information
Wumpa Coins Rewards

1st
2nd
3rd
4th - 8th
Standard Reward
48
43
41
36
Weekend Bonus

x2

96
86
82
72
*Online Wumpa Time

x5

240
215
205
180
*Online + Weekend

x10

480
430
410
360

*When playing Online, each day WC Rewards get a x5 Daily Bonus Multiplier (called "Wumpa Time") during the first 30 minutes of gameplay. On weekends, there is a further x2 Multiplier.

WC per minute

19.2

WC (average based on Oxide Ghost Time)

Time Trial Ghosts

N. Tropy Time: 2:33:09
Nitros Oxide Time: 2:20:54

Relic Race Times

Sapphire: 1:30:00
Gold: 1:20:00
Platinum: 1:13:00

Notes

New Original Track added to the game as part of the "Spyro N. Friends Grand Prix" (Season 3), on August 30, 2019.
Screenshots
Video