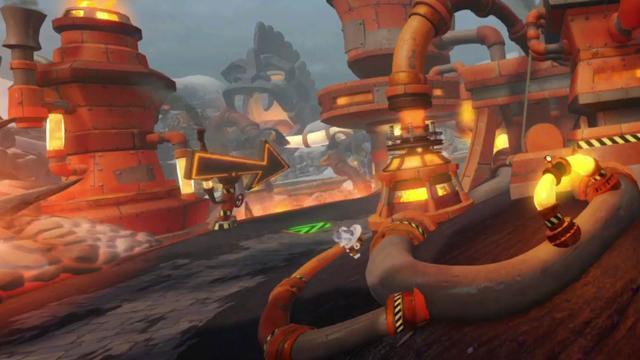 It is always snowing in Meteor Gorge, however there is lava underneath the ground as shown when a racer misses a jump. The ice on the track will make the racers go faster, while the ice on the sides will make the them go slower.
Track Information
Hub World Area

Barin

Wumpa Coins Rewards

1st
2nd
3rd
4th - 8th
Standard Reward
34
31
29
26
Weekend Bonus

x2

68
62
58
52
*Online Wumpa Time

x5

170
155
145
130
*Online + Weekend

x10

340
310
290
260

*When playing Online, each day WC Rewards get a x5 Daily Bonus Multiplier (called "Wumpa Time") during the first 30 minutes of gameplay. On weekends, there is a further x2 Multiplier.

WC per minute

18.72

WC (average based on Oxide Ghost Time)

Time Trial Ghosts

N. Tropy Time: 1:45:56
Nitros Oxide Time: 1:39:00

Relic Race Times

Sapphire: 1:45:00
Gold: 1:28:00
Platinum: 1:10:00
Screenshots
Coming soon.
Video