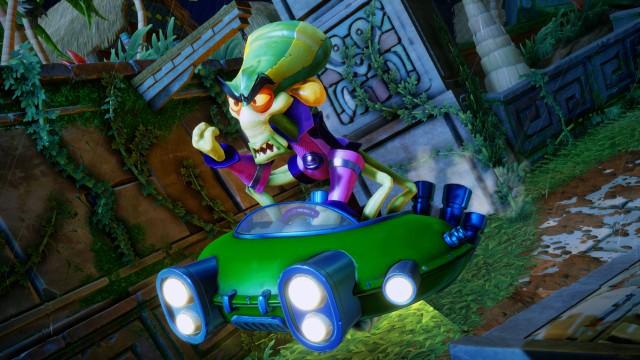 Nitros Oxide is an alien from the planet Gasmoxia, and is the main antagonist and Final Boss in Crash Team Racing.
He came to Earth to challenge the planet's people to a racing contest he called "Survival of the Fastest". He said that if Earth's inhabitants won the contest then he would leave Earth alone, but if he won he would turn Earth into a giant concrete parking lot and enslave the inhabitants of the planet.
In CTR Nitro-Fueled, Oxide can now be unlocked as a playable character after defeating him in Adventure Mode. He is classified as a Intermediate character, with Acceleration being his best stat. His home track is Oxide Station.
Character Statistics
Speed

4 / 7

Acceleration

7 / 7

Turn

3 / 7
Hub World Area

Gem Stone Valley

Kart Body

Hovercraft - Green

Skins Variations

Beetle Nitros Oxide
Watermelon Nitros Oxide
Lady Bug Nitros Oxide
Hot Rod Nitros Oxide [L]
Shower Cap Nitros Oxide [L]
Star Nitros Oxide (Nitros Oxide Edition) [L]

Home Track

Oxide Station

Affiliation / Team

Team Oxide

Notes

Oxide wasn't playable in the original version of Crash Team Racing.
Screenshots
Artworks
Videos