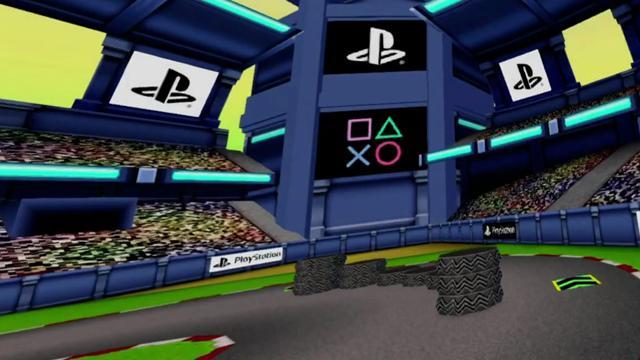 Retro Stadium is a PlayStation 4-exclusive race course. It is based on Turbo Track from Crash Team Racing, and is styled to look similar to how it did on the original PlayStation.
It has the same layout as Turbo Track and most of the environment is the same, with the exception of the stadium having PlayStation banners on it.
Track Information
Wumpa Coins Rewards

1st
2nd
3rd
4th - 8th
Standard Reward
45
41
38
34
Weekend Bonus

x2

90
82
76
68
*Online Wumpa Time

x5

225
205
190
170
*Online + Weekend

x10

450
410
380
340

*When playing Online, each day WC Rewards get a x5 Daily Bonus Multiplier (called "Wumpa Time") during the first 30 minutes of gameplay. On weekends, there is a further x2 Multiplier.

WC per minute

19.85

WC (average based on Oxide Ghost Time)

Time Trial Ghosts

N. Tropy Time: 2:18:54
Nitros Oxide Time: 2:06:35

Relic Race Times

Sapphire: 1:45:00
Gold: 1:32:00
Platinum: 1:19:00

Notes

Retro version of "Turbo Track". This track is exclusive to the PS4 Version of the game.
Screenshots
Video