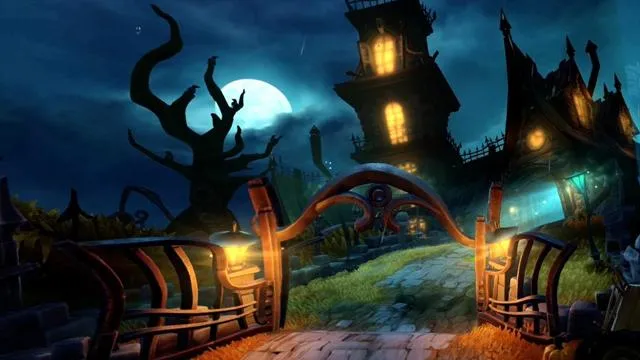 Nina's Nightmare is a new original track in Crash Team Racing Nitro-Fueled added as part of the "Spooky Grand Prix" seasonal event.
In this new Halloween themed track, you will race through misty marshes, eerie gardens, and twisted hallways of a haunted manor.
Dodge your way around pumpkins spitting green ooze that can slow you down to a dead stop. Keep your head in twisted hallways under the foreboding eyes of ancestors long since passed. Then, confront the most terrifying sight of all – a beastly spider-pumpkin hellbent on stomping you into the ground!
Track Information
Wumpa Coins Rewards

1st
2nd
3rd
4th - 8th
Standard Reward
45
41
38
34
Weekend Bonus

x2

90
82
76
68
*Online Wumpa Time

x5

225
205
190
170
*Online + Weekend

x10

450
410
380
340

*When playing Online, each day WC Rewards get a x5 Daily Bonus Multiplier (called "Wumpa Time") during the first 30 minutes of gameplay. On weekends, there is a further x2 Multiplier.

WC per minute

21.09

WC (average based on Oxide Ghost Time)

Time Trial Ghosts

N. Tropy Time: 2:11:00
Nitros Oxide Time: 1:58:00

Relic Race Times

Sapphire: 1:13:44
Gold: 0:57:04
Platinum: 0:45:47

Notes

New Original Track added to the game as part of the "Spooky Grand Prix" (Season 4) on October 4, 2019.
Screenshots
Video