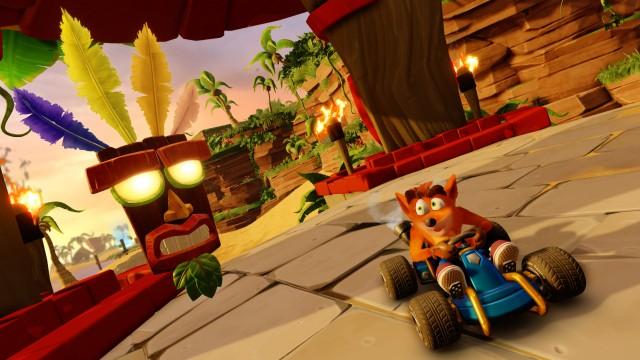 The fate of the world hangs in the balance
Adventure Mode is the single-player, story-based game mode of Crash Team Racing Nitro-Fueled. The sinister alien Nitros Oxide, the self-proclaimed fastest racer in the galaxy, comes to Earth seeking a worthy racing opponent.
Become the best racer on the planet so you can race against Nitros Oxide and save the world from becoming a concrete parking lot where everyone would serve as Oxide's minions!
Mode Variations
In CTR Nitro-Fueled, Adventure Mode comes in two variants. Before starting your Adventure, you can choose between these gameplay options:
Classic Mode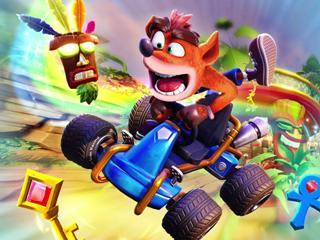 Play the original experience just as it was back in the original Crash Team Racing, except updated with new visuals. You can only pick one character to use from start to finish, and your opponents are chosen from the original cast. There is no difficulty setting and no customization, but you'll still get all the new rewards!
Nitro Fueled
This is a new way to play Adventure Mode. With this variant, you can play with any item you've unlocked. You have the freedom to switch and customize your character and kart as you see fit at any point during the adventure. Expect your rivals to sport some new looks too! You can also choose between three difficulty settings.
World Areas & Trophy Races
Adventure Mode begins on "N. Sanity Beach", the first of four Areas (along with "The Lost Ruins", "Glacier Park" and "Citadel City") you must conquer before you can challenge Nitros Oxide in "Gem Stone Valley". You can use Areas to practice your driving skills, save your game, and compete in races.
In each area, you can access four Race Tracks by driving onto active Warp Pads, which are indicated by a flashing Dot on the minimap. Each track features a three-lap race for first place against seven other competitors. Finishing a track in first place earns you a Trophy.
Trophies activate Warp Pads and unlock other tracks within an Area. The amount of Trophies required to activate a Warp Pad and unlock the track is indicated by a number floating about the Warp Pad.
Once you've completed all four standard tracks in an Area and collected the four trophies, a Boss Door opens, unlocking the Boss Race of that Area.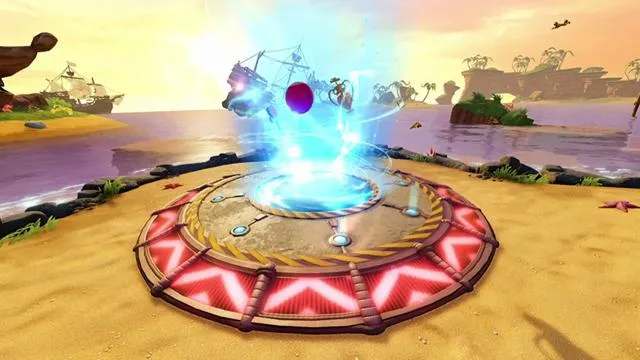 Boss Races
Each Area has a Boss who you must beat in a one-on-one race in order to progress to another Area. Boss races are indicated by a star on the minimap.
Winning a Boss race awards you a Boss Key, which is then used to unlock Area Doors that lead to new Areas. Area Doors are indicated by a double arrow icon on the minimap. Some Area Doors require more than one Boss Key to open.
Boss Races are more challenging than standard races, as bosses throw an unlimited amount of Weapons behind them. Ripper Roo drops TNT Crates, Papu Papu drops Beakers, Komodo Joe drops Nitro Crates and throws TNT Crates, and Pinstripe Potoroo throws Bowling Bombs.
Defeat all four of them and claim their keys: it's the only way to unlock the final battle against Nitros Oxide. Look out, as Oxide will throw all of the other bosses weapons and even have a head start!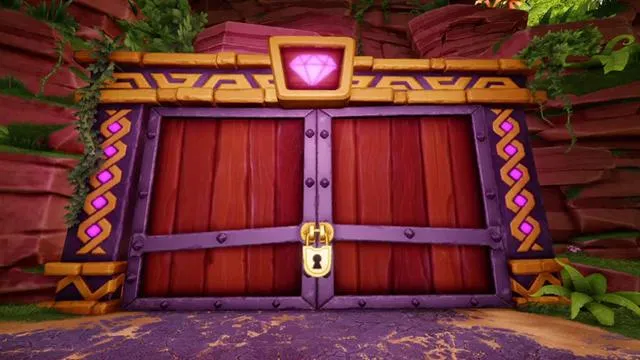 Other Races & Challenges
After dealing with an Area Boss, the Adventure Mode experience features various other types of races and challenges to complete.
If you re-enter a track where you've already successfully won the Trophy, you can compete in CTR Challenges and Relic Races. These additional racing scenarios are optional endeavors, but they are required for completing the Adventure Mode at 100%.
Relic Races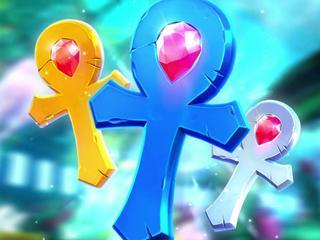 In a Relic Race, you speed through the track alone and try to get the fastest (lowest) time possible. If you get a fast enough time, you will be awarded a Sapphire Relic. With even faster times, you can win a Gold Relic, or the much coveted Platinum Relic!
During a Relic Race, Time Crates are scattered throughout the track. Smash through these crates to freeze the clock for the number of seconds indicated on the crate (1, 2 or 3 seconds). And if you can break all the Time Crates on the track, you'll be awarded a Perfect Bonus of ten seconds off your time in the end!
After earning relics in 10 different tracks, you will unlock a new bonus track to compete in: "Slide Coliseum".
CTR Challenges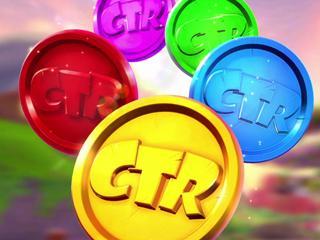 These races will send you on diversions to find the letters "C", "T", and "R" throughout the track. Those letters can be hidden in some fiendishly-cunning locations, and you need to collect all three while still finishing in first place to earn a CTR Token.
There are five different colors of CTR Tokens: Red, Blue, Green, Yellow and Purple. Collecting four CTR Tokens of the same color will open up the respective Gem Cup event.
Crystal Challenges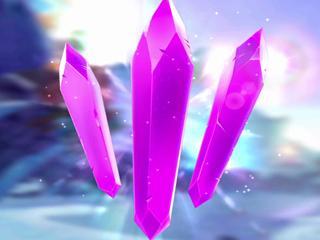 Crystal Challenges are Bonus Rounds in Adventure Mode. There are four of these, one in each World Area, and they become available after defeating the respective Boss.
In each Round, you must explore an arena and collect all 20 crystals before the Timer runs out (within a strict time limit). Be careful, there are dangerous obstacles scattered around. Succeed, and you will be awarded a Purple CTR Token.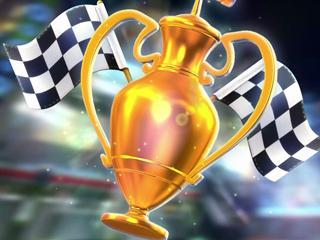 Once you've obtained four CTR Tokens of the same color, the respective Gem Cup Warp Pad will become available in "Gem Stone Valley".
There are five Gem Cups, one for each color. A Gem Cups consists in a series of four races with an accumulating score for each race. Beat all opponents to be awarded a Gem and unlock some extra rewards!
After winning all five Gem Cups, you will unlock a new bonus track to compete in: "Turbo Track".

Rewards
No matter which version of Adventure Mode you pick ("Classic" or "Nitro Fueled"), your unlockable rewards will be the same.
As you play through the Adventure Mode, you'll unlock characters, character skins, and kart customization items (decals, wheels, stickers, and paint jobs) to make your Character and Kart unique!
Also, the boss characters are now unlocked immediately after beating them, instead of after winning a Gem Cup. This includes the ability to earn the infamous Nitros Oxide himself!
Character Selection and Kart Customization
If you're playing Adventure Mode in the "Nitro Fueled" variation, you can press the menu button at any point while in an Area to access the Customization menu.
Here you can choose the Character you want in the driver's seat along with a character skin, and you can customize the body, wheels, paint job, decal and sticker for your Kart.
Saving & Loading the Game
Crash Team Racing Nitro-Fueled uses an automatic save system, and your progress will be saved when you complete races and the other endeavors.
Just like the original CTR, you can also manually save your progress (up to 4 save slots) or load a saved game at any time while you're in an Area. Simply drive up to green Load/Save Points and follow the directions on the screen. Load/Save screens are indicated by a green bar on the minimap.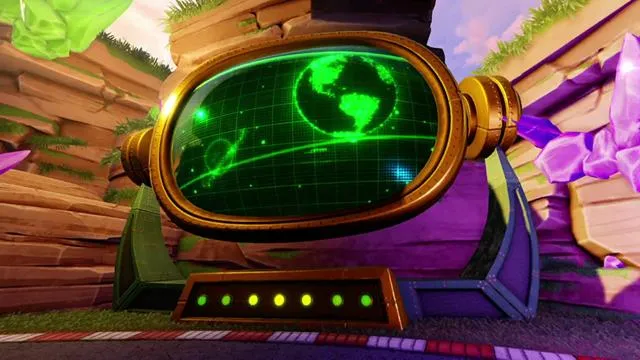 Crash Nitro Kart
Only the Adventure Mode from the original Crash Team Racing is featured in CTR Nitro-Fueled. The Adventure Mode from Crash Nitro Kart is not playable the game.