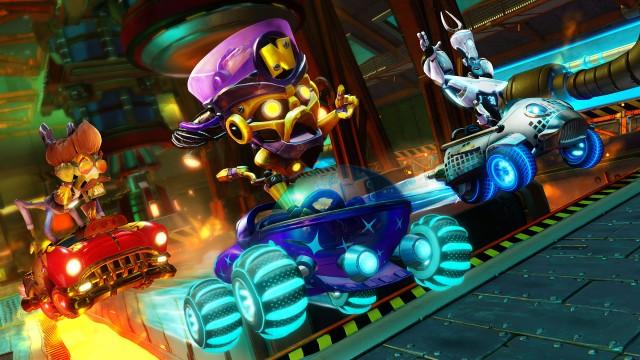 Picking a racer has never been more fun!
Featuring all the characters from Crash Team Racing and Crash Nitro Kart, CTR Nitro-Fueled offers you more racers and more customization than ever before!
In addition to the ability to customize karts, you can customize Racers with "N. sane" Character Skins. This allows you to adorn characters with a zany sense of swag and personality.
Also new to the CTR experience are unique podium animations available to certain skins, making celebrating victories even more amazing.
Character Skins Types
Other than the Basic appearance of the Characters, there are two tiers of Character Skins in CTR Nito-Fueled: Exotic and Legendary.
Exotic Skins share the same models and animations as the default character, but with different fur color schemes. They can be unlocked by winning races and by progressing through Adventure mode.
Legendary Skins have unique models, wear crazy outfits, and they come with their own special podium animations. They can be purchased in the Pit Stop with Wumpa Coins and unlocked via Grand Prix. Legendary Skins are marked in the list below with [L].
PlayStation 4 players can also re-live the '90s with PS4 Exclusive Retro Skins for Crash, Coco, and Cortex.
Character Skins Full List
Below you find the full list of all Character Skins available in Crash Team Racing Nitro-Fueled, including Exotic and Legendary Skins [L], and with a note for those exclusive to certain editions or bonuses.