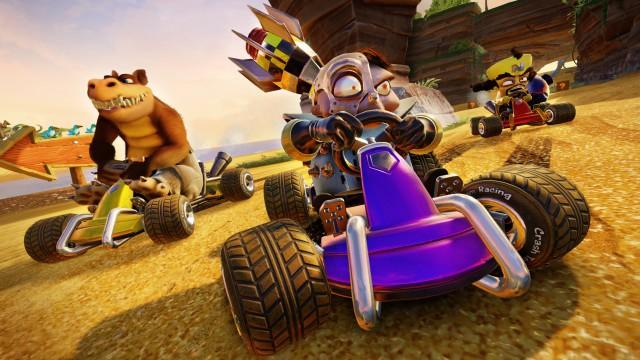 Doctor N. Gin an insane cyborg lackey who gives assistance to Doctor Neo Cortex. He used to be a world-renowned physicist until a freak accident lodged a missile into his head.
He is one of the eight starter characters in Crash Team Racing. He is classified as a Intermediate character, with Acceleration being his best stat, and his home track is N. Gin Labs.
N.Gin has high acceleration making him a good choice for tracks overrun with obstacles. The accident may have cost him his sanity, but maybe it made him a better driver?
Character Statistics
Speed

4 / 7

Acceleration

7 / 7

Turn

3 / 7
Kart Body

Classic - Violet

Skins Variations

Blue N. Gin
Yellow N. Gin
Green N. Gin
Ballerina N. Gin (from Crash Tag Team Racing) [L]
Chef N. Gin [L]
Crash Test Dummy N. Gin (Nitro Tour Grand Prix) [L]

Home Track

N. Gin Labs

Affiliation / Team

Team Cortex

Notes

This character is playable immediately from the start of the game.
Screenshots