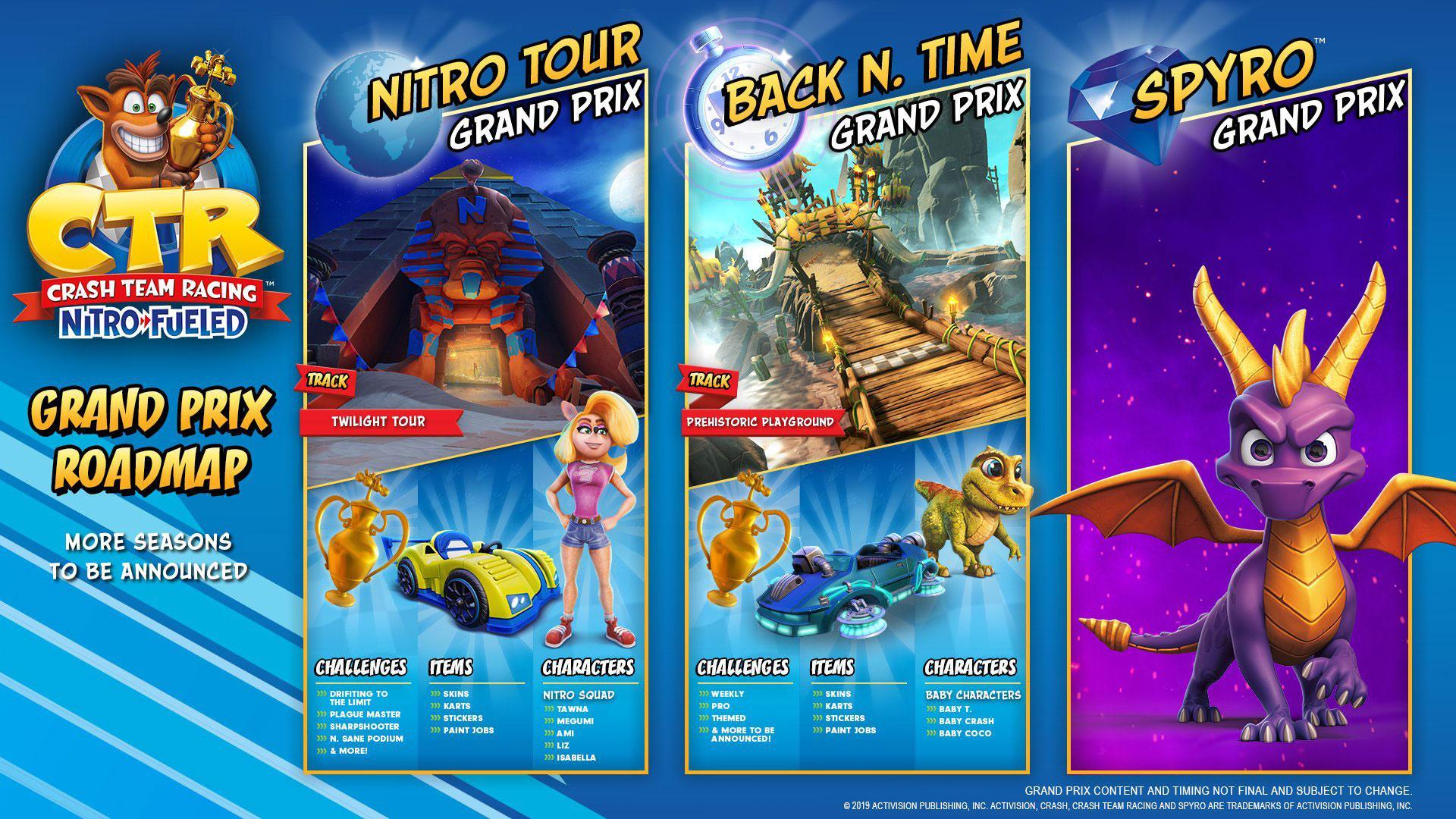 Crash Team Racing Nitro-Fueled kicks into another gear with the Grand Prix!
In Crash Team Racing Nitro-Fueled players can take part in the Grand Prix, a series of seasonal events, free to anyone who has purchased the game and with an internet connection.
A Grand Prix features bonus themed content including new tracks, characters, items, and challenges.
The first of these - the Nitro Tour Grand Prix - kicked off on July 3, 2019.
How does the Grand Prix work in CTR Nitro-Fueled?
At the start of each Grand Prix event, players are introduced to a series of racing challenges to complete and earn Nitro Points. As you collect Nitro Points, you start filling up your Nitro Gauge, unlocking a specific set of rewards including special karts, character skins, and customization items.
You can also use Wumpa Coins in the Pit Stop - which are earned in Grand Prix events as well as Adventure Mode, Local Arcade and Multiplayer Mode - to unlock even more new characters, karts, skins, and kart customization items. A new set of items is introduced to the Pit Stop at the beginning of each Grand Prix.
Finally, each Grand Prix comes with a bonus Race Track that will be playable online or offline from that point on, as long as the player has downloaded the game update that kicks off the Grand Prix.
New characters unlockable as part of Grand Prix events include Tawna, the Nitro Squad (former Trophy Girls), Baby T. and even Spyro the Dragon. Reimagined karts and inspired tracks from Crash Tag Team Racing are also sliding their way through the game!
How do I access the Grand Prix?
After each Grand Prix starts, all you should have to do is start Crash Team Racing Nitro-Fueled while connected to the internet, download the game update (which begins automatically in most cases), and you're ready to jump into the Grand Prix!
You can access the Grand Prix menu by entering the "Grand Prix" section from the game's main menu screen. The Grand Prix menu shows you your Nitro Gauge progress, the lists of Quick Challenges, Daily Challenges, Weekly Challenges, Themed Challenges and Pro Challenges, and allows you to see the Championship Leaderboard and Nitro Leaderboard.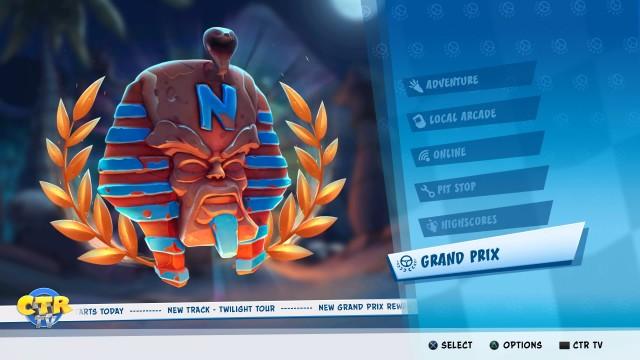 What are Nitro Points in CTR Nitro-Fueled?
Similar to experience points (XP), Nitro Points are earned by completing challenges in the Grand Prix.
The more challenges you complete, the more Nitro Points you can earn, filling up your Nitro Gauge. Progressing through Grand Prix challenges fills up the Nitro Gauge, unlocking a series of unique rewards including additional karts, character skins, and customization items, and even a new character each season.
The amount of Nitro Points you earn varies based on the difficulty of the challenge you complete.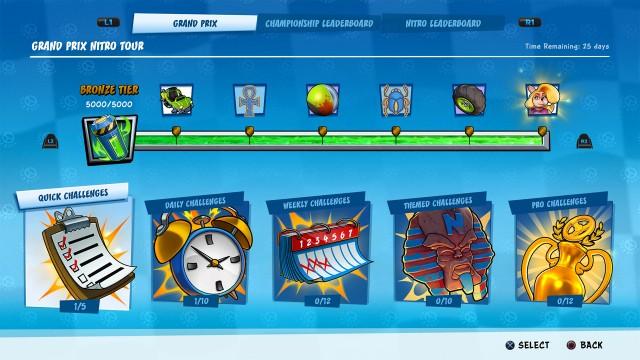 CTR Nitro-Fueled Grand Prix Challenges
Grand Prix Challenges include top speed, power slide, reverse, and other competitive challenges, and they vary from easy to quite hard, increasingly testing your skill as the season goes on.
The simpler challenges found in the "Quick" or "Daily" challenge sections offer anywhere from 75 to 150 Nitro Points each (for simpler challenges such as winning a race, or performing 10 trick jumps with a certain character).
This is opposed to the Challenges found in the "Pro" section, which offer more hefty Point amounts, anywhere from 250 to 750 Nitro Points (for more difficult challenges such as winning a race driving in reverse during the last lap).
Overall, these Nitro Points help you fill up that Nitro Gauge to earn more and more items as you race through the Grand Prix season.
Nitro Gauge Tiers
There are 3 tiers to your Nitro Gauge. Each tier requires you to reach a certain number of Nitro Points before you complete that tier:
Bronze Tier: 5,000 Nitro Points
Silver Tier: 12,000 Nitro Points
Gold Tier: 25,000 Nitro Points
This means that at some point you'll want to make sure you are tackling harder challenges in order to start reaching the higher tiers and earning the awesome rewards!
Bonus Nitro Points Boost (Nitro Cannister)
One way to help boost your Nitro Points as you fill up your Nitro Gauge is by racing with one of the items with a Nitro Cannister indicator in the Pit Stop.
When you visit the Pit Stop during each Grand Prix season, you'll see that there are certain items that have a Nitro Cannister over them with a percentage listed next to it. You'll notice the same thing in the customization menu over the same icons.
This icon indicates that players will get a boost to their Nitro Points during that Grand Prix season when racing with that item equipped. For instance, if you unlock a set of wheels in the Pit Stop which has a Nitro Cannister and +5% next to it, you will get a 5% Nitro Point boost when completing challenges when racing with those wheels.
Even better, the percentage increase stacks with each specially marked item you have equipped, so you have the opportunity to earn some serious Nitro Points by equipping several of these items at once!
What are the Grand Prix Leaderboards in CTR Nitro-Fueled?
All-new Grand Prix Leaderboards track the rankings of Crash Team Racing Nitro-Fueled players from around the world, and top racers can win additional in-game rewards! Grand Prix Leaderboards include:
The Championship Leaderboard
The Championship Leaderboard tracks players' performance in that specific Grand Prix via a points-based system.
This system is pretty straightforward, and is based on where you place in each Online Matchmaking race you play during that Grand Prix.
1st Place: 12 Points
2nd Place: 9 Points
3rd Place: 7 Points
4th Place: 5 Points
5th Place: 4 Points
6th Place: 3 Points
7th Place: 2 Points
8th: Place: 1 Point
The Nitro Leaderboard
There is also the Nitro Leaderboard which tracks total Nitro Points earned during that Grand Prix. The more Nitro Points you gather, the higher you'll climb the leaderboard!
Leaderboard Rewards
Finish a Grand Prix event in the top 5 percent of either leaderboard to win unique rewards!
Leaderboards will reset for each Grand Prix, and first-time winners can earn the Champion Kart set and the Grand Prix's Signature Decal. Each Grand Prix thereafter will offer the Champion Kart set for first-time winners and will have its own Signature Decal that can be won even if you're a repeat winner.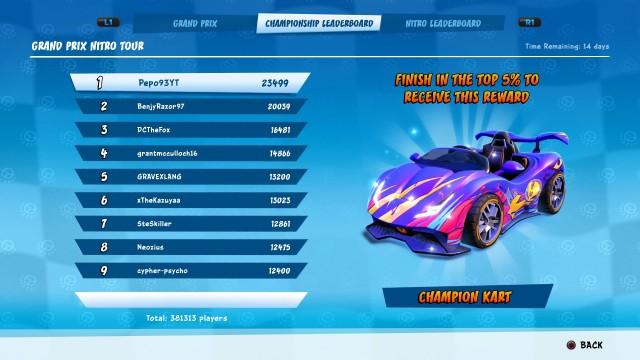 What is Crash Team Racing TV (CTR TV)?
Crash Team Racing TV (CTR TV) is a Message of the Day feature that acts as a ticker at the bottom of your screen on the game's main menu, letting you know important details for the current Grand Prix such as the Track of the Day and the Daily Star.
Additionally, you'll be greeted each season by the beloved rooster commentator duo, Chick and Stew (originally from Crash Tag Team Racing), who will introduce you to the big ticket rewards you can earn during that season.