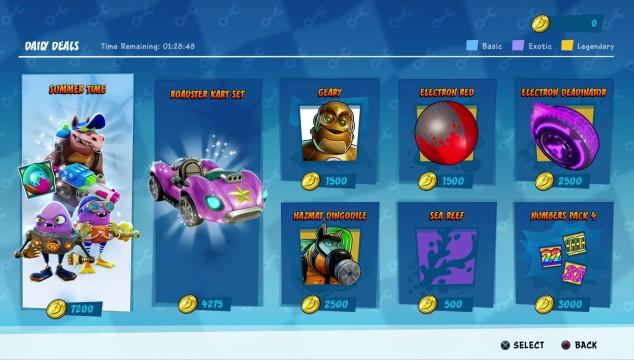 Crash Team Racing Nitro-Fueled provides players with an assortment of options to customize their kart and character. Through the Customization menu, you can choose the character you want in the driver's seat, equip them with some pretty cool skins, and you can customize the body, wheels, paint job, decal for your Kart, and even add a sticker.
To start with, players have access to all of the original characters and kart colors in the Customization menu. Some locked options (including characters, skins, and customization items) can be accessed by completing specific tasks or challenges in Adventure mode, while others can be purchased in the Pit Stop Area using Wumpa Coins.
What is the Pit Stop in CTR Nitro-Fueled?
The Pit Stop is the game's online marketplace where you can use your Wumpa Coins on select items including Characters, Skins, Kart Sets and Kart accessories. Every item comes in one of three rarities: Basic, Exotic, or Legendary.
The items cycle every day as part of Pit Stop's Daily Deals, and will refresh when the countdown timer resets at 5:00 PM PT (12:00 AM GMT). An internet connection is required to access the Pit Stop.
What are Wumpa Coins in CTR Nitro-Fueled?
Wumpa Coins are the in-game currency in Crash Team Racing Nitro-Fueled and can be used to purchase items from the Pit Stop.
Wumpa Coins can be earned by completing Races, Challenges, Battles, and Time Trials, as long as you are connected to the internet. You can always check your Wumpa Coin balance in the upper right-hand corner in Pit Stop.
Wumpa Coins Rewards per Track
So, how do Wumpa Coins work in Crash Team Racing Nitro Fueled? In its most basic form, the Wumpa Coin distribution is determined only by two factors:
The track you're racing on
Your position at the end of the race
The number of laps and AI difficulty level have no impact on the amount of Wumpa Coins you receive.
Not all Race Tracks are created equal in terms of difficulty and length, so some tracks reward more Wumpa Coins than others. Completing a race on Electron Avenue (with its sharp turns, electric barriers, and massive drops) earns more Wumpa Coins than finishing a race on Crash Cove (a more relatively straightforward track). As the track length and difficulty rises, so too does the amount of Wumpa Coins given as a baseline amount.
As the Wumpa Coin number changes per track, it also changes based upon the position where the racer finishes on that track:
1st place, of course, will earn you 100% of the possible Wumpa Coins
2nd place gets 90% of the prize
3rd place gets 85% of the prize
4th through 8th place all earn the same amount of 75% or the prize
In our Race Tracks Database you can find the Wumpa Coins rewards for each position in all the different tracks, and you can sort the list of tracks from the highest to lowest paying, to find out which ones are the most effective and rewarding.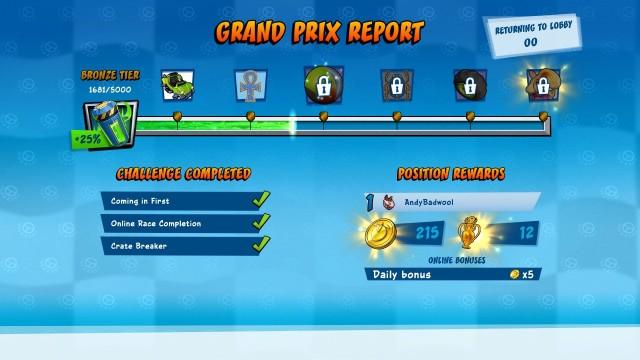 Wumpa Time Bonus Multiplier (x5)
In addition to these two core factors which determine your Wumpa Coin amount for each race, there are also bonuses that allow you to really build up your Wumpa Coin bank.
You may have already noticed that there are times during each day where your Wumpa Coin values skyrocket after each race you complete in the Online Matchmaking game mode. This is no fluke!
For the first 30 minutes you race in the Online Matchmaking mode each day, you receive a 5x bonus. This means that you get 5x as many Wumpa Coins as you would have received for that race normally based upon track length and final position alone. And 30 minutes means 30 minutes of actual wheels-on-the-track race time. Time spent in lobbies, loading screens, in one of the offline game modes, or away from the game altogether doesn't count toward that time.
Your 30 minutes of 5x bonus resets at 5:00 PM PT every day (12:00 AM GMT), at the same time as the Pit Stop refreshes its items.
Double Wumpa Weekend Multiplier
But wait… there's more! Bring out your inner weekend warrior as you take advantage of Double Wumpa weekends. Race in the Online Matchmaking mode during any weekend and earn 2x the amount of Wumpa Coins you would have earned during the week for that same race.
And even better, this layers on top of the daily 5x Wumpa Time bonus for those days, making the overall bonus up to 10x Wumpa Coins!
Double Wumpa Weekends begin 5:00 PM PT on Thursdays (Friday 12:00 AM GMT) and end at 4:59 PM PT on Sundays (11:59 PM GMT). So be ready to take advantage of these opportunities to earn HUGE Wumpa Coin amounts, especially during the weekends.