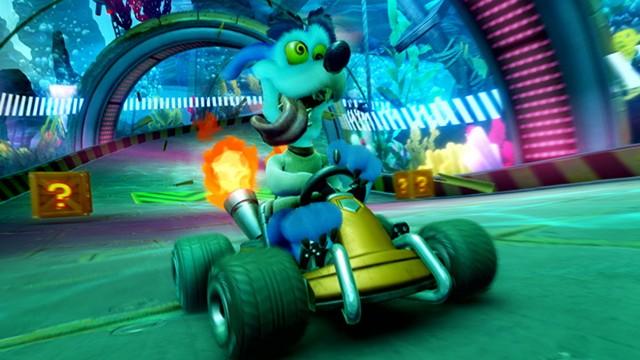 Ripper Roo is an insane blue mutated kangaroo. He is the first Boss Character in the Adventure Mode of Crash Team Racing. When racing him, he is constantly dropping TNTs onto the track.
Ripper Roo is unlocked as a playable character after defeating him in Adventure Mode. He is classified as a Beginner character, with Turn being his best stat, and his home track is Roo's Tubes.
Despite his wild look and straitjacket, Ripper Roo is a 'sensible' driver who focuses his energy on control rather than speed. If you find yourself struggling with obstacles and sharp turns – Ripper Roo's the mutant kangaroo for you.
Character Role

Unlockable Character

Gender

Male

How To Unlock

Defeat Ripper Roo in Adventure Mode

Original Game

Crash Team Racing

Class

Turn

Skill Level

Beginner

Alignment

Evil

Invincibility Mask

Uka Uka

Weapon

Explosive TNT Crate
Character Statistics
Speed

3 / 7

Acceleration

4 / 7

Turn

7 / 7
Hub World Area

N. Sanity Beach

Kart Body

Classic - Orange

Skins Variations

Green Ripper Roo
Yellow Ripper Roo
Pink Ripper Roo
Gentleman Ripper Roo [L]

Home Track

Roo's Tubes
Screenshots
Videos