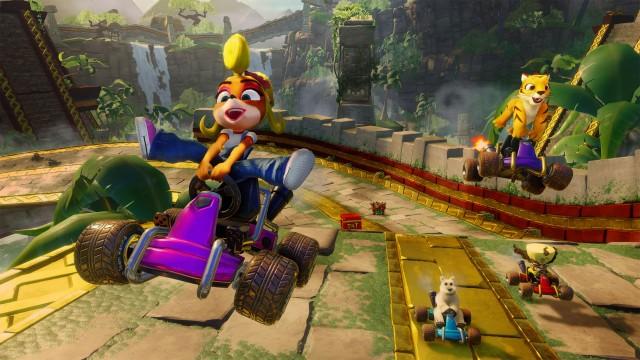 Coco Bandicoot is the spirited and highly intelligent sister of Crash Bandicoot. She is normally glued to her laptop or busy working on gadgets for Crash. Coco appears in every Crash game starting from "Crash Bandicoot 2: Cortex Strikes Back".
She is one of the eight starter characters in Crash Team Racing. She is classified as a Intermediate character, with Acceleration being her best stat, and her home track is Coco Park.
Coco may struggle against fast characters in the long run, but her maxed out acceleration means she'll reach her top speed very quickly. A perfect match for those of you who get slowed down frequently.
Character Statistics
Speed

4 / 7

Acceleration

7 / 7

Turn

3 / 7
Kart Body

Classic - Pink

Skins Variations

Blue Coco
Lynx Coco
Purple Coco
Retro Coco (PlayStation 4 exclusive)
Princess Coco (from Crash Tag Team Racing) [L]
Beach Coco [L]
Star Coco (Nitros Oxide Edition) [L]
Electron Coco (Pre-Order Bonus) [L]

Home Track

Coco Park

Affiliation / Team

Team Bandicoot

Notes

This character is playable immediately from the start of the game.
Screenshots
Artworks
Videos