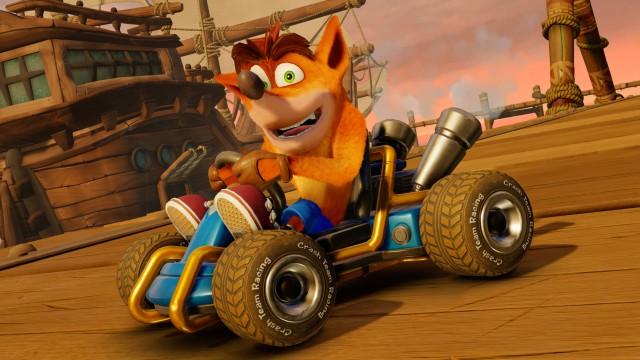 Crash Bandicoot is the main titular protagonist and hero of the Crash Bandicoot series. He is an Eastern Barred Bandicoot living on N. Sanity Island. He is often accompanied by his wooden mask ally, Aku Aku.
He is one of the eight starter characters in Crash Team Racing. He is classified as a Balanced character of Intermediate skill level, with an excellent balance of Top Speed, Acceleration and Handling. His home track is Crash Cove.
If you're looking for a jack of all race tracks, Crash has got your furry back. His balanced stats leave him with very few weaknesses - but he may fall behind on tracks that are suitable for a more specialised class.
Character Statistics
Speed

5 / 7

Acceleration

5 / 7

Turn

5 / 7
Kart Body

Classic - Blue

Skins Variations

Shiba Crash
Skunk Crash
Blue Hyena Crash
Retro Crash (PlayStation 4 exclusive)
Aviator Crash (from Crash Bandicoot: Warped) [L]
Scuba Crash (from Crash Bandicoot: Warped) [L]
Biker Crash (Nitro Tour Grand Prix) [L]
Star Crash (from Crash Tag Team Racing) (Nitros Oxide Edition) [L]
Electron Crash (Pre-Order Bonus) [L]

Home Track

Crash Cove

Affiliation / Team

Team Bandicoot

Notes

This character is playable immediately from the start of the game.
Screenshots
Artworks
Videos