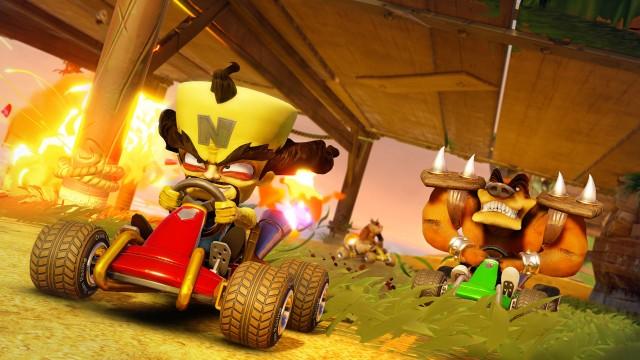 Doctor Neo Cortex is a professional evil scientist and the main antagonist in most games of the Crash Bandicoot series. However, in Crash Team Racing, Cortex takes part in the race to beat the alien Nitros Oxide.
He is one of the eight starter characters in the game. He is classified as a Balanced character of Intermediate skill level, with equal Speed, Acceleration and Turn stats. His home track is Cortex Castle.
When this mad scientist isn't zapping animals with his Evolvo-Ray, he's zapping them with weapons on the race track. He has a balanced build like Crash, which makes him a reliable choice, despite his villainous tendencies.
Character Statistics
Speed

5 / 7

Acceleration

5 / 7

Turn

5 / 7
Kart Body

Classic - Red

Skins Variations

Green Cortex
Red Cortex
Blue Cortex
Retro Cortex (PlayStation 4 exclusive)
Ninja Cortex (from Crash Tag Team Racing) [L]
Robo-Cortex [L]
Pharaoh Cortex (Nitro Tour Grand Prix) [L]
Star Cortex (Nitros Oxide Edition) [L]
Electron Cortex (Pre-Order Bonus) [L]

Home Track

Cortex Castle

Affiliation / Team

Team Cortex

Notes

This character is playable immediately from the start of the game.
Screenshots
Artworks
Videos