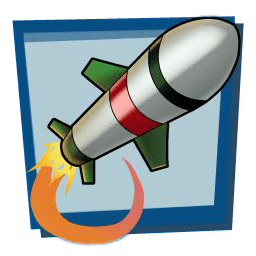 Tracking Missiles are potent projectiles that target the closest driver in front of you. If it hits, the enemy kart will be sent into a tumbling crash.
With their tracking ability, they even allow you sometimes to hit foes not in your line of sight. If you have the racer ahead of you in your line of sight, the odds of the missile hitting them is even higher.
You know when you've been targeted by a Tracking Missile by a crosshair appearing on the back of your kart as the missile hunts you down.
Note: Sometimes, if you're lucky, you can get 3 Tracking Missiles from a single weapon crate.
How to defend against Tracking Missiles
If you're targeted by a tracking missle, you can defend against it by dropping a TnT Crate, Beaker, or Bowling bomb behind you right before a missile hits you.
Or if you don't have one of these power-ups handy, try taking a sudden, tight turn – if you time it just right, the missile will slam into the wall.
Juiced Up Tracking Missile:
With 10 Wumpa Fruit, the tracking missile moves even faster and is more accurate.
Race Positions:
Tracking Missiles can be picked up by players in all positions in the race, with the exception of first place.
Screenshots