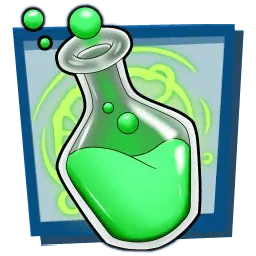 Beakers are green phials that can either be dropped behind or launched ahead of your kart. When a racer runs into a Beaker, they spin out of control, losing precious time.
Be sneaky and leave a beaker behind a crate or on a turbo pad to send your foes spinning!
Or you can throw a Beaker forward by holding the left stick upward and pressing CIRCLE / B / A.
Juiced Up Beakers (Red):
If you have 10 Wumpa Fruit before dropping a Beaker, it turns Red. Now the beaker is Poison: victims not only spin around, but they must deal with a storm cloud that slows them down for a few seconds – and whatever power-up they were carrying is replaced with a random new power-up.
Race Positions:
Beakers, along with Explosive Crates, usually appear for players in the higher positions in the race, and especially are very common for players in first place.
Boss Fight:
The Beaker is the main weapon of choice for boss racer Papu Papu, who drops beakers to prevent the player from passing him. Beakers are also used by the final boss Nitros Oxide.
Screenshots