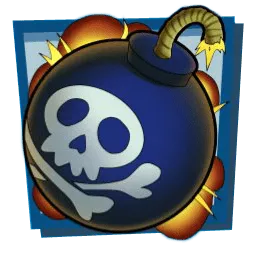 Bowling Bombs are massive explosives you can either push out in front of your kart, or fire it backwards (by holding the left stick downward and pressing CIRCLE/B/A) as a surprise attack on incoming racers.
Unlike Tracking Missiles, they don't home in on enemies. The bowling bomb rolls in a straight line (in front of you or behind you) until it hits a wall or another kart, so aim carefully before release. You can also detonate the Bowling Bomb early by pressing the power-up button again.
They aren't as fast as Tracking Missiles, but the blast radius is big enough that you can take out multiple rivals if they're in a tight grouping.
Also, if you have a Bowling Bomb, you can use them to blow up TnT Crates or Beakers on the track.
Note: Sometimes, if you're lucky, you can get 3 Bowling Bombs from a single weapon crate.
Juiced Up Bowling Bomb:
If you have 10 Wumpa Fruit, the Bowling Bomb blast radius is much larger, which is useful for sending up to three or more players flying.
Race Positions:
Bowling Bombs can be picked up by players in all positions in the race, just rarely for the player in the first place.
Boss Fight:
The bowling bomb is the main weapon of choice for boss racer Pinstripe, who shoots the Bomb backwards to prevent the player from passing him. It is also used by the final boss Nitros Oxide.
Screenshots