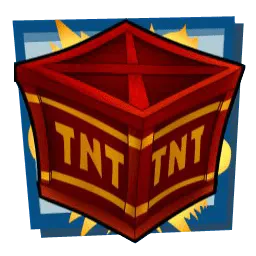 When you deploy a TnT Crate, you essentially lay a time bomb for your rivals. When a rival hits a TnT Crate, it hovers above their head for three seconds before it explodes.
Be a super-sneak by dropping TnT Crates in the middle of or directly behind Power-Up crates. You might trick an opponent into rolling into the TnT Crate!
When you're in the lead, hold on to TnT Crates, Beakers, and Bowling Bombs – you can deploy these if you're ever targeted by Tracking Missiles.
How to defend against TNT Crates
Should you run into a TNT Crate, you can try to shake it loose by hopping around (repeatedly tap the shoulder buttons) before the TnT blows up. If you react fast and hop enough times, the TNT Crate will fall off your head before it explodes.
Also, if you have a Bowling Bomb or Tracking Missile, you can use them to blow up TNT Crates on the track.
Juiced Up Explosive Crate (Nitro):
When you have 10 Wumpa Fruit, the TnT Crate turns into a more deadly NITRO Crate, which explodes directly upon impact if another player drives into it.
Race Positions:
Explosive Crates, along with Beakers, usually appear for players in the higher positions in the race, and especially are very common for players in first place.
Boss Fight:
The TNT Crate is the main weapon of choice for boss racers Ripper Roo and Komodo Joe, who drop TNT crates to prevent the player from passing him. Nitro Crates are also used by the final boss Nitros Oxide.
Screenshots