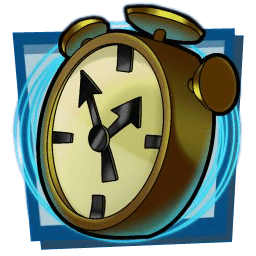 The N.Tropy Clock is a dastardly power-up that gives its user a temporary advantage.
When triggered, every other racer on the course spins out and loses serious speed for a few seconds. Also, while affected by the clock's damage, racers cannot use or pick up Power-Ups.
Juiced Up Clock:
The version of the N.Tropy Clock juiced by 10 Wumpa Fruit increases the period of speed reduction for rival racers.
Race Positions:
N-Tropy Clocks can be picked up by players in the lower positions that are trying to catch up.