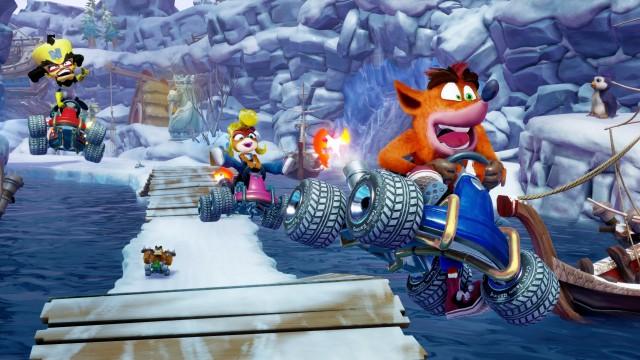 In this page you find a collection of general Gameplay Tips & Tricks for Crash Team Racing Nitro-Fueled.
Being a remake of the classic Crash Team Racing, the game retains all the controls and feel of the original, including the same boosting and reserve systems. Despite also featuring Crash Nitro Kart content, the game does not feature the team mechanics from CNK.
Once you learned and mastered these basic techniques, you can move on to the Advanced Guide on Turbo & Boosting
CTR Nitro-Fueled Controls
Below you find all the game controls of Crash Team Racing Nitro-Fueled, with button combinations for PlayStation 4, Xbox One and Nintendo Switch. The following is the default, standard control scheme of CTR Nitro-Fueled for all three platforms:
Action
PS4
Xbox One
Switch
Accelerate

X

A

B

Brake

Square

X

Y

Turn

left-right

or

L-left-right

left-right

or

L-left-right

left-right

or

L-left-right

Reverse

Down

or

L-down

Down

or

L-down

Down

or

L-down

Use Weapon / Power-Up

Circle

B

A

Hop / Jump

R1

or

L1

RB

or

LB

R

or

L

Power Slide

R1

+

left-right

RB

+

left-right

R

+

left-right

Power Slide Boost

L1

while holding

R1

LB

while holding

RB

L

while holding

R

Brake Slide (Tight Turn)

Square

+

left-right

X

+

left-right

Y

+

left-right

Toggle Turbo Gauge / Speedometer / Map

Triangle

Y

X

Toggle Camera Distance

L2

LT

ZL

Rear View Camera

R2

RT

ZR

The game also has the option for an alternate control scheme where a few inputs are switched around.
CTR Nitro-Fueled Gameplay Tips & Tricks
Learn the Character Classes / Driving Styles
Originally, Characters in Crash Team Racing Nitro-Fueled came in one of 4 different Classes of Statistics (Speed, Acceleration, Turn, and Balanced), associated to 3 levels of playing skill (Beginner, Intermediate, and Advanced).
After the October 2, 2019 Update, it is now possible to select any Driving Style, regardless of the character you choose to race with. You can now pick your favorite class and your favorite racer at the same time!
Turn Class: has incredible turning abilities, average speed and good acceleration. Characters include Polar, Pura, Krunk, Real Velo, Zam, or Ripper Roo.
Balanced Class: has equally good speed, acceleration, and turning. Characters include Crash, Dr. Neo Cortex, Small Norm, Geary, Komodo Joe, or Fake Crash.
Acceleration Class: has great acceleration, good speed and average turning. Characters include Coco Bandicoot, Dr. N.Gin, Nash, N. Trance, Pinstripe, or Nitros Oxide.
Speed Class: has amazing speed, average acceleration, but limited turn and is for experts only! Characters include Tiny Tiger, Dingodile, Crunch, Big Norm, Zem, Papu Papu, N.Tropy, or Penta Penguin.
Drift Class: a new style tailored for drift boosting, with great speed, average turning but limited acceleration.
Each class has their own strengths and weaknesses. Will you pick a balanced style for more control, or be bold and reach N.sane speed with a character that's hard to master?
Get Weapons & Power-Ups Quicker
When getting Weapons & Power-Ups, you can stop the power-up "wheel" early by pressing the power-up button (circle) while it's spinning through the items. Immediately locking down a power-up can give you an advantage, especially if it's something you can use to knock other players aside!
Get Juiced Up with Wumpa Fruit
The more Wumpa Fruit you collect, the faster your kart will drive. Wumpa Fruit are lost if you get hit by a Power Up, trigger a hazard, or fall off the track.
In addition, once you collect and hold 10 Wumpa Fruit, you'll be juiced up and your Power-Ups will become more potent.
How to get rid of TNT Crates
When you get a TNT Crate on your head, start pressing the Hop button immediately (R1). If you react fast and hop five times, the TNT Crate will fall off your head before it explodes.
How to defend against Tracking Missiles
Masks and Power Shields aren't your only means of protection.
Explosive Crates and N. Brio's Beakers can also stop weapons like Tracking Missiles and Bowling Bombs - if you manage to drop them behind you at the perfect time before getting hit.
Power Sliding: How to Power Slide
You can go faster and drift through turns by Power Sliding. Press and hold R1 when going into a turn to jump and begin your slide.
To get a Turbo Boost while Power Sliding, wait until the Turbo Gauge turns red (and the smoke from your exhaust turns black), then press the other Power Slide button (L1) while still Power Sliding (holding R1).
You can reach a higher speed by chaining up to three Turbo Boosts per Power Slide. Use the Turbo Gauge to perfect your timing. If you wait too long, you'll hear a backfire sound and miss your chance for a boost.
This is just a basic overview. For more in-depth details on Power Sliding and Turbo techniques in general, visit the dedicated Turbo and Boosting Guide for Crash Team Racing Nitro-Fueled.
What do Nitro Wheels do?
The Nitro Wheels feature makes your tires glow when it's the perfect time to boost while Power Sliding. This is another indicator to help you time the boost in addition to the Turbo Gauge and the exhaust smoke.
You can turn Nitro Wheels off in the Options menu if you're more of the "Classic" type.
How to change the look of the Turbo Gauge
Feel like changing the look of your Turbo Gauge? Press triangle to switch between three options while racing.
How to get Turbo Boost from jumps (Hang Time Turbo)
If you want to pick up some extra speed, you can get a Hang Time turbo from jumping. Press R1 to jump off ramps, bumps in the road and inclines to get ahead. The longer you're in the air - the bigger your boost will be when you land.
Turbo Start: How to get a boost at the beginning of a race
You'll want to start off the race with a Turbo boost to get ahead of the crowd. Press the acceleration button (X) repeatedly to rev the engine and fill up the meter. If you time it correctly and get the meter full once the light turns green, you'll start off with the maximum speed boost.
How to make quick turns around tight corners
To get around a tight turn or to face a certain direction quickly, you can perform a Brake Slide by pressing and holding the Brake button (square) while turning hard.
---
For more Crash Team Racing Guides check out the complete CTR Nitro-Fueled Features & Guides, including all Weapons & Power-Ups, all Game Modes, how to use Wumpa Coins to unlock items in the Pit Stop, and more!