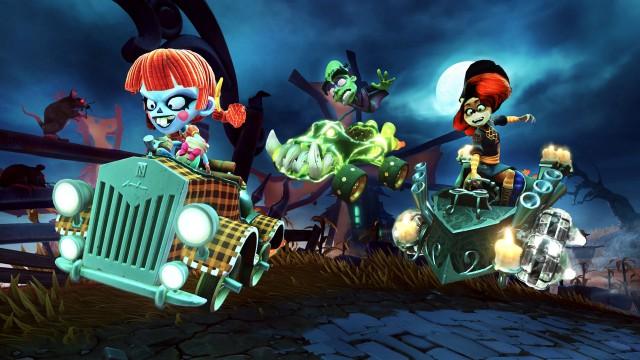 The thrills and chills of the Spooky Grand Prix are coming to Crash™ Team Racing Nitro-Fueled!
Beware Bandicoots, it's a bone-chilling ride with the latest Grand Prix season to hit Crash™ Team Racing Nitro-Fueled! Download the update for this season and be ready to take part in the Spooky Grand Prix and all that comes with it: a new track, new characters, new items to unlock, and even a new challenge type.
Additionally, this update introduces some big gameplay updates that fans have been asking for. Let's dive into all that's new with the Spooky Grand Prix!
The Spooky Grand Prix
This Grand Prix, starting October 4, introduces a host of new rewards that can be earned by completing challenges, earning Nitro, and filling your Nitro Gauge throughout the season.
New Track: Nina's Nightmare
Navigate the dark recesses of Nina Cortex's mind in Nina's Nightmare! In this new track you will race through misty marshes, eerie gardens, and twisted hallways of a haunted manor.
Dodge your way around pumpkins spitting green ooze that can slow you down to a dead stop. Keep your head in twisted hallways under the foreboding eyes of ancestors long since passed. Then, confront the most terrifying sight of all – a beastly spider-pumpkin hellbent on stomping you into the ground!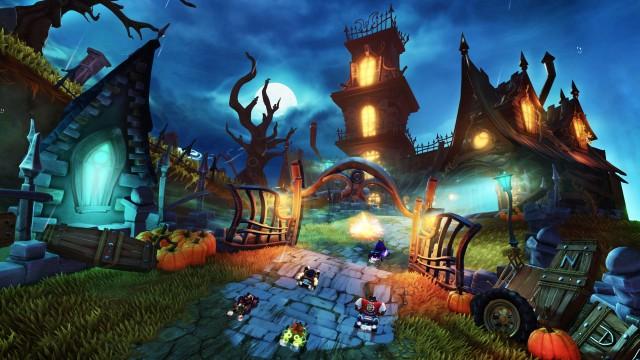 New Characters
Wreak havoc on the track with Nina Cortex, Dr. N. Brio, and Komodo Moe, the devious trio of fan favorite Crash universe characters that make their way to CTR Nitro-Fueled this season. Nina makes her entrance in the Nitro Gauge, while N. Brio and Komodo Moe can be found in the Pit Stop.
Ghost Hunt
There's a special new challenge type this season – track down some spooky spirits with Ghost Hunt! For the duration of this Grand Prix, breaking certain crates will release a mischievous ghost that was trapped inside. Catch up to the ghost to capture it and complete Grand Prix challenges.
Bone-chilling New Karts
This season also brings a trio of new karts to give your competition the chills! Embrace the mysteries of the deep with Nautilus, put the competition to rest with Skull Rider, or play a haunting tune with the Phantom – an ornate ride adorned with candles and piano keys, inspired by the Organ Grinder kart from Crash Tag Team Racing. The Nautilus and Phantom can be earned in the Nitro Gauge, while Skull Rider can be unlocked in the Pit Stop.
Wicked New (and Returning) Pit Stop Items
The Pit Stop will be stocked with tons of new items, themed perfectly for the season. Give your kart some ethereal flair with Spectral wheels and paint jobs or the spooky new stickers and decals. Then get some of your favorite characters ready for the season with wicked new skins.
Also, for those that missed them the first time around, select characters and items from the first Grand Prix, the Nitro Tour, are making their return to the Pit Stop in this Grand Prix season. Be sure to stop by to see what's new and what has returned!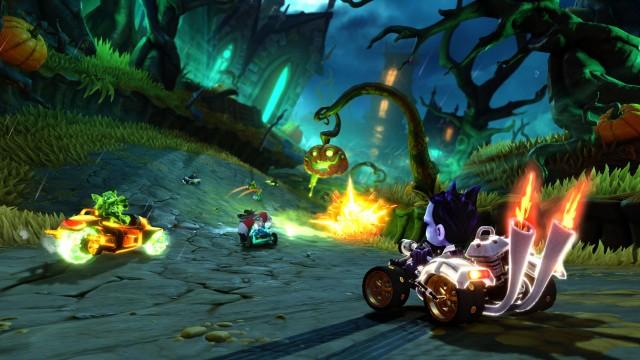 New Gameplay Updates
Aside from the spine-tingling content dropping with the Spooky Grand Prix, there are a couple of updates Beenox has made that will remain in place indefinitely.
Swapping Driving Styles
Beenox has heard the community loud and clear! In CTR Nitro-Fueled, it is now possible to select your desired Driving Style, regardless of the character you choose to race with. Get that top speed with Crash, or take those sharp turns with Crunch, you can now pick your favorite style and your favorite racer at the same time!
The existing Driving Styles have been renamed to more clearly describe their function. On top of that, a new "Drift" driving style has been added to the mix, making that a fifth driving style to choose from!
Turn: previously known as Beginner
Balanced: previously known as Intermediate A
Acceleration: previously known as Intermediate B
Speed: previously known as Advanced
Drift: a new style tailored for drift boosting
A sixth Driving Style option, "Classic", will select your character's original Driving Style by default.
These Driving Styles will be able to be selected at the same time you are selecting your racer before each race.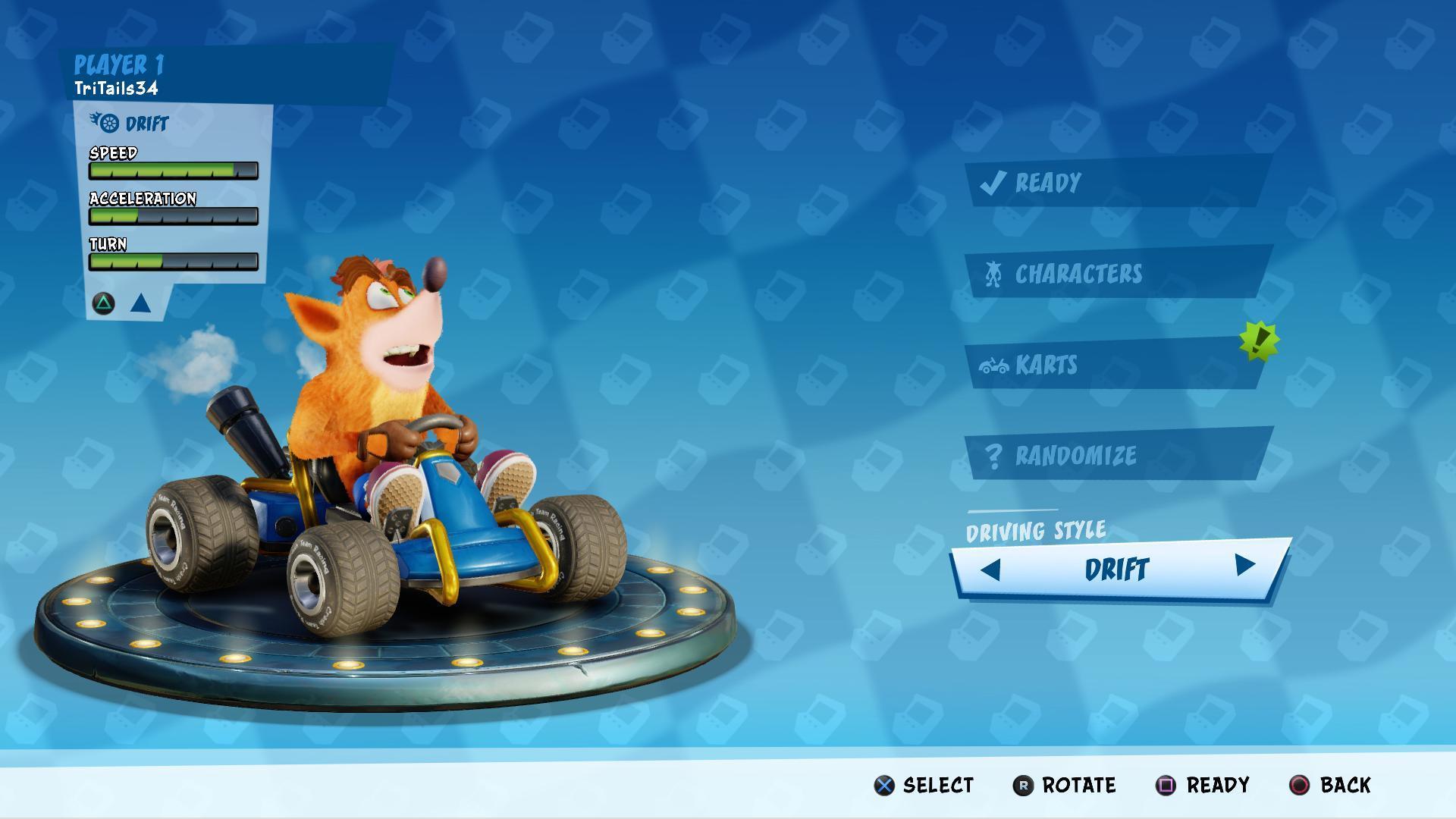 2x Wumpa Weekend for Everyone:
Also due to popular demand, the 2x Wumpa Weekend bonus will now carry over to all game modes, including Adventure and Local Arcade!
As long as the player's console is connected to the internet, players now have the opportunity to earn 2x Wumpa Coins when they race or battle during the weekend, starting at 1:00 PM PDT on Fridays and ending at 1AM PDT on Mondays.
Warp Orbs and N. Tropy Clocks:
To further improve the racing experience, AI drivers will no longer use the N. Tropy Clock and Warp Orb power ups in Online Matchmaking races. Additionally, these power ups will no longer appear for anyone at the beginning of Online Matchmaking races.
The Lost Cup:
Finally, a brand new Cup Race has been introduced – the Lost Cup. This race includes Oxide Station (from CTR), Clockwork Wumpa (from CNK), Twilight Tour (from the Nitro Tour Grand Prix), and Prehistoric Playground (from the Back N. Time Grand Prix).
---
With these quality of life changes to Crash Team Racing Nitro-Fueled, and the exciting new content and challenges that are dropping this week, it is sure to be a ghoulishly good time out on track in this Spooky Grand Prix season! Don't get scared out there, Bandicoots…!