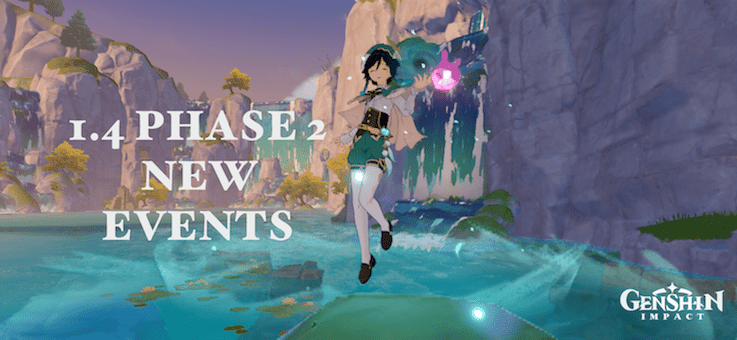 Events Schedule

This mini calendar above shows all the upcoming events that will be available once the new Farewell of Snezhnaya banner is released. Do note that the Daily Check-In Rewards event is on the Webstatic Sea MiHoYo site, not in Genshin Impact itself. You can visit the website here. The Windblume Event - Peculiar Wonderland and Festive Challenges are now closed, but you can still redeem your coupons earned in the event store.
The rest of this article will detail the new events, as well as give you an introduction to the new weapon Alley Hunter and Rosaria.
Weapon Banner and Alley Hunter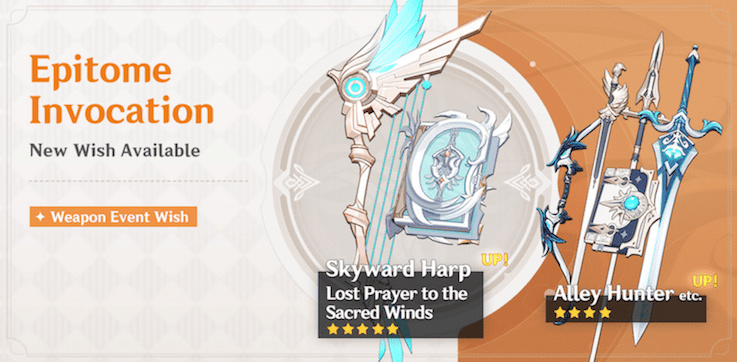 The weapon banner has Lost Prayer to the Sacred Winds and Skyward Harp rated up, while the 4 star weapons are mainly Favonius weapons except for Sacrificial Greatsword and the new weapon -- Alley Hunter.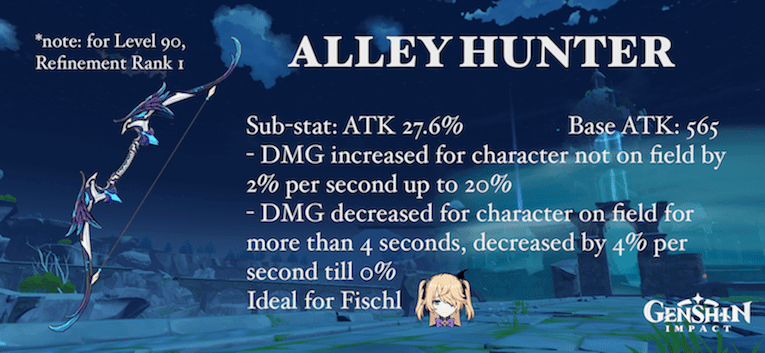 The Alley Hunter has a rather targeted Sub DPS role since your character on the field will suffer from a DMG debuff. As of now, Fischl is one of the only bow characters that have a Sub DPS role with an elemental skill that can be placed. Main DPS bow characters such as Tartaglia or Ganyu will not benefit from the passive, since their power comes from melee or charged shots. Utility characters like Diona and Venti do not suit the role either, since Diona does not need the ATK buff and would be better off with an Energy Recharge Sub-stat instead, while Venti needs either Elemental Mastery or Energy Recharge.
Since the bow has not been tested, we cannot be sure of whether it measures up to the other ATK sub-stat bows, but this is a promising bow for Fischl as you should only swap her in for Oz or her Ultimate. This allows for more elemental reactions with your Main DPS or other Sub DPS characters. Since the debuff occurs after 4 seconds, you might need to practice swapping out your characters quickly enough to keep having the 20% DMG increase.
Character Banner - Tartaglia, Rosaria, Fischl and Barbara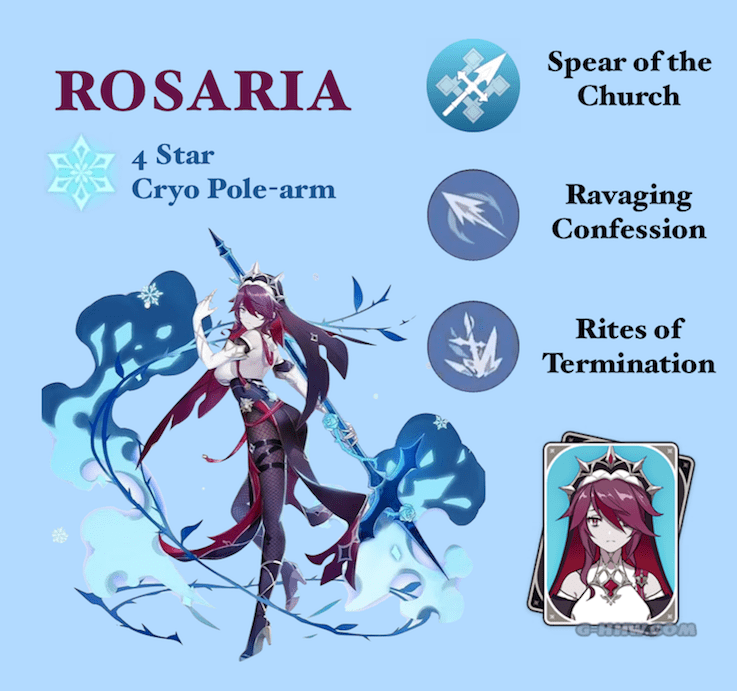 Tartaglia is the featured 5 star character on the banner, you can read a guide that I wrote about him here.
Rosaria is a new Cryo 4 star Polearm character that will be on Tartaglia's banner. She was already introduced in 1.2, the release of Dragonspine, and seems like a promising new 4 star. I will not be including a guide for Rosaria within this article, I would just like to introduce her and her various skills. Her Elemental Skill is called "Ravaging Confession" and her Ultimate "Rites of Termination" is known to leave a Cryo spear on the ground that deals damage, similar to Zhongli's pillar. As of now, we do not know much about her skills and constellations, so do try out her trial run!
Apart from Rosaria, Fischl and Barbara will be on the Tartaglia banner as well. Fischl is an extremely strong character that is fit for various team compositions and her constellations only make her stronger. If you have not already obtained her for free during the Unreconciled Stars event in November, now's a great time to get her. With either an elemental mastery build or an ATK build, she still has great potential. Barbara is another free character and an amazing healer, especially at C6 as she can revive your party members. Obtaining Barbara's constellations is definitely beneficial for your team's survivability in tough battles.
Wishful Drops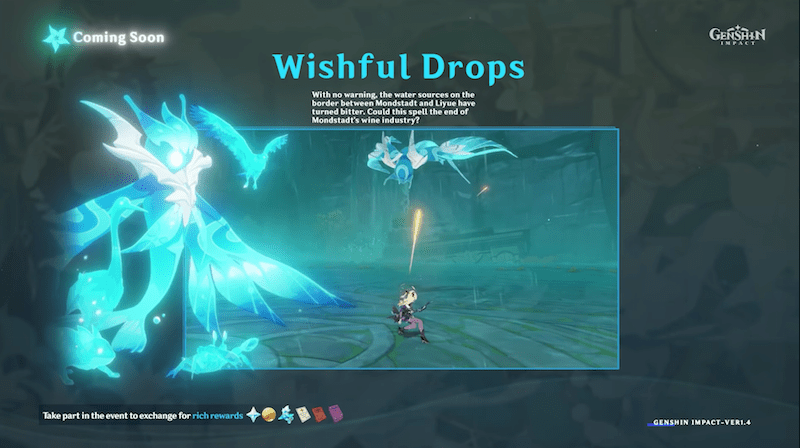 The new Oceanid buff event is similar to the Hypostatic Symphony event. Since we do not know much about this upcoming event, keep your eyes peeled for the next article on it! Held from 9th April to 16th April, we will write a guide on the team setups as well as buffs you should take note of. You will also be able to obtain an Oceanid pet with the event, similar to a pet Seelie!
Archon Quest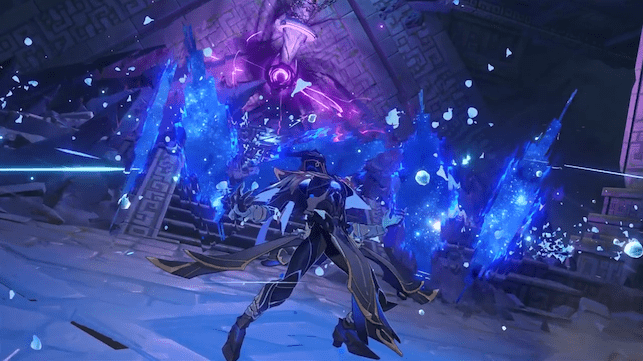 The newest Archon Quest will further establish the storyline within Genshin Impact, with the Abyss Herald within the domain. The Abyss Herald seems to have similar attacks to Tartaglia's boss fight with Hydro swords and Electro elements. We will meet Dainsleif once again and might have more clues as to where our other twin may be.
Marvelous Merchandise

Marvelous Merchandise will be making its third comeback, where Liben will be located in Mondstadt. Giving him the materials he asks for will give you a Box O' Marvels, with rewards ranging from Primogems, Mystic Enhancement Ores to Hero's Wit and Mora. This will last from 16th April to 23rd April and you need to login daily to collect the rewards!
Thanks for reading this article and do let us know if there are other articles you would like to see. Happy exploring travellers, enjoy the new update!