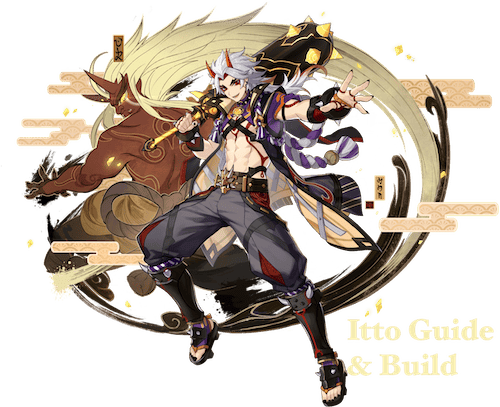 Preview
Arataki Itto, the head of the Arataki Gang, is the newest 5-star character to be released in the 2.3 Version. He has a Main DPS role and brings lots of potential to a full Geo party team with Gorou that you would enjoy if you like claymore characters. The materials he requires are below: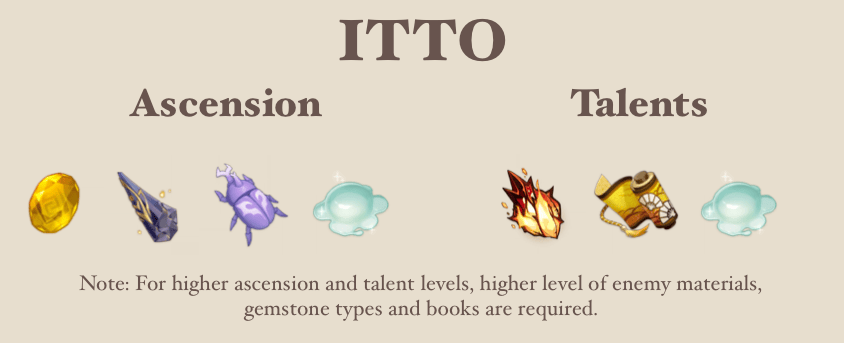 The Ashen Heart is earned through defeating the new weekly boss La Signora, giving 1 or 2 each time at higher levels, while the Riftborn Regalia required for levelling is obtained from the Wolflord, the newest world boss. The Slime Condensate is used to level Itto and his talents and is dropped by Slimes. His talent books required are Philosophies of Elegance, which can be obtained in the Violet Court Domain. He uses Onikabuto as his levelling material.
This article will introduce you to the weapons and artifacts to use on Itto, as well as the party setup you can use with him. I will include options for free to play players, as well as beginners.
Weapons
Itto works best with CRIT DMG/CRIT Rate sub-stat weapons. If possible, I would recommend using a 5-star weapon (Redhorn Stonethresher). You can use the weapons below: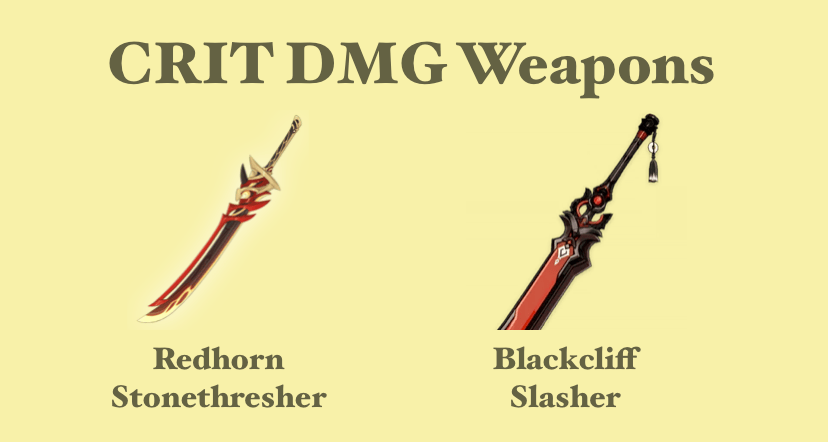 The Redhorn Stonethresher claymore is clearly the best option for Itto, but might not be very attainable for F2P players, despite the new weapon banner wishing system. The passive of the Stonethresher increases DEF by 28% and Normal and Charged DMG is increased by 40% of DEF.
Alternatively, you can use the Blackcliff Slasher which increases ATK by 12% and has a maximum of 3 stacks. It is a F2P-friendly option that can be obtained from the Paimon's Bargains shop that refreshes monthly.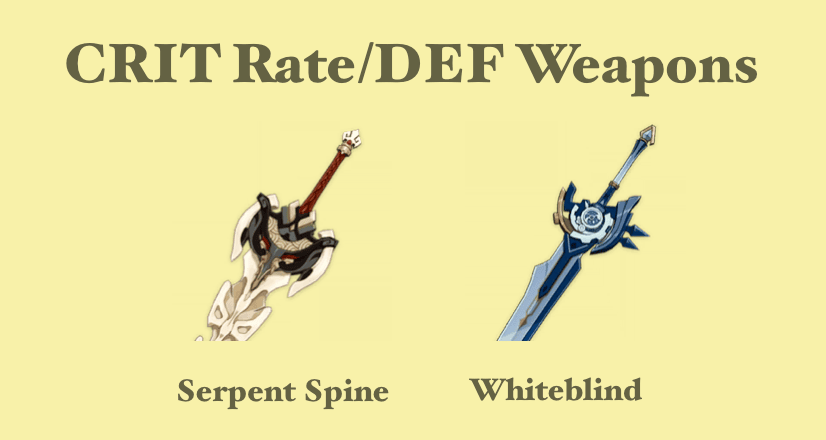 The Serpent Spine has a CRIT Rate sub-stat and can be particularly helpful if you have poor artifact sub-stats and a low CRIT Rate as a result. Every 4s a character is on the field, they will deal 6% more DMG and take 3% more DMG. This effect has a maximum of 5 stacks and will not be reset if the character leaves the field, but will be reduced by 1 stack when the character takes DMG. This is great if you have a shield character such as Zhongli on your team. It can be obtained by purchasing the Gnostic Hymn Battle Pass. For more information on the Battle Pass, you can check my article here.
For F2P Players, I would recommend Whiteblind most, compared to the craftable weapons (Prototype Archaic, Snow-Tombed Starsilver, Katsuragikiri Nagamasa). It's DEF sub-stat is very helpful since Itto scales with DEF and normal or charged attacks increase ATK and DEF by 6% and it can stack up to 24%.
Artifacts
Itto should use a 4-set of Husk of Opulent Dreams as it increases DEF by 30% and grants up to 4 stacks of 6% increased DEF and 6% more Geo DMG Bonus. When 6 seconds pass without gaining a stack, 1 stack is lost.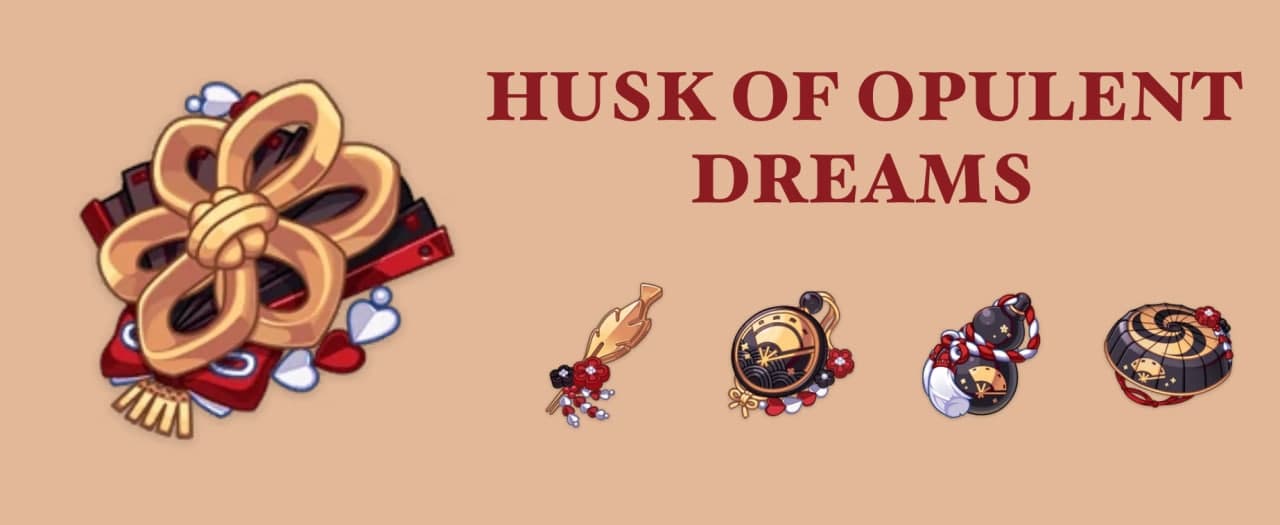 The Husk of Opulent Dreams set can be obtained from the Slumbering Court Domain, you can refer to this guide on how to complete the domain!
The stats and sub-stats that you should prioritise are as below:
Flower sub-stats: Crit DMG, Crit Rate, DEF% and ATK
Feather sub-stats: Crit DMG, Crit Rate, DEF% and ATK
Watch stat: DEF%
Goblet stat: Geo DMG Bonus (can be any artifact set, as long as the main stat is Geo DMG)
Mask stat: Crit DMG or Crit Rate (depending on the weapon used)
Talents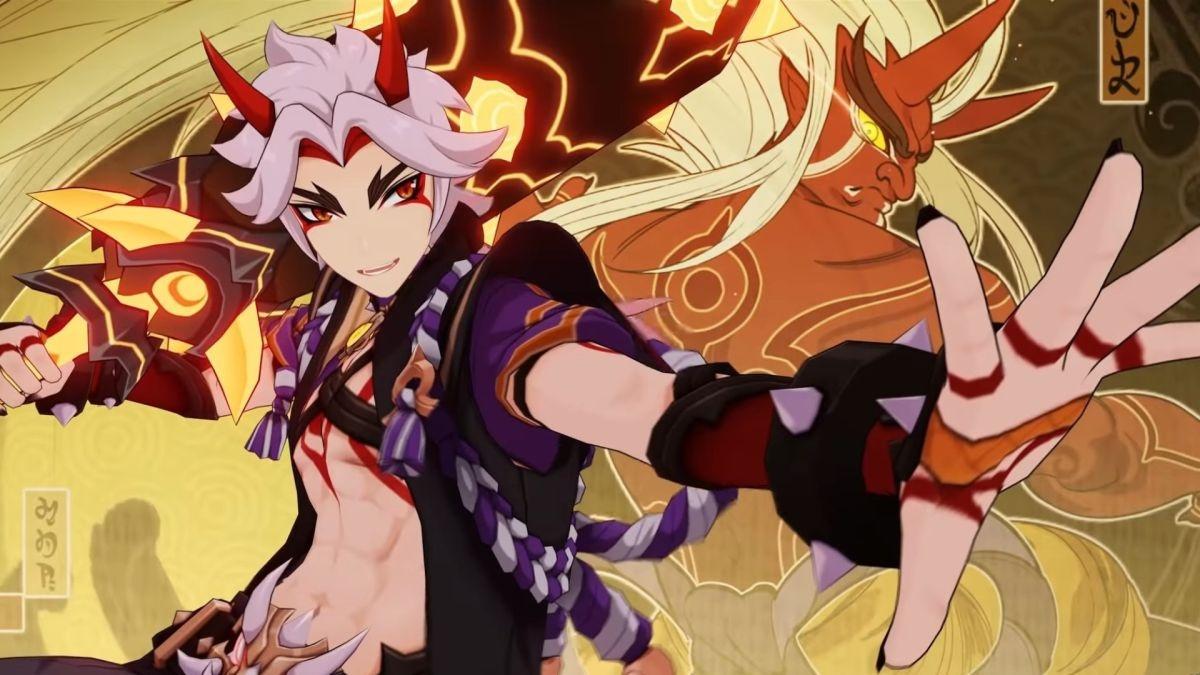 All talent types are important since Itto is a Main DPS character that will use all his talents. The best order to upgrade your talents is below.
Normal Attack: Fight Club Legend > Royal Descent: Behold, Itto the Evil! > Masatsu Zetsugi: Akaushi Burst!
Party Setup
With Itto as a Main DPS, you should use several more Geo characters as your Sub DPS such as Albedo/Gorou/Zhongli for greater DMG or decreased Geo RES. Since Itto's Ultimate has a rather high Energy Cost of 70, you can bring other Geo characters for more Elemental Particles. As of now, I would greatly recommend Gorou as a Sub DPS that you can play with Itto for increased DMG through Gorou's passive, particularly since they are on the same banner.
Conclusion
Overall, Itto seems to be an interesting character with a berserker mechanic, someone that you should definitely get if you enjoy claymore character playstyles. We hope that you have found this article helpful and that you will enjoy the new updates in the 2.3 version of Genshin Impact! Head here for information on Albedo vs Eula and do let us know if there are other articles you would like to read!