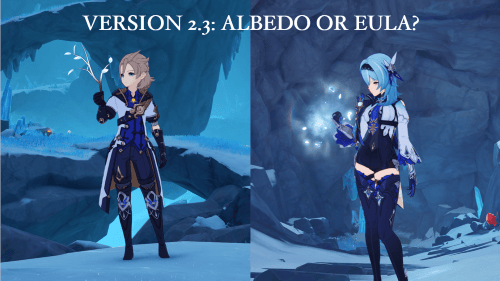 Before the 2.3 updates of Genshin Impact, here are some things that you should consider before pulling on Albedo or Eula's banner. I will be discussing both character banners available in the newest update, as well as the weapon banners. For those who have already obtained either Albedo or Eula, I will look at the constellations and their benefits for each character.
New Banner System
First off, the new banner system in 2.3 allows players to pull on both Albedo and Eula's banners at the same time. The pity on these two banners are shared, but they will be two separate banners. You can choose if you are pulling for Eula or Albedo, and the 50/50 still applies. For example, if you currently have 0 pity and would like to pull for Albedo for 40 pulls, you can do so on his banner. Thereafter, if you change your mind and would like to pull for Eula, you will be guaranteed Eula OR the standard banner 5* characters within the next 50 pulls you do on Eula's separate banner. You do not need to worry about getting a Eula if you want Albedo or vice versa.
Albedo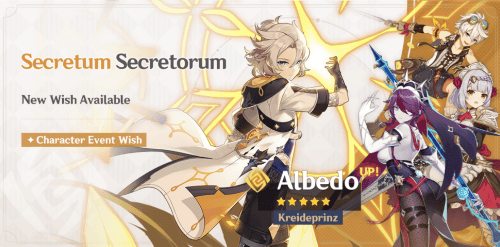 Albedo is a strong sub-DPS character that can deal consistent damage with his elemental skill and ultimate. Considering the push from MiHoYo for an all Geo team after Gorou's release due to his kit, Albedo has more potential now than ever before. He can be used with Zhongli to deal more Geo DMG with Zhongli's Geo constructs when Albedo's solar isotoma is placed on the field. Additionally, Albedo's passive that increases EM of nearby party members by 125 for 10s, shows his potential in a more elemental team (Pyro, Hydro, Cryo etc).
Since this is his first banner rerun and he has been anticipated for some time, I would recommend Albedo if you enjoy his playstyle and using the Geo element in your party. If you would like more information on how to build Albedo, you can read my previous guide here.
When it comes to his constellations, constellation 1 is rather underwhelming while constellation 2 seems to be the biggest upgrade. For low-spenders, I feel that gaining an Albedo constellation isn't needed for his kit at all and he deals out decent and consistent damage with his skills and ultimate, particularly given his low cooldown for his skill and low energy cost for ultimate of 40.
Overall, Albedo is a great sub-DPS suitable for many team comps that can take all your DEF% rolled artifacts.
Eula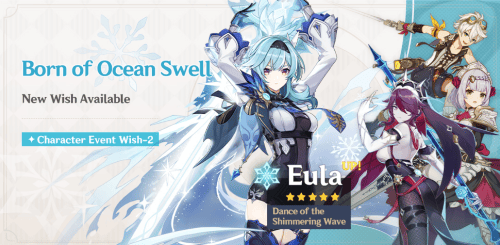 As someone who has obtained Eula in her previous banner, I would recommend her if you enjoy a less clunky claymore fighting style and Physical DPS characters. Eula has shown her capability to hit high numbers of up to 7 million at C6 and R5 of her BiS weapon. However, you don't need to get C6, R5 or even her BiS for her to do big numbers. Eula can take out high-level enemies in the Abyss, though there have been some complaints about how her Physical DMG burst comes long after the enemies are dead. To combat this, I would recommend timing the burst before the enemies are at very low health. Additionally, Physical DMG still loses out to elemental DMG overall in the Abyss, as proccing elemental reactions can increase your damage numbers greatly.
If you would like to learn more about how to build Eula, you can read my previous guide here.
Eula's C1 is a big level-up, as it increases Physical DMG by 30% after an ultimate and C2 decreases cooldown of the elemental skill holding version. However, the rest of her constellations are underwhelming and do not justify the cost spent to obtain them if you are a low spender. None of her constellations is a big game-changer, so I would not recommend pulling on her banner if you already have Eula.
Overall, Eula is an investment that you should get if you enjoy Physical DPS playstyles and her kit.
Weapon Banner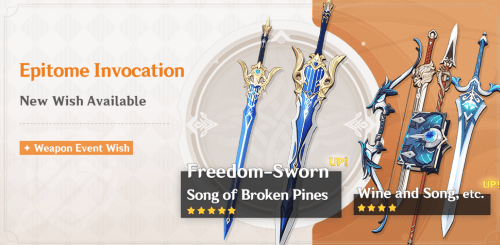 Freedom Sworn
The Freedom Sworn sword is Kazuha's best slot weapon due to its elemental mastery sub-stat. However, it can also be used on Sub-DPS characters to deal more damage with elemental reactions, such as Xingqiu when used with Hu Tao for constant vaporise reactions.
It's not Albedo's best weapon, which was originally Harbinger of Dawn or Festering Desire until the newest update. The new Cinnabar Spindle with a DEF substat will be released in the 2.3 updates in his event. It can be obtained by completing the event, similar to the Festering Desire sword last year.
If you're looking for a sword for your Sub-DPS characters, the increased DMG and ATK given from the Freedom Sworn is a great addition, particularly in time-sensitive domains such as the Spiral Abyss.
Song of Broken Pines
The Song of Broken Pines claymore has a sub-stat of Physical DMG bonus and increases ATK by 16%, as well as ATK speed and ATK after attacks hit opponents. The additional ATK buffs can stack up to four, giving 20% increased ATK and 12% increased ATK speed.
If you already have Eula, obtaining a Song of Broken Pines would be the best option to upgrade your Eula's damage. However, do note that Eula can also use other weapons such as the F2P-friendly Snow-tombed Starsilver from Dragonspine (craftable), Prototype Archaic (craftable) or the Serpent Spine from the Battle Pass and Eula is still a strong Physical DPS without her signature weapon. Since this weapon is rather tailored to Eula's kit, it would only be good on her or Razor, another Claymore Physical DPS.
Conclusion
It is difficult to decide between meta and characters that you enjoy playing, especially if you are an F2P player with limited primogems. Song of Broken Pines is a great weapon if you already have Eula and the Freedom Sworn seems promising for many sword characters. Ultimately, it is your choice to decide which characters, constellations or weapons you would like to obtain.
We hope that this article has been helpful and do let us know if there are other articles you would like to read!