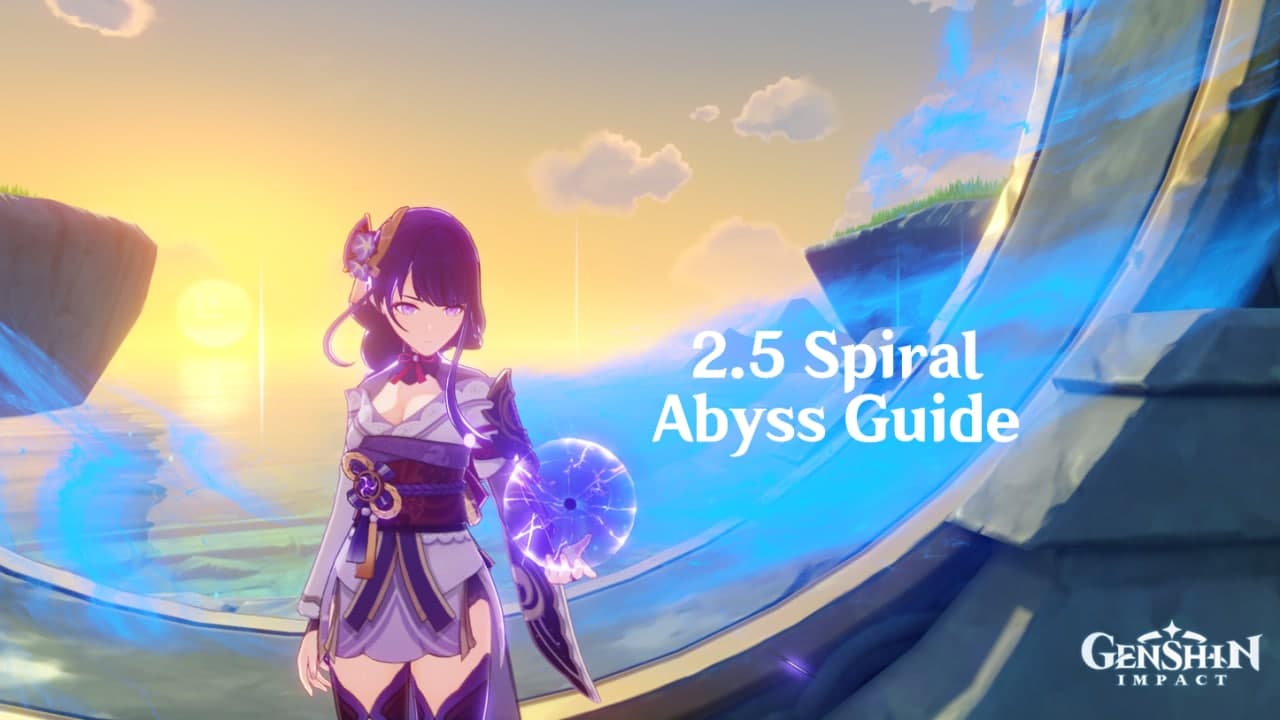 2.5 Spiral Abyss Introduction
The 2.5 Spiral Abyss has just been released and has the following Blessing of Abyssal Moon: When opponents take Electro-Charged DMG, their Electro RES decreases by 10% for 10s, with a maximum of 4 stacks. Each stack's duration is independent and each enemy can receive this effect once every 1.2s. The Electro-Charged DMG buff is clearly targeted for the two upcoming rerun banners: Raiden Shogun and Kokomi, for the taser Electro-Hydro characters.
I will be giving tips on how to complete Floors 11 and 12 to get as many stars as possible and give recommended team compositions.
Floor 11
The Ley Line Disorder gives 60% Electro DMG Bonus and 30% Healing Bonus, once again targeted towards Raiden Shogun and Kokomi. For the first half, it's good to have Electro characters to break the shields of the Cryo Abyss Mage and Cryo Slimes. For the second half, I would recommend a Permafreeze team (Cryo and Hydro), since there is a Pyro Abyss Lector and Electro Abyss Lector. Their shields in their final phases are easily broken by Hydro and Cryo respectively. Additionally, the Permafreeze comp should work great for keeping your enemies rooted so you can deal more damage without missing the targets. The team composition I used is below:
First half: Raiden national team
Raiden Shogun
Xingqiu (You can replace him for Fischl if you don't have Mona, and bring Xingqiu in the second half for Permafreeze instead)
Xiangling (You can replace her for Fischl for that Electro DMG buff, but make sure your Fischl is built for Electro Sub DPS and not Physical DMG!)
Bennett
Second half: Permafreeze team
Ayaka (you can replace her with Ganyu, but do note that Ganyu is likely to die since she is still a glass cannon. You might want to use Zhongli to decrease interruption and keep her alive with his tanky shield)
Mona (you can use Kokomi)
Qiqi (you can replace with Diona, her shields and healing is more helpful, especially if you have C6 Diona that increases her elemental mastery)
Shenhe (you can replace her with a Crowd Control character such as Sucrose, Kazuha, Venti. I use Shenhe since she buffs my Ayaka's DMG a lot and I triple crowned Ayaka)
Floor 12
There is no Ley Line Disorder, so you can use anyone without restrictions. I feel that Floor 12 Chamber 1 is rather challenging as the Bathysmal hatchlings are very tanky and you need to do loads of damage to kill the enemies to get 3 stars. However, Floor 12 Chamber 3 is the worst for me as you need to kill both Bathysmal Vishaps within 10 seconds apart to clear both of them. This means that you should try to bring very strong characters in your second half that can deal out loads of damage. Here is my recommended team composition:
First half:
Taser team (Mona/Kokomi/Xingqiu, Beidou/Raiden, Fischl/Yae, Diona/Bennett)
Permafreeze team (Ayaka/Ganyu, Mona/Kokomi/Xingqiu, Qiqi/Diona, Shenhe/Sucrose/Venti/Kazuha)
F2P National team (Rosaria/Fischl, Kaeya/Main DPS, Xiangling/Fischl, Bennett)
Second half:
Raiden national team (Raiden Shogun, Bennett, Xingqiu, Xiangling/Fischl)
Full Geo team (Itto/Ningguang, Albedo/Noelle, Zhongli, Gorou)
Hutao and Double Geo team (Hu Tao, Xingqiu, Albedo/Kazuha, Zhongli/Thoma) OR (Hu Tao, Xingqiu, Yunjin, Noelle)
All the best in the 2.5 Spiral Abyss! We hope that you have found this article helpful and that you will enjoy the new updates in the 2.5 version of Genshin Impact (more information here)! For more information on Yae, you can check out my Yae build article here, or my Yae constellations, weapon and kit review here. You can read a guide on how to defeat Raiden Shogun Weekly boss here. Do look out for more Genshin guides from me and let us know if there are other articles you would like to read!