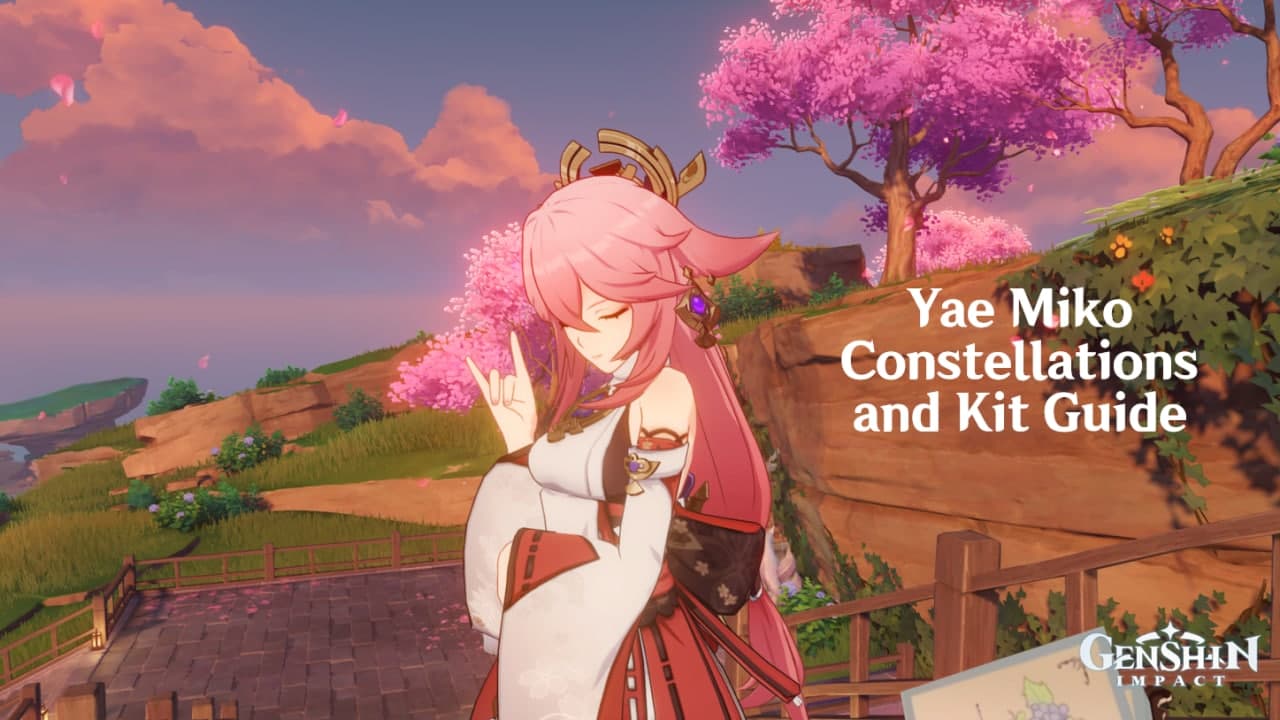 This article hopes to discuss Yae Miko constellations and to help you decide if you should pull for an extra constellation or for Yae's signature weapon. For more information on Yae's kit and build, do refer to my previous article here.
Yae Miko Constellations
Yakan Offering: Each time Yae's Ultimate activates a Tenko Thunderbolt, Yae Miko will restore 8 Elemental Energy for herself.

This is incredibly helpful for Yae's energy problem (she requires 90 Energy for her Ultimate and requires a Battery on the team). Since Yae is a Burst DPS and should be swapped in to place her totems and do her ultimate, this could solve her energy problem. I would recommend using CRIT Rate/CRIT DMG/ATK% weapons instead of ER% weapons so that you don't lose out on damage. I would say that C1 Yae is more valuable than C1 of other 5 star characters.

Fox's Mooncall: Yae's totems start at Level 2 when created, their max level is increased to 4, and their attack range is increased by 60%.

This is great for her kit and can increase damage greatly. However, if you are a low spender, I recommend saving for other 5 star characters instead.

The Seven Glamours: Increases the Level of Yakan Evocation: Sesshou Sakura (Totems) by 3, maximum upgrade level is 15.

Similar to other character constellations, her scaling for this skill is rather decent so it might be worth it if you have the money.

Sakura Channeling: When Sesshou Sakura lightning hits opponents, the Electro DMG Bonus of all nearby party members is increased by 20% for 5s.

This is great if you have other electro characters on your team such as Raiden, Fischl, Beidou. However, this isn't really worth the extra money required to hit C4.

Mischievous Teasing: Increases the Level of Great Secret Art: Tenko Kenshin (Ultimate) by 3, maximum upgrade level is 15.

The scaling increases by about 200% from Level 10 to Level 15. Not really worth the money as well unless you are a whale.

Forbidden Art: Daisesshou: The Sesshou Sakura's attacks will ignore 60% of the opponent's DEF.

Great for damage but rather underwhelming for C6, not really worth the money.
I would say that Constellation 1 is the most value for money since it changes her gameplay such that you don't have to keep worrying about her energy recharge/battery on your team!
Constellation vs Weapon?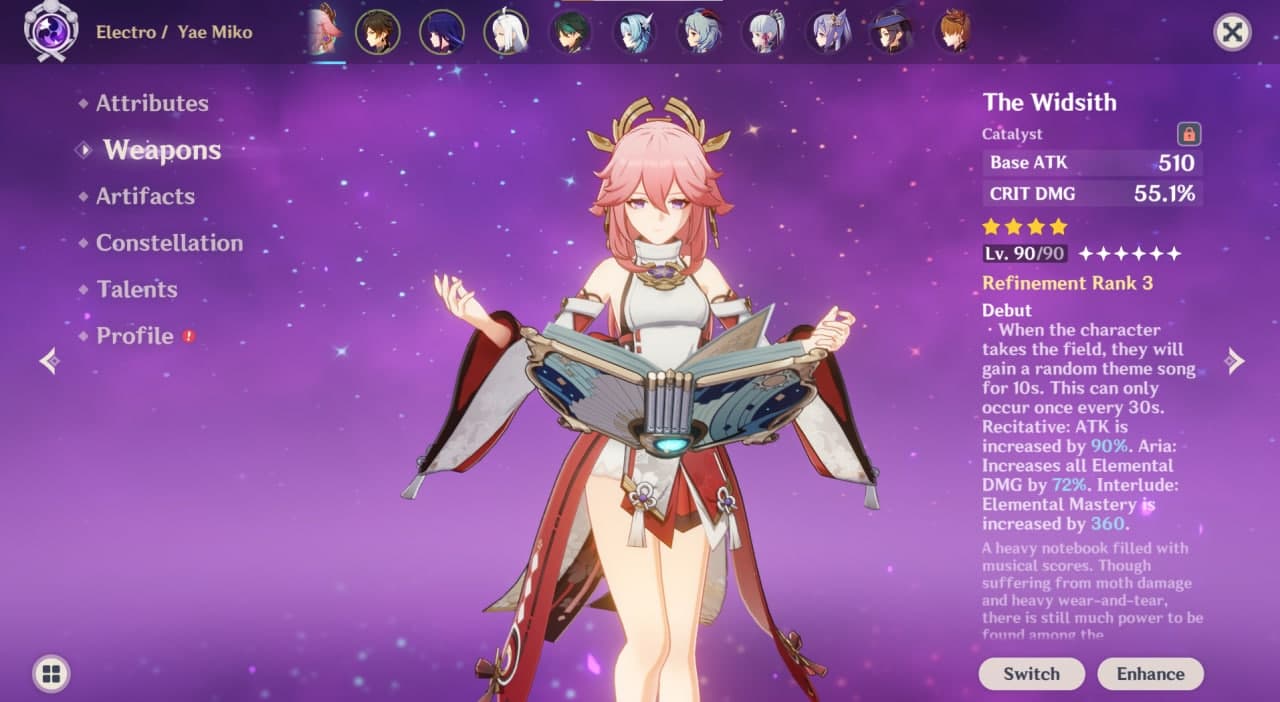 The best contender for Yae's best weapon, Kagura's Verity, is the Widsith. Since Yae's ascension talent is her CRIT Rate, you can focus on her CRIT damage as long as you have good artifacts with CRIT Rate sub-stats. The Kagura's verity has a base attack of 608 at Level 90 and CRIT damage of 66.2%, while the Widsith has a base attack of 510 and CRIT damage of 55.1%. This makes for a 98 ATK difference and 11.1% CRIT Damage difference, which can add up to a lot with damage multipliers. Additionally, the Kagura's Verity weapon passive increases Elemental DMG Bonus and Elemental Skill DMG. This compared with the Widsith shows how the Widsith is rather lacking. Although there are decent buffs (especially when the Widsith is at Refinement Rank 5), by increasing ATK up to 120%/increasing Elemental DMG by 96%/increasing Elemental Mastery by 480, this buff is only up for 10s and there is a down time of 20s.
Overall, I would still recommend getting an extra Constellation of Yae Miko to solve her energy problem and to focus on using Yae Miko in the 10s where the Widsith buff is up. This is a more worthy investment since you could take up to 240 pulls on the weapon banner (compared to 180 pulls on Yae's banner) if you are unlucky.
Kit Review

There have been many complaints about Yae's kit, namely:
The lack of a targeted Artifact set (such as Raiden, Kokomi, Itto, Yoimiya)
The problems with her clunky charged attack and poor auto-aiming
Inability to play Yae in Co-Op, since regardless of the number of Yae's in the team, you can only place down 3 totems, greatly limiting your damage output
High energy cost makes it expensive to play Yae, especially if you don't have Raiden on your team
Overall, I do agree with the complaints that Yae is definitely not optimised as of now and I hope that Hoyoverse will make some changes to optimise her kit and fix the auto-target problems. However, the Co-Op complaints don't really pertain to me as I don't Co-Op in Genshin often and domains limit the number of the same characters to 1 anyway. Concerns about her energy cost can be overcome with C1 (but constellation locking characters is still unfair to F2P or low spender players). Otherwise, try building more Energy Recharge % sub-stats on your artifacts and try to use a battery in your team!
We hope that you have found this article helpful and that you will enjoy the new updates in the 2.5 version of Genshin Impact (more information here)! For more information on Yae, you can check out my Yae build article here. Do look out for more Genshin guides from me and let us know if there are other articles you would like to read!