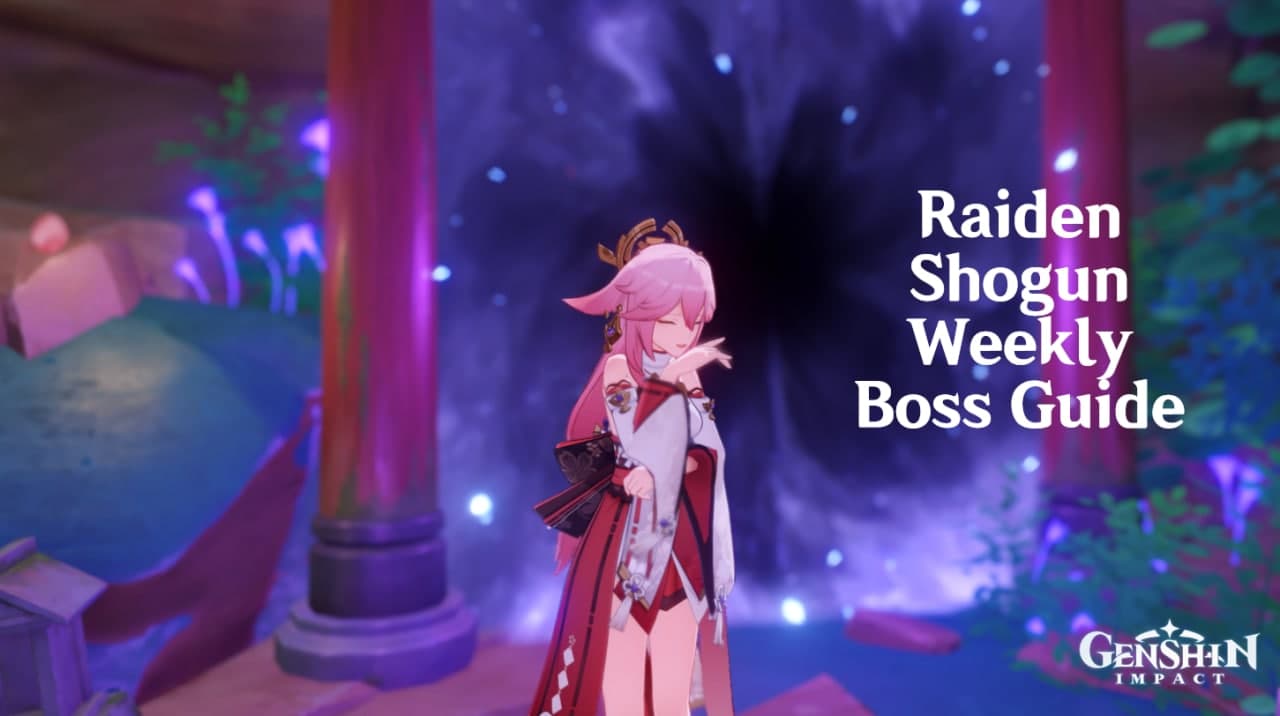 Raiden Shogun Weekly Boss
The Magatsu Mitake Narukami no Mikoto is the newest Raiden Shogun Weekly Boss domain located underneath the Sacred Sakura Tree in Narukami Island. This domain required 30 Fragile Resin to obtain rewards and 60 Fragile Resin if you have already claimed 3 weekly boss materials.
How to Unlock
Ensure that you are at least Adventure Rank 40 or higher.
Complete the Archon Quest "Chapter 2: Act 3 — Omnipresence Over Mortals."
Complete the Raiden Shogun story quest "Imperatrix Umbrosa Chapter: Act 2 — Transient Dreams."
Recommended Characters
Ranged characters and single target DPSes work best for this domain. Additionally, Raiden deals loads of damage, so you should try to use a Shield or Heals character or both!
Raiden Shogun

Raiden can easily deal Electro DMG and destroy the Sakura Orb in one of the boss forms. Additionally, she is able to counter the Energy Recharge drain that happens within the domain.

Yoimiya

Yoimiya is able to do ranged damage without getting hit by Raiden's attacks and has high Single-target DPS. Using Yoimiya with other characters that deal elemental reactions such as Raiden, Xingqiu, Fischl is a great option

Ganyu

One of the best DPS in the game, especially for ranged damage. Do be careful with this glass cannon as you might need lots of heals and shields to stay alive!

Zhongli

Zhongli is always recommended due to his shield utility that can prevent you from taking damage from Raiden Shogun's attacks. Additionally, his shields help to decrease the DEF of Raiden herself. Zhongli is especially recommended for glass cannon characters such as Ganyu, or for characters that work better without interruptions to their attacks, such as Yoimiya and Eula.

Kokomi

One of the best healers currently in-game and can do decent damage. Each tick of her Jellyfish heals your party greatly. She can be replaced by Barbara, especially if you have C6 Barbara since she can revive 1 party member every 15 minutes.

Ayaka

Her ability to deal consistent Cryo DMG is very helpful and her Ultimate can deal a large amount of DMG when Raiden stays in place.
Recommended Teams
Raiden National

Raiden Shogun, Bennett, Xingqiu, Xiangling
This is one of the best setups you can use for any domain or boss fight with the constant elemental reactions and is relatively easier to obtain since only one 5 star character is needed.

Morgana

Ganyu, Mona, Zhongli, Diona
Although the Raiden Shogun cannot be Permafreezed, the reactions still help!

F2P: Electro Traveller, Bennett, Xingqiu, Xiangling

Budget Raiden National if you don't have Raiden herself!
Guide
There are two main attacks that you need to watch out for. Firstly, you need to destroy the Magatsu Electroculi once it is summoned. You can do this quickly using the elemental skills of your characters. Secondly, you must hit the real Raiden Shogun to put her into a vulnerable phase where you can deal damage to her continuously without her teleporting.
A hidden achievement is "Impeccable Judgment", where you must hit the real Raiden Shogun duplicate on the first hit. You can tell who is the real Raiden Shogun by the attacks. The real Raiden Shogun has an X attack targeted towards you, while the other fake duplicates have a single slash. You will obtain 5 primogems for this achievement.
When you are in the Baleful Shadowlord form, the electro shield will slowly deplete but using Elemental DMG will deplete it further and recharge your Energy. When the shield is fully depleted, Raiden will take more damage and be open to attack.
In her final phase, there will be three spears in the form. Do not try to attack Raiden Shogun in this time as you will die, just try to avoid the AoE damage.
Materials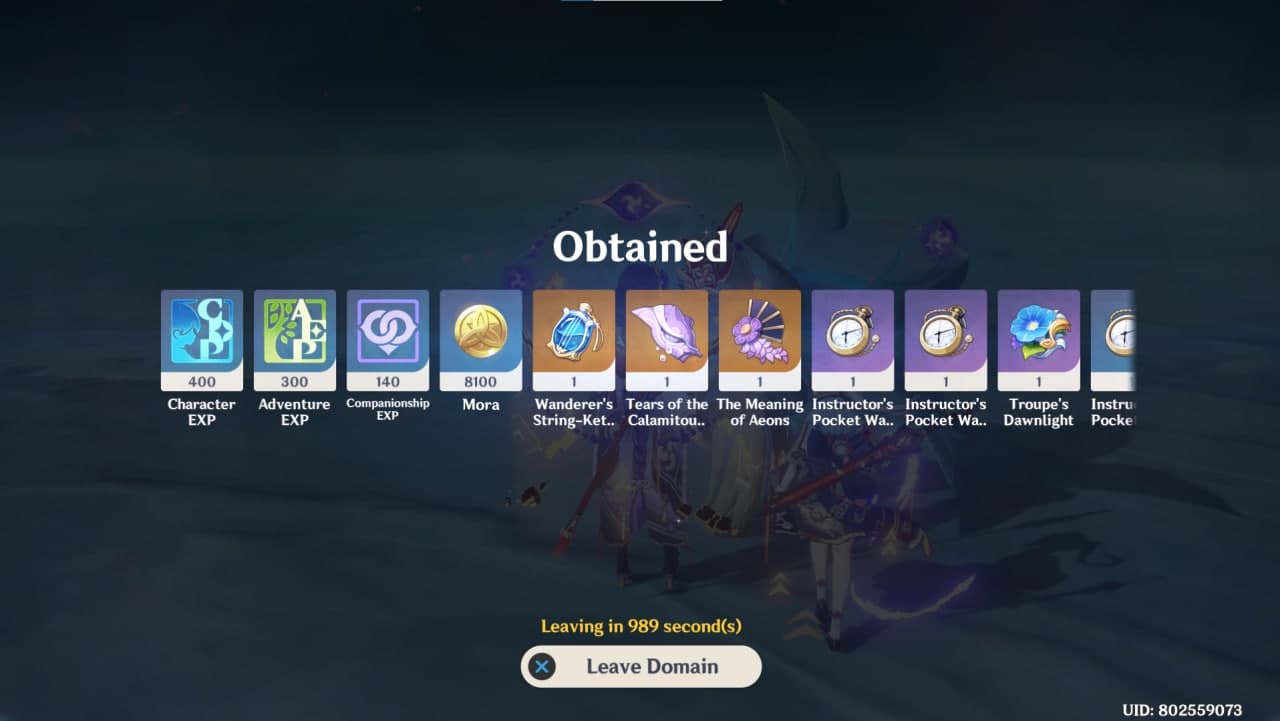 After defeating the boss, you will obtain 4 or 5-star artifacts from Wanderer's Troupe, Gladiator's Finale or 4-star artifacts from The Exile, Berserker or Instructor Set. You can also obtain 1 Northlander Billet from any weapon by chance or Vajrada Amethyst Silver/Fragment/Chunk/Gemstone. Most importantly, you will obtain talent level up materials such as The Meaning of Aeons, Tears of the Calamitous God or Mudra of the Malefic General.
As of now, Yae Miko uses The Meaning of Aeons as talent level up material, while Kamisato Ayato (coming in 2.6 release) is rumoured to use Mudra of the Malefic General.
We hope that you have found this article helpful and that you will enjoy the new updates in the 2.5 version of Genshin Impact (more information here)! For more information on Yae, you can check out my Yae build article here, or my Yae constellations, weapon and kit review here. Do look out for more Genshin guides from me and let us know if there are other articles you would like to read!