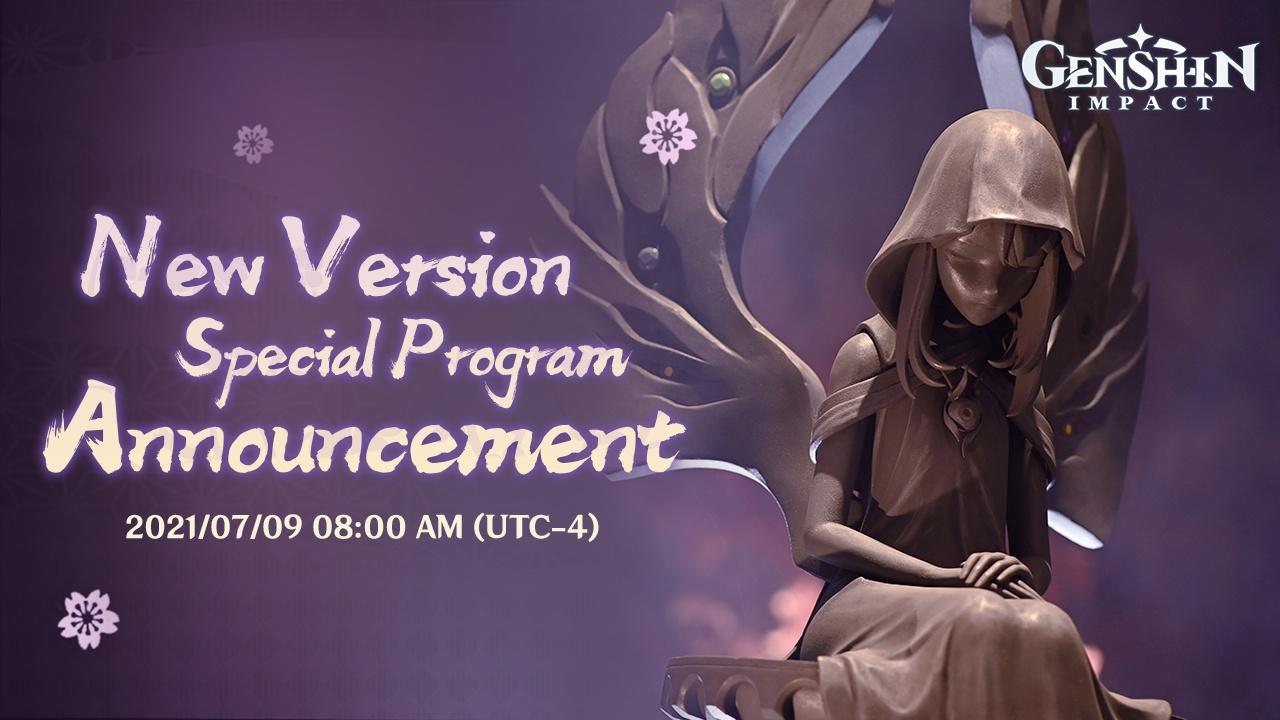 The 2.0 livestream that introduces Inazuma and the various upcoming characters has just aired, and this is what you need to know. As usual, the codes for free primogems are as below. Remember to collect them before the codes expire!
AS6BQKLY9GLD - 100 Primogems, 10 Mystic Enhancement Ores
GBNA9J5H9Y4H - 100 Primogems, 5 Hero's Wit
LS6T4L9ZZ7TH - 100 Primogems, 50,000 Mora
Characters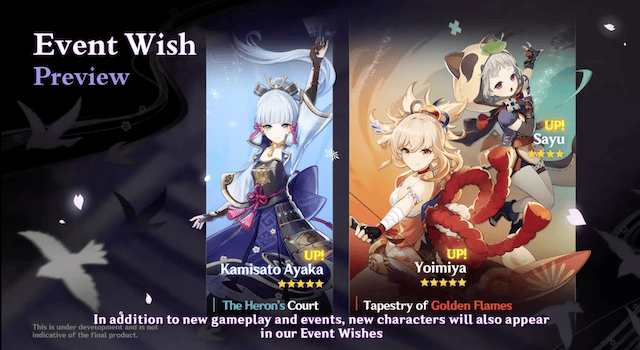 There will be three new characters that will arrive with the Inazuma update, with Ayaka (5 star Cryo Sword) being on the first banner and Yoimiya (5 star Pyro Bow) being on the second banner with Sayu (4 star Anemo Claymore). I will be posting guides in the near future on how to build these characters, so do stay on the lookout for them!
Events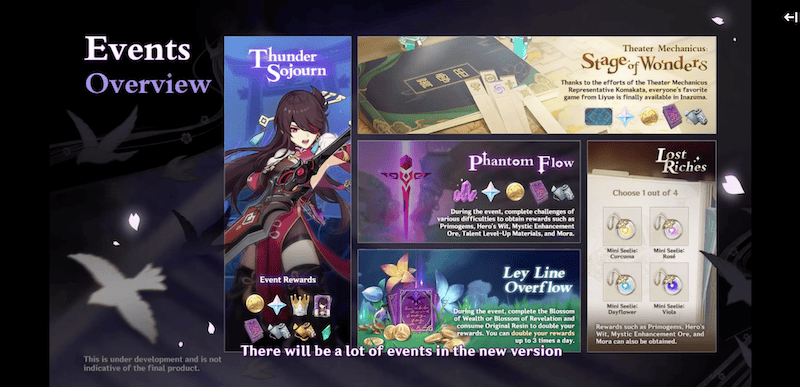 There will be a few events in the new update;
Thunder Sojourn - an event where you will obtain a free copy of Beidou. This event comprises 4 parts - Bolt Blitz, Lightning Round, Weaving Lightning and Automation Front. Based on the previews of the event, you will be able to explore various Inazuma mechanics and fight new Inazuma enemies such as the new Ruin enemy.
Stage of Wonders - Theatre Mechanicus 2.0, with a namecard this time as well. This tower-defence mechanism game will likely have an event shop that allows you to obtain other rewards.
Phantom Flow - You can fight Inazuma enemies and obtain rewards, though the mechanism is unclear.
Ley Line Overflow - For a few days, you will be able to obtain double the amount of rewards from a Ley Line, though you can only do so 3 times per day and using Original Resin.
Lost Riches - Another rerun of the previous event, with a purple Mini Seelie this time around!
New Weapon Banner Mechanic
The new Mechanic essentially guarantees a specific 5-star weapon of your choice if you have obtained the other weapon rated up on the banner 2 times. Upon obtaining one 5 star weapon that is not what you selected, you will obtain 1 Fate Point. You can obtain a maximum of 2 Fate Points before you will receive the 5 star weapon of your choice. This only lasts for the current weapon banner and you will lose all accumulated Fate Points after the weapon banner is over. Hence, this seems to be a feature targeted at whales who intend to cash for the 5 star weapon during the event duration. Otherwise, it is rather difficult for F2P players to save up beforehand since not much information is known about the weapon banner so early in advance. You can read the full article by MiHoYo on the Banner Mechanics here.
Artifact Mechanic
For those with bad artifact luck, this gives you a chance to reroll your artifacts again without spending additional resin! This is called Mystic Offering and allows you to consume three 5 star artifacts (assumably with bad rolls) to receive a random 5 star from Gladiator's Finale, Wanderers Troupe, Bloodstained Chivalry or Noblesse Oblige. It can be a flower, feather, sands, goblet or circlet. As of now, you are able to choose which of the 4 sets that you want, but this might be subject to change before the 2.0 update is released.
Inazuma Mechanics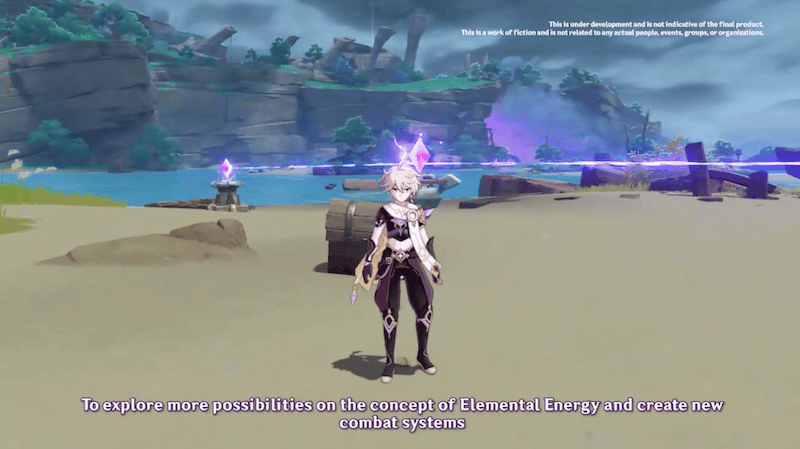 Inazuma will have several new systems with regards to exploration of the region, with something described as an Electro version of "Sheer Cold" in Dragonspine, by Beta Test players. Fret not, this will become easier after you have explored more of Inazuma and you will no longer be affected by the Electro "Sheer Cold". Since it is rather difficult to describe the different mechanics now, you can view the video from the official Genshin Youtube here.
Along with this, you will obtain Electro Traveller. I will release another article to explain how to build Electro Traveller and his skills soon!
Weapons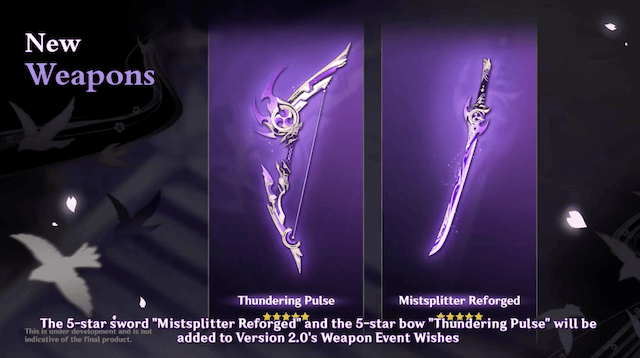 There will be two new 5 star weapons that will likely come with the new weapon banners in 2.0 along with Ayaka and Yoimiya. Both the weapons have a CRIT DMG sub-stat and are potentially Ayaka and Yoimiya's signature weapons. Additionally, there will be new Inazuma craftable weapons. You can read more about the craftable weapons here!
Serenitea Pot Update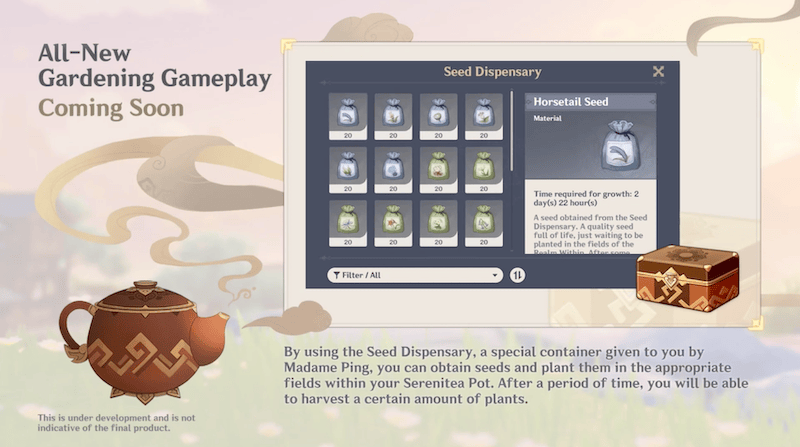 You will be able to farm/garden using different seeds in the new update. These seeds are likely available in the Realm Depot. They seem to be adding new updates to the Serenitea Pot with every new update to keep it fresh!
We hope that you have found this article helpful and that you will enjoy the new updates in the 1.6 version of Genshin Impact! Head here to read more about the Sacred Sakura Favour, here for a Kazuha guide or here for Inazuma Leaks and characters. Let us know if there are other articles you would like to read!