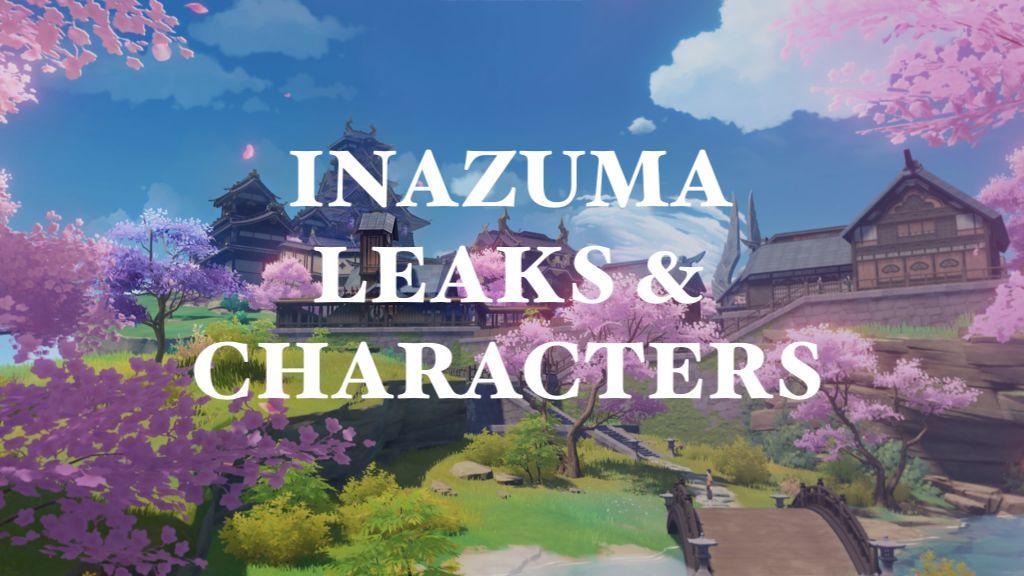 With the upcoming Inazuma update likely in 1.7, the official Genshin Impact account has given us new updates about Yoimiya, Sayu and Ayaka. Dataminers have released loads of new information about the Inazuma characters, weapons, region information etc. and I would like to summarise all the reliable leaks in this article. I will be releasing separate articles about the Electro traveller's skills and build and other character builds when more information is available about their kits.
This article will contain major leaks about the Inazuma region but I have excluded information about the Inazuma map or scenery itself so that you can explore the new aspects when the new region is released. All leaks in this article do not belong to me, they have been linked to their respective owners.
Characters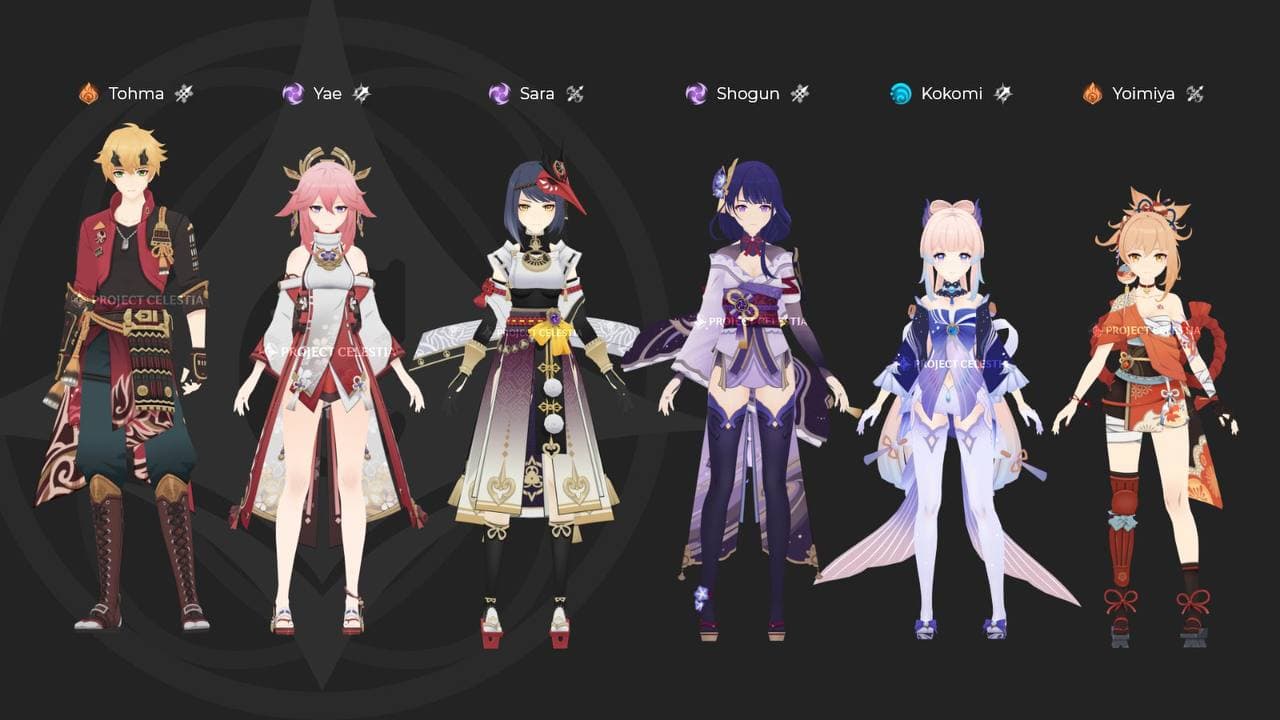 This photo is obtained from Project Celestia as an indication of upcoming characters that will be progressively released. It has been previously speculated that Yoimiya's banner will come after Kazuha's banner, followed by Ayaka's banner after Yoimiya. Given that only Yoimiya, Sayu and Ayaka were tweeted by Paimon, it might indicate that their banners come sooner than the other Inazuma characters. The rarities of characters are unknown for now, but Ayaka, Yoimiya and Shogun are definitely 5 star, while Sayu is 4 star.
You can see the various elements and weapons above each character's head, but note that there might be some changes. For example, the Raiden Shogun was shown to be using a sword in a separate leak of Kazuha's story quest cutscene, but her current in-game model shows polearm. Kokomi seems to match a previously leaked character, Mimi, but we are unsure if her design was modified from Mimi's or whether she is a separate character.
Additionally, Sayu and Gunjou have been leaked.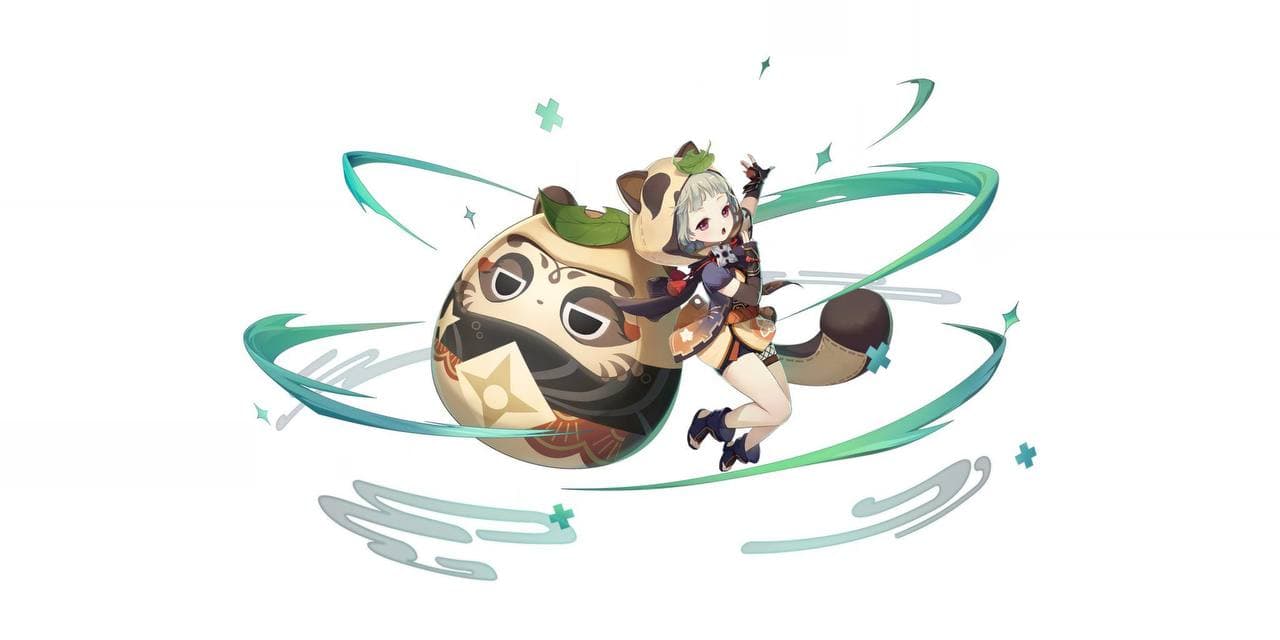 Sayu is shown above as a 4 star Anemo Claymore with a healing role. Sayu will likely be on Yoimiya or Ayaka's banner as she was leaked by MiHoYo themselves.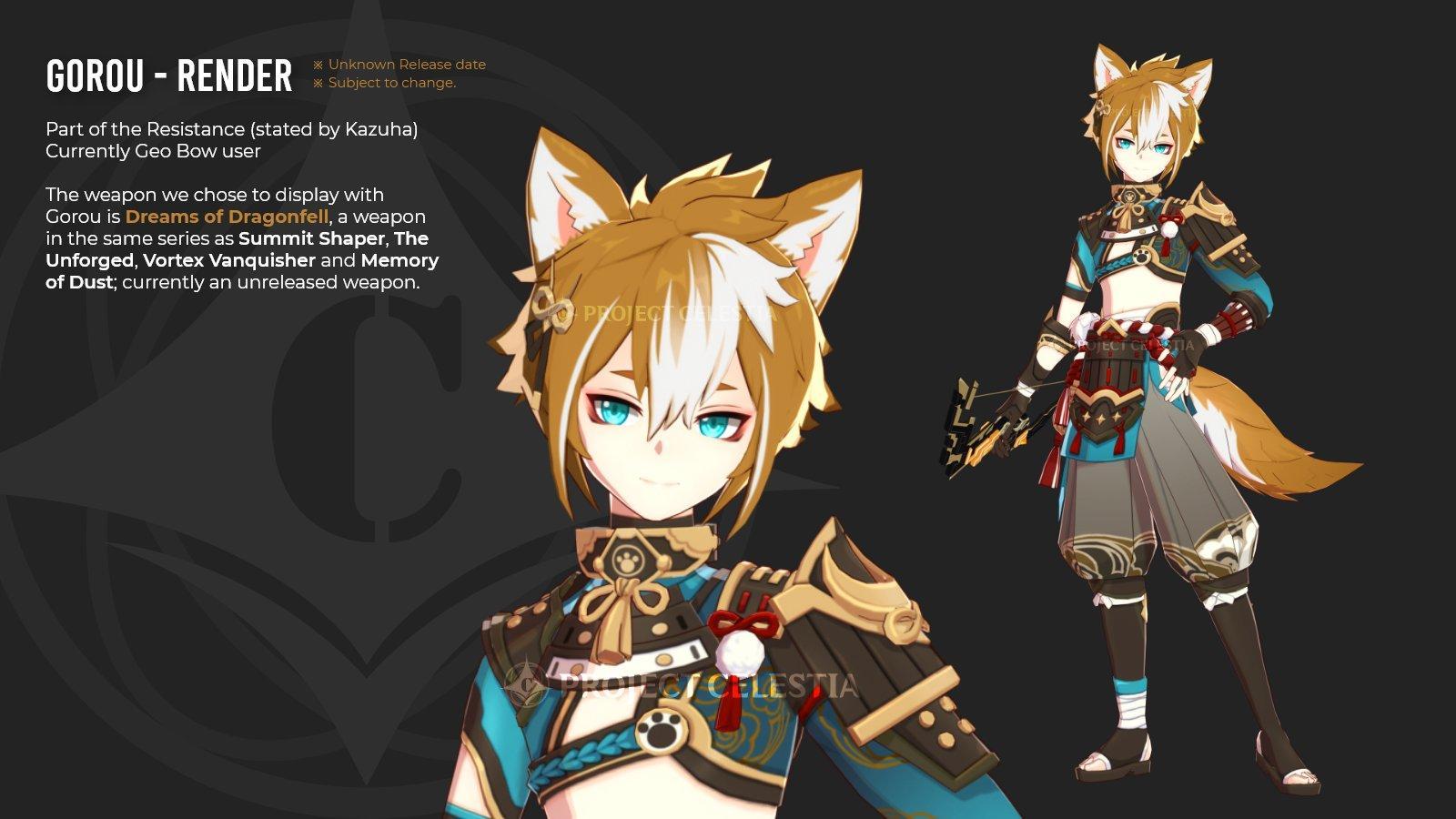 Gorou is a Geo bow character with unknown rarity, leaked by Project Celestia.
Weapons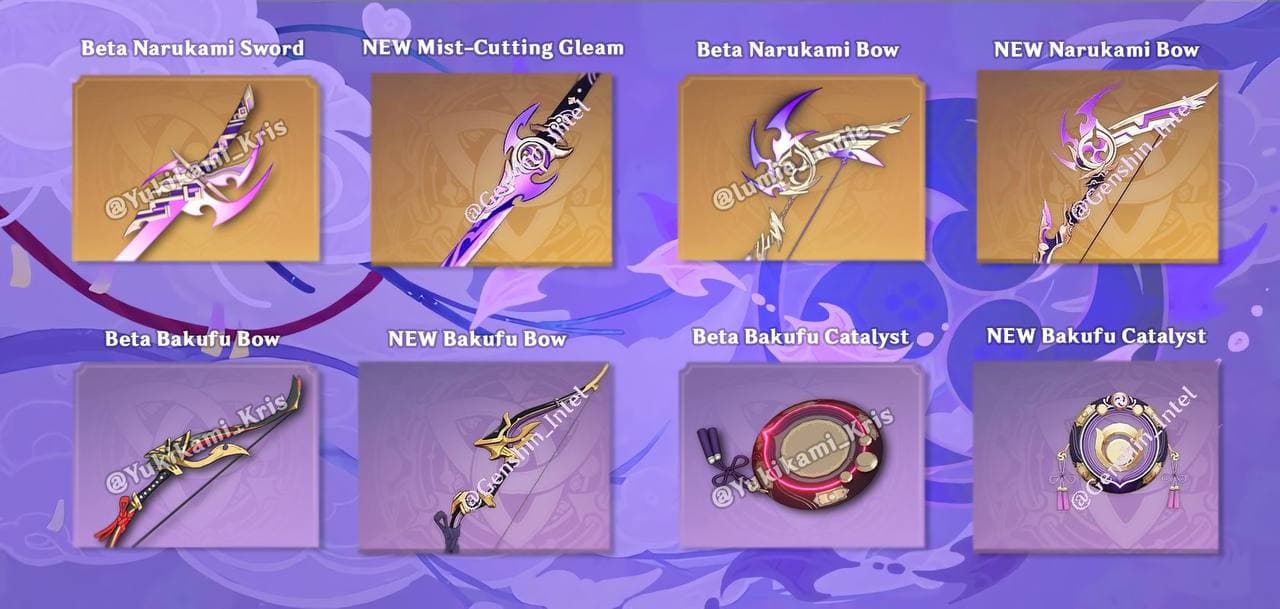 These are the new weapons that will likely be released with Inazuma, with a comparison of the current weapons vs the old beta test 2 datamined weapons. The weapons will use new weapon ascension materials in the new Inazuma weapon materials domain, which you can read more about below under "Weapon Ascension Materials". When more information is available on the Inazuma weapons, I will post an article about their usage and best characters.
Events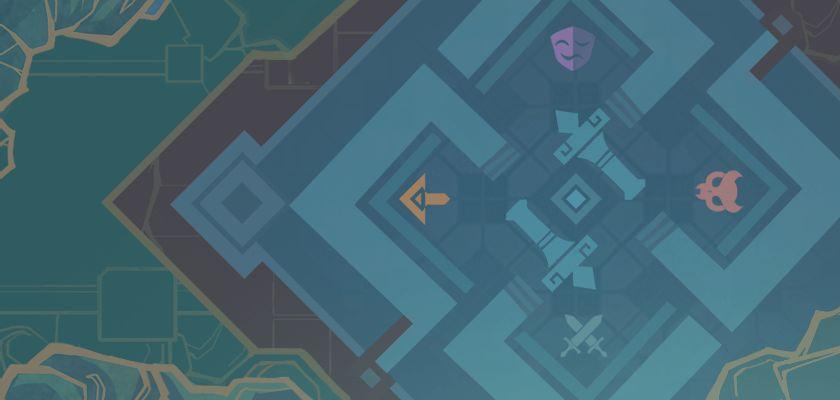 One of the confirmed events in the 1.7 update is a rerun of Theatre Mechanicus, this time with 10 maps. According to the other namecards leaked, there will be a KFC event where we will likely obtain the KFC gliders available to the China server earlier this year. There are also other Inazuma namecards, but I believe those are for Reputation or region-specific achievements.
However, there is also an Azhdaha namecard posted on Honey Impact here which is more likely related to Liyue than Inazuma.
Artifacts

This set, Shimenawa of Memories, has the following set benefits:
2pc: ATK +18%
4pc: If the character has 15 more energy, casting elemental skill will drain 15 energy and increase Normal, Charged, and Plunge attacks by 50% for 10 seconds.

This set, Hatajirushi of Isolation, has the following set benefits:
2pc: +20% Energy Recharge
4pc: Increase elemental burst damage, the extent of the increase being equal to 30% of Energy Recharge. Elemental burst damage can be increased by up to 75%.
I will be writing an article in future about how these sets can be used!
Inazuma Materials

The items above are the Inazuma local specialties. From left to right, the first three items are used as ascension materials. The first for Ayaka, the second for Sayu and the third for Yoimiya. As of now, the last four items are not ascension materials for any known character.
Talent Materials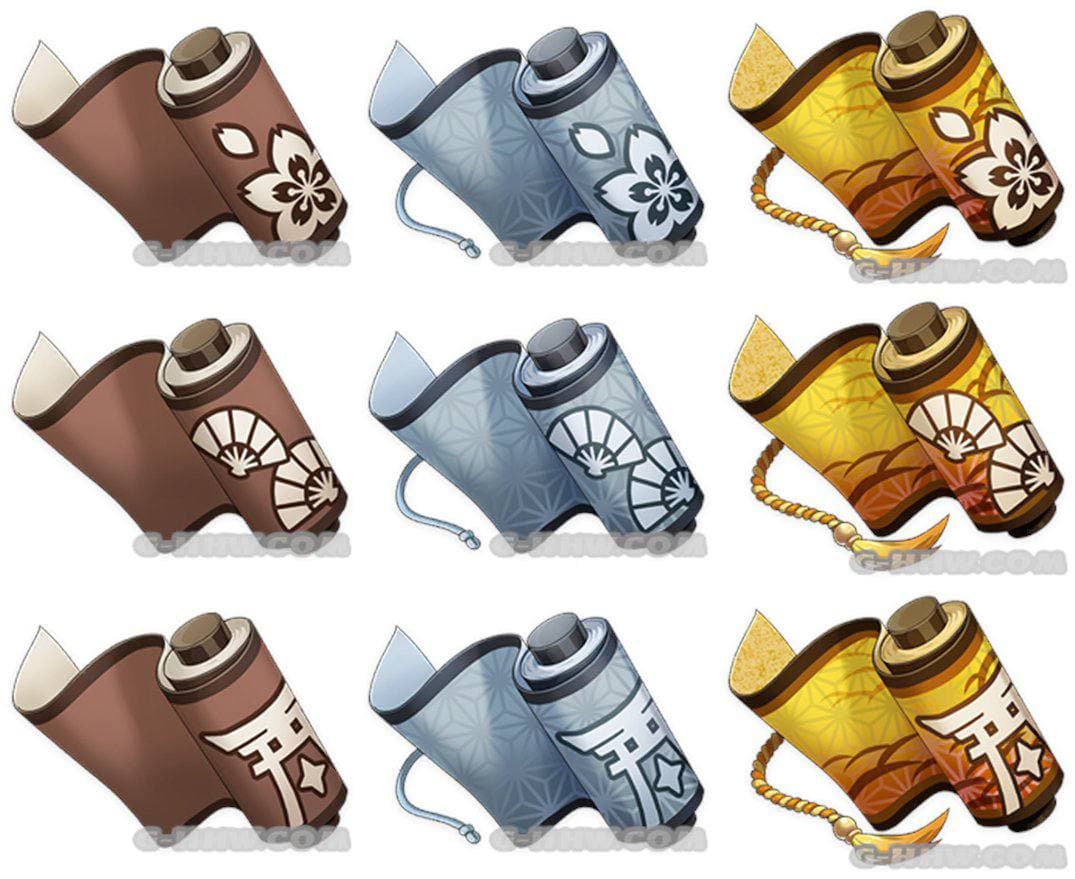 There are three new talent books for the Inazuma domain, Ukiyo, Fuuga and Heavenly Light (from top to bottom). Do note that these translations are not official and are made by the Wangsheng Funeral Parlour translation team. Ukiyo is used for Yoimiya, Fuuga is used for Ayaka and Heavenly Light is used for Sayu. These can be found on the Honey Impact archive.
Weapon Ascension Materials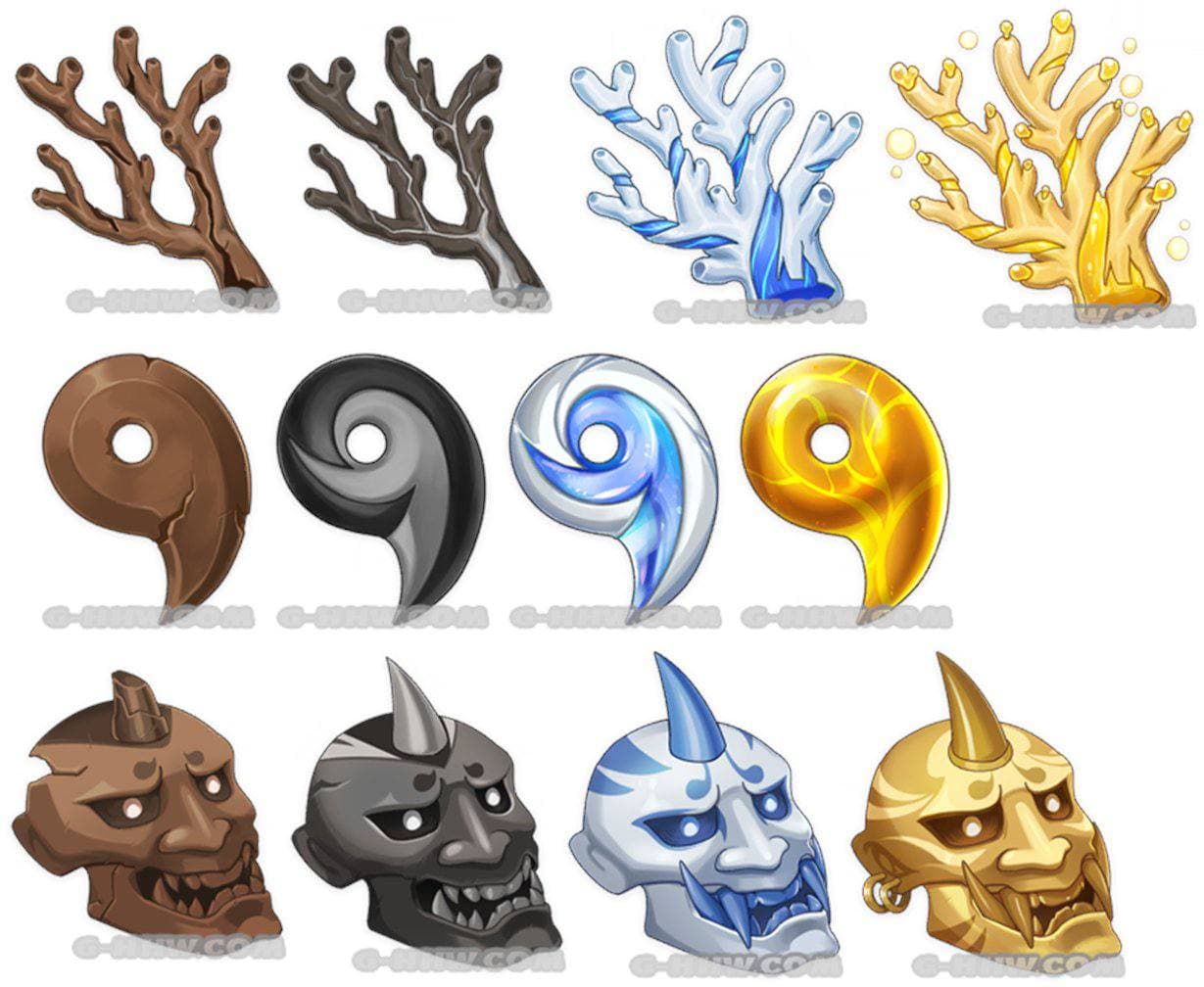 These ascension materials will be used to upgrade weapons from Inazuma shown in the segment above. From top to bottom, they are Gaikai Isyuu (literal translation is "Foreign Barbaric Land"), Narukami's Spirit and Konjyaku Gekiga (literal translation is "The Story of the Past and Present"). These can be found on the Honey Impact archive.
We hope that you have found this article helpful and that you will enjoy the new updates in the 1.6 version of Genshin Impact! Head here to read more about what the 1.6 Version has in store or here for Serenitea Pot Realm Depot and Layout tips. Let us know if there are other articles you would like to read!