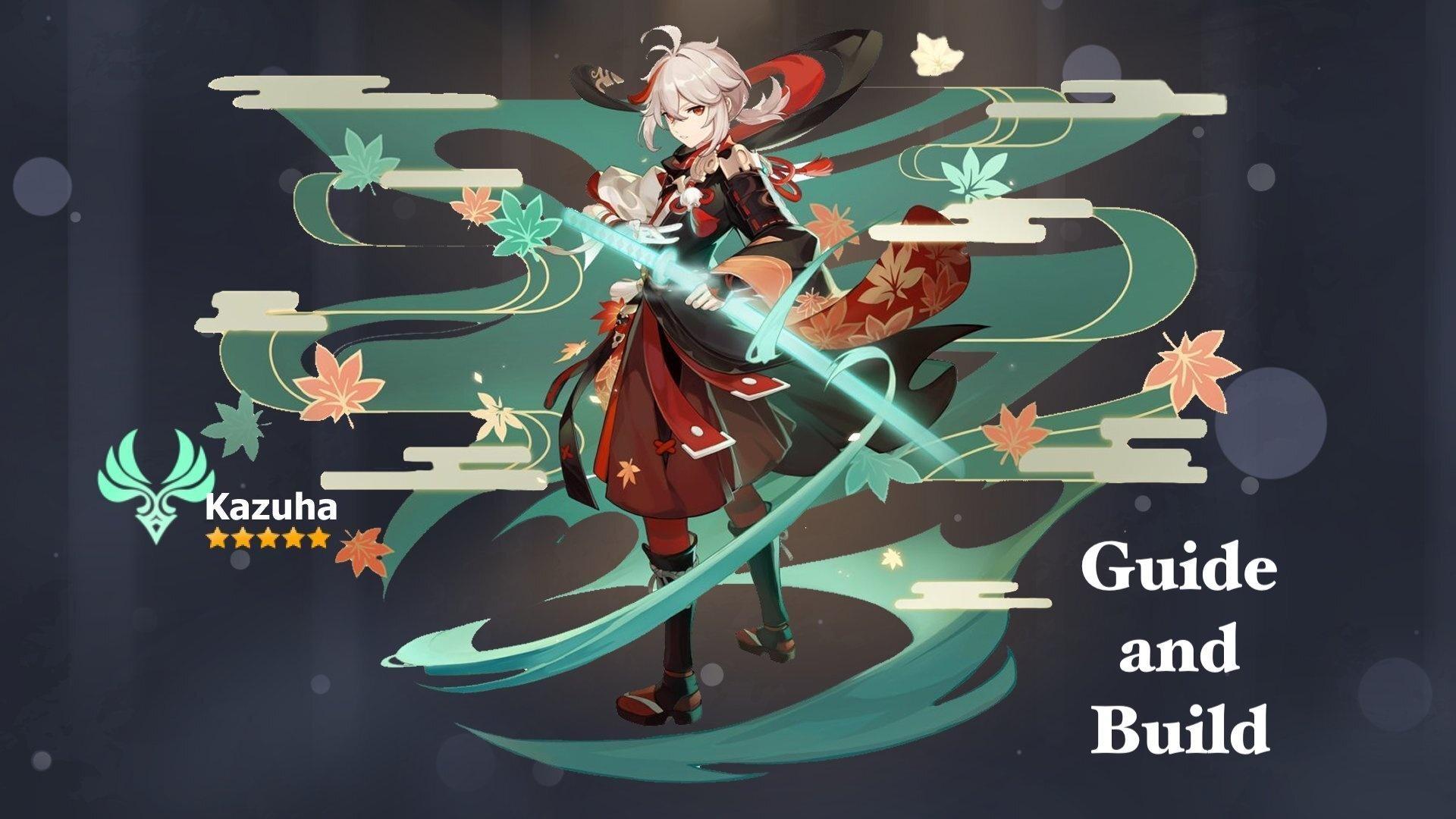 Preview
Kazuha is the latest 5-star character to be released in the 1.6 Version and has a Sub DPS/Utility role, due to his Ascension talent scaling off Elemental Mastery. Though you can build him as a Main DPS, his kit and Ascension stat still hints towards a hybrid of Sub DPS and Utility. The materials he requires are below: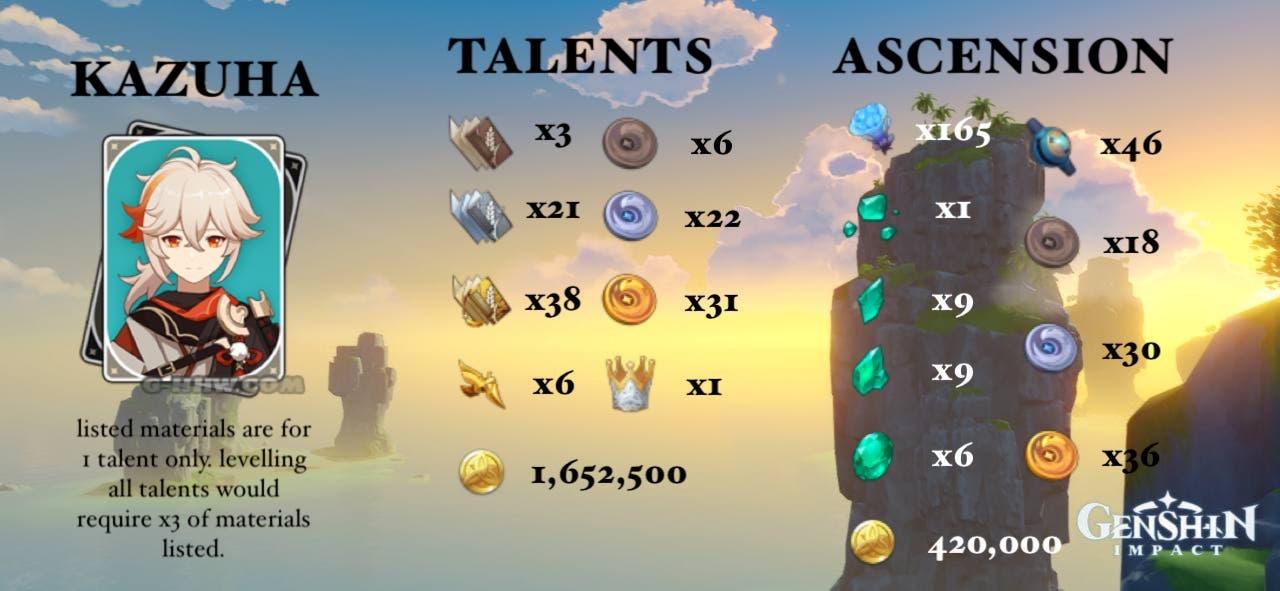 The Gilded Scale is earned through defeating the weekly boss Azhdaha, giving 1 or 2 each time at higher levels, while the Maguu Kishin required for levelling is obtained from the Maguu Kenki, currently available in the Golden Apple Archipelago. This article will introduce you to the weapons and artifacts to use on a Sub DPS/Utility Kazuha, as well as the party setup you can use with him. I will include options for free to play players, as well as beginners.
Weapons
A Sub-DPS build of Kazuha works best with Elemental Mastery sub-stat weapons. If possible, I would recommend using the 5-star weapon Freedom-Sworn since it is meant to be the optimum weapon for his kit. You can use the weapons below: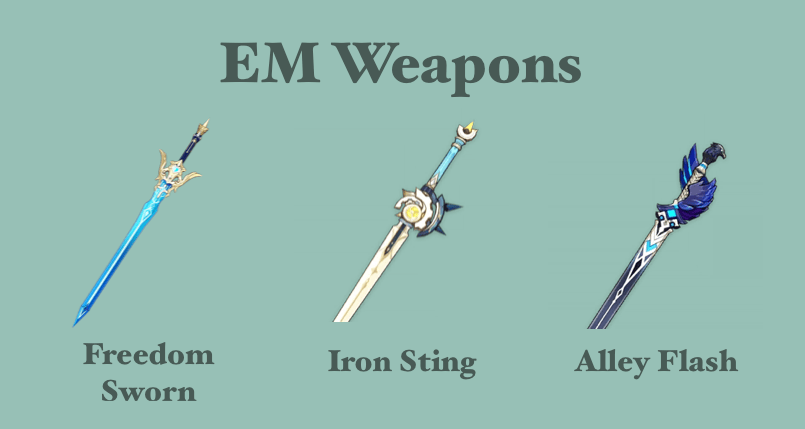 Freedom Sworn increases DMG by 10% and gives all party members increased Normal, Charged and Plunging Attack DMG by 16% and increased ATK by 20% after triggering Elemental Reactions. This is clearly for Kazuha as it does not require him to be on the field to trigger this effect and relies heavily on Elemental reactions that can be procced by his Swirl. This is the best option as you can attain 198 Elemental Mastery at Level 90.
Iron Sting can be crafted at the Blacksmith and is hence a good option for F2P and beginners. It provides increased DMG by 6% at Refinement Rank 1 after dealing Elemental DMG and can reach 12% increased DMG at Rank 5. Rank 5 is easier to obtain for a craftable weapon like this as compared to a Gacha weapon. This is an excellent option for a Pure Elemental Support Kazuha by making use of his Elemental Mastery.
The Alley Flash is another possible option, though it does not give much Elemental Mastery and gives a more Sub DPS/Support Hybrid than the other swords. The passive of the Flash allows for increased DMG dealt by the character equipping this weapon by 12%, but taking DMG disables this effect for 5s. Use this sword if you have a strong shielder in your team such as Zhongli and if you plan to use Kazuha more as a Burst Support rather than a pure Elemental Support character for your team.
Artifacts
Kazuha can use a 4-set of Viridescent Venerer as it increases Swirl DMG by 60% and decreases opponent Elemental RES to infused element in Swirl by 40%.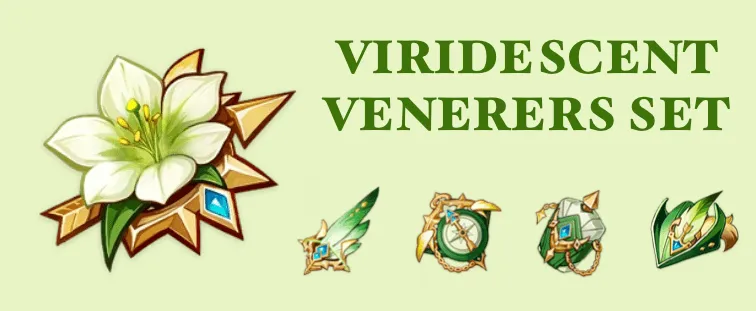 This artifact set can be obtained from the Valley of Remembrance, you can read about this domain here. This is arguably the best for higher Anemo DMG from Kazuha, and your Main DPS damage. Ensure that you use an applicator character with Kazuha's ultimate. For example, use Ganyu to apply Cryo with Kazuha's ultimate to decrease Cryo RES of enemies, after which you can have increased Cryo Damage. This artifact set can be obtained from the Valley of Remembrance, you can read about this domain here.
For beginners, use an Instructor 4 Set or Exile 4 set to increase Elemental Mastery or Energy Recharge after each of Kazuha's Ultimate.
The stats and sub-stats that you should prioritise are as below:
Flower sub-stats: Elemental Mastery, Crit DMG, Crit Rate
Feather sub-stats: Elemental Mastery, Crit DMG, Crit Rate
Watch stat: Elemental Mastery
Goblet stat: Anemo DMG Bonus (can be any artifact set, as long as the main stat is Anemo DMG)
Mask stat: Crit DMG or Crit Rate (depending on your weapon substat and other artifact substats)
Talents

The best order to upgrade Kazuha's talents is below, assuming you build him as Support:
Kazuha Slash > Chihayaburu > Garyuu Bladework
Party Setup
Kazuha has a rather flexible party setup, due to the nature of the Anemo element. However, do note that you should not have too many Geo characters in your party, since Geo is inert to Anemo and will not allow for any elemental reactions. For example, having Ningguang, Zhongli, Albedo and Kazuha will not allow for elemental reactions. Swirl is a powerful reaction that should be utilised by having various other elements in your team. One such setup could be Hu Tao, Xingqiu, Kazuha and Diona.
Though characters such as Venti generate many Elemental Particles and can be used as a battery for characters such as Xiao with high Energy costs for his Ultimate, we cannot be sure of whether Kazuha can be used in a similar fashion as of now.
Conclusion
Overall, Kazuha seems to be a promising character to add to your party. Most late-game content is much easier if you have crowd control, so Kazuha is definitely a useful character. We hope that you have found this article helpful and that you will enjoy the new updates in the 1.6 version of Genshin Impact! Head here to read more about what the 1.6 Version has in store, here for information on Inazuma Craftable Weapons or here for Inazuma Leaks and characters. Let us know if there are other articles you would like to read!