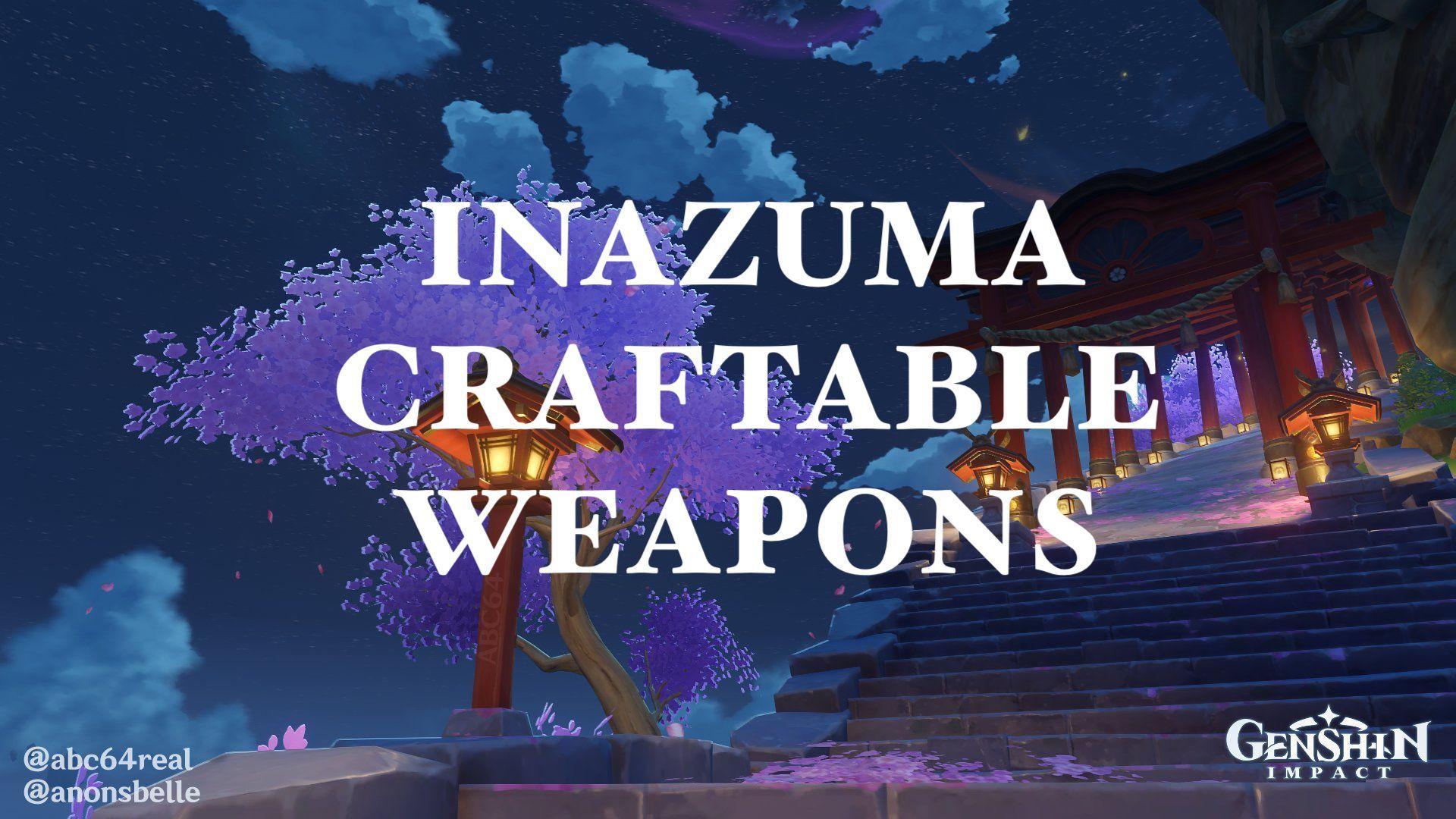 Craftable Weapons
With the new Inazuma leaks from the beta test of Genshin Impact, there have been updates on the upcoming craftable weapons blueprints that will come with the new Electro region. Since you can currently choose one item from the Northlander Billet Trove, you might want to save that for the future update if you would like any of these weapons from the Blacksmith!
This article will guide you on the characters that are best suited for each weapon and compare these with current available craftable weapons. All infographics below refer to the weapons at Level 90 and Refinement 1. Do note that there could be potential changes to the weapons and characters in future.
Sword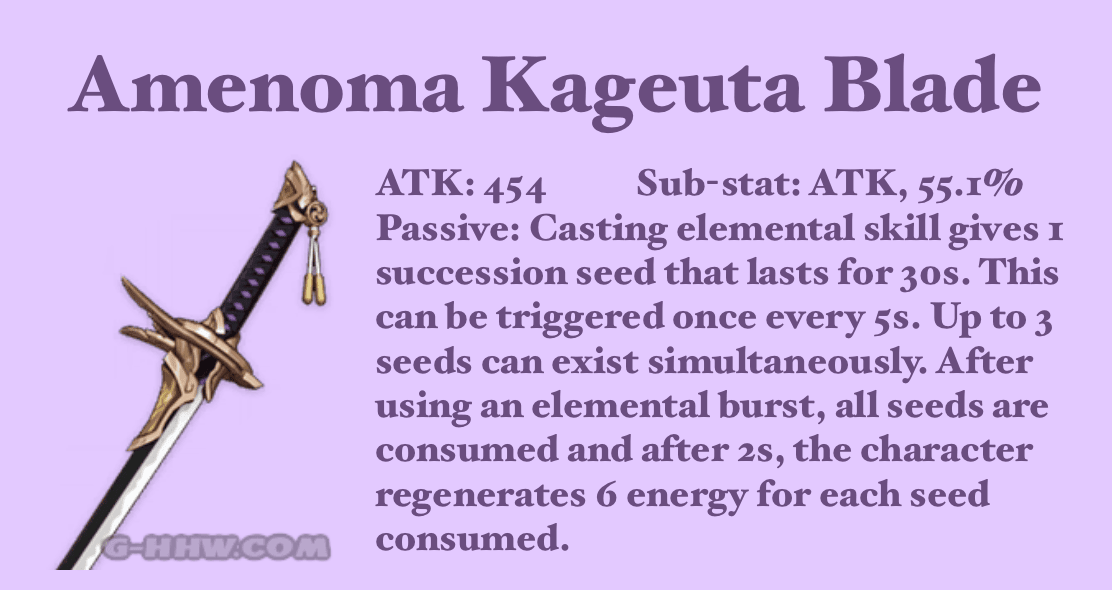 With an ATK sub-stat, this sword will likely work for Main DPS characters and the passive hints towards a character that benefits greatly from consistently using their ultimate. Increasing refinement of this sword will grant increased energy regenerated, up to 12 energy. Best characters for this sword include:
Ayaka - she was seen to be using this sword in a recent leak video and it will probably work well on her. Given that her ultimate requires 80 energy, an R5 with 3 stacks of succession seeds will give 36 energy, not to mention 10 energy from each elemental skill cast. With her ascension stat as CRIT DMG, using an ATK sword is also more viable.
Keqing - Keqing as a Burst Electro DPS is rather viable and this weapon allows her to do just that. However, it might be overdoing Energy Recharge as her Ultimate only costs 40 Energy. Perhaps, an R1 of this sword would be better on her.
Kazuha C6 - Of course, this would be better on a Main DPS build of Kazuha (which hence requires constellations) as otherwise, he does a better job of boosting your Main DPS. I would not recommend using this for a normal Sub-DPS build for him, but do look out for our future guide on a Kazuha build!
Do note that this sword has a rather low ATK at level 90 compared to weapons such as the Prototype Rancour (565) and The Flute (510). Hence, it will not be good for characters that scale off base-ATK such as Bennett.
Bow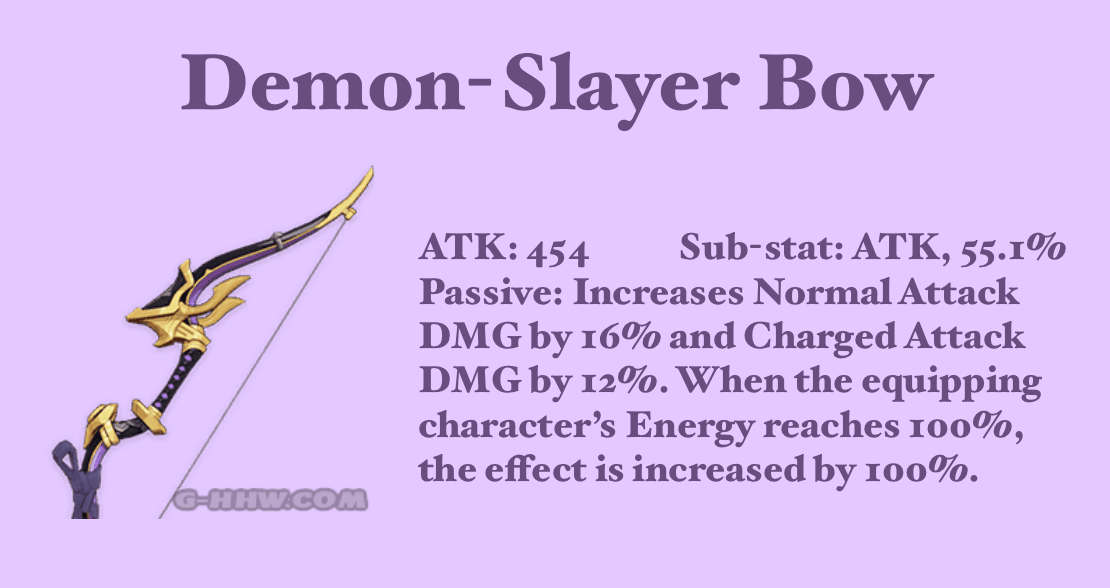 Another ATK sub-stat Bow hints towards a Main DPS character and the increased effect with 100% Energy indicates that the Ultimate is not meant to be used. Increased refinement rank increases Normal and Charged Attack DMG to 32% and 24% respectively. This, coupled with the 100% increase is rather insane. The best character for this weapon is:
Yoimiya - I believe that this is an F2P option for Yoimiya as she uses both normal and charged attacks. This weapon is designed to help with both types of attacks, unlike other weapons currently available. The passive and sub-stat are good for her kit.
I would recommend using a Prototype Crescent for Ganyu instead of this weapon, as the Crescent increases ATK after hitting an enemy's weak point. This is critical if you use Ganyu as a Main DPS and being unable to use her Ultimate is a rather large handicap if you rely on enemies to be affected by Cryo to increase CRIT Rate. Comparatively, the Windblume Ode bow from the 1.4 events seems to be better for a Sub DPS character.
Claymore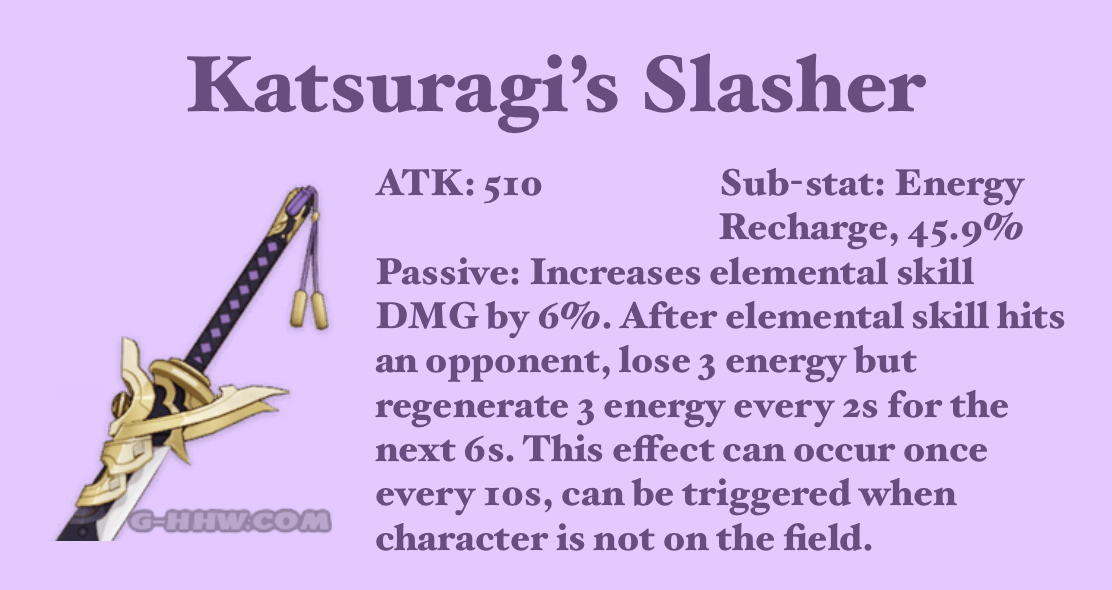 The Energy Recharge sub-stat and related passive imply that this would be best on a Sub DPS character. Increased refinement rank increases elemental skill DMG to 12% for R5 and regenerates 5 energy instead. The best character for this weapon would be:
Beidou (Sub-DPS) - since she can be consistently swapped into your party for her skill and ultimate (with the fast energy recharge), this would be great for a Sub-DPS build. If you plan to use her as your main damage dealer, I would recommend a CRIT DMG/ATK/CRIT Rate weapon instead.
Though some feel that this might work on a C6 DPS Noelle, I am inclined to believe that she would be better with a DEF sub-stat weapon such as the craftable Whiteblind. Comparing this to the Favonius Greatsword (61.3% Energy Recharge when fully levelled), this passive has the potential to out damage the Favonius. Additionally, the higher ATK of 510 compared to 454 of the Favonius makes this a better option for a Sub DPS Beidou. The additional Energy Recharge can be made up for with good artifact sub-stats or more elemental skills cast.
Polearm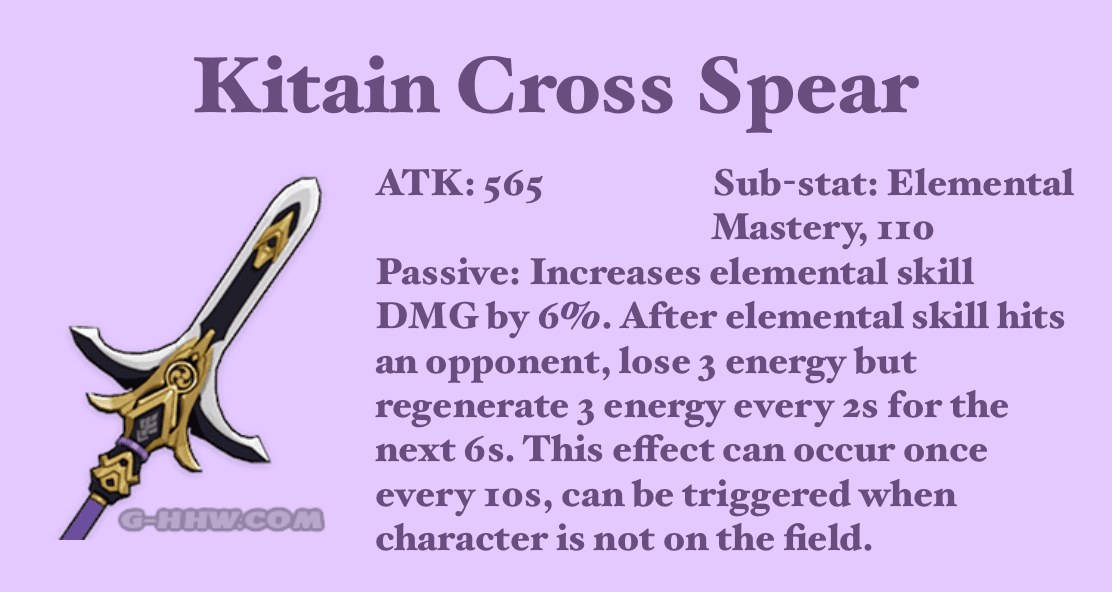 An Elemental Mastery Polearm is a new addition to the craftable weapons in Genshin Impact. At R5, elemental skill DMG is increased by 12% and energy regeneration is increased to 5 energy. The best characters for this weapon would be:
Xiangling - A Sub-DPS build of Xiangling is best as Guoba can be placed on the field and swapped out to a Hydro or Cryo Main DPS to make use of elemental reactions.
Tohma - this is speculation as Tohma is still a leak for now. All we know is that he is a Pyro Polearm character, though that is also subject to change.
Comparing this to Dragon's Bane, this helps more with energy regeneration. I would suggest using the Kitain Cross Spear if you do not have another Pyro character on your team for battery. Do note that the passive of the Dragon's Bane that increases DMG against opponents by 36% is insane for Xiangling's damage output, but if you plan to use Xiangling's Ultimate with Childe's elemental skill then the Kitain Cross Spear is a better option.
Catalyst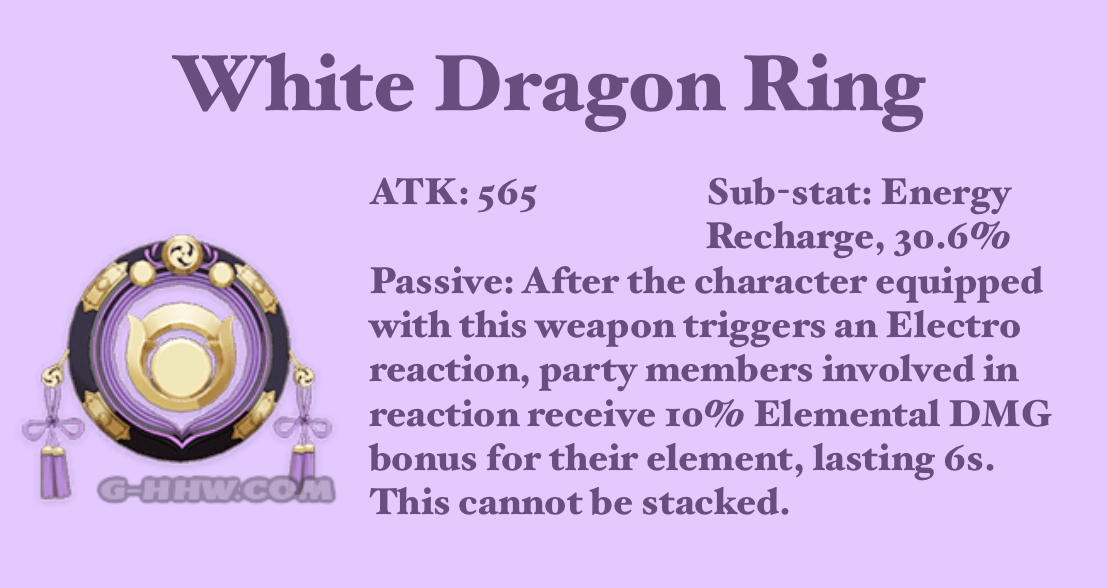 Another Energy Recharge weapon points towards a Sub-DPS build. The Passive at R5 increases Elemental DMG to 20%. The best characters for this weapon would be:
Lisa (Sub-DPS) - Her kit along with the 1.6 buffs for Electro does more damage. Her increased ER will allow her to boost Electro reactions for the team but do note that you will be rather limited to Superconduct, Overloaded and Electro-Charged reactions.
This could also work for Mona since her Hydro DMG Bonus scales off ER, but it is rather limiting to those reactions mentioned above. However, with the 1.6 buff for Electro, this might still work with Keqing/Fischl and Mona to constantly proc the reactions.
Comparing this to the Mappa Mare with an Elemental Mastery sub-stat and a similar buff of Elemental DMG Bonus, it seems that this is more limiting. The Mappa Mare can have a 16% Bonus, while this only has 10% at R1. I would recommend waiting for the Electro buff to decide whether you want to choose the Mappa Mare or the White Dragon Ring based on the Electro buffs.
We hope that you have found this article helpful and that you will enjoy the new updates in the 1.6 version of Genshin Impact! Head here to read more about what the 1.6 Version has in store or here for Inazuma Leaks and characters. Let us know if there are other articles you would like to read!