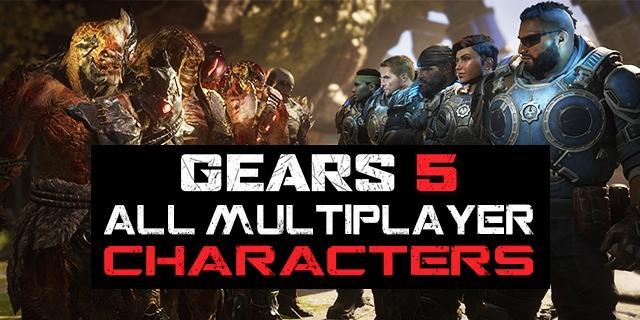 Gears 5 Multiplayer Characters
List of all Gears 5 Versus Multiplayer Characters confirmed so far for the game. The full list of Gears of War 5 characters includes all the playable soldiers from COG and Swarm (Locust) factions, for multiplayer modes Versus, Escalation, King of the Hill, Team Deathmatch, Escape, Horde, Arcade, and the rest of the mainstay modes.
Click on a profile to see character's info, multiplayer skins, screenshots and more.
Gears 5 COG

Gears 5 Swarm
Full list of Gears 5 Multiplayer Characters:
Kait Diaz
Marcus Fenix
JD Fenix
Del Walker
Fahz Chutani
Scion
Swarm Drone
Swarm Grenadier
Swarm Hunter
Swarm Sniper
T-800 (Terminator: Dark Fate)
Sarah Connor (Terminator: Dark Fate)
Emile-A239 (Halo Reach)
Kat-B320 (Halo Reach)
Batista (available from 15th September)
READ MORE: All Gears 5 Maps


Gears of War 5 releases on September 10, 2019, for Xbox One, Xbox One X, and Windows PC.