Xinyan was first released together with Zhongli on the second banner of Ver 1.2 of Genshin Impact but ended up being overshadowed by the uproar caused by Zhongli's state at the time. So many still don't know that she really can work well as both a Burst DPS and as a Support for your teams.
With that in mind, we will now show you a Xinyan build capable of taking your enemies off their feet and bring on the fire, as well as supporting your main DPS with Pyro and Burst Damage.
Bring On the Fire!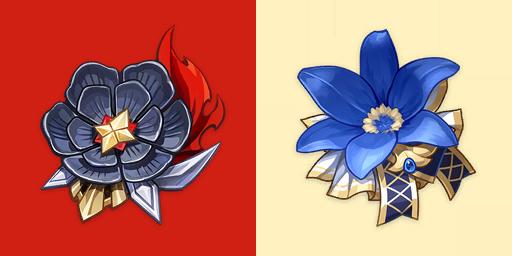 From right to left, Bloodstained Flower of Iron, part of the Bloodstained Chivalry set, and the Royal Flower, part of the Noblesse Oblige set.
Xinyan is similar to Chongyun, not only because they are both claymore users, but because even though they can become viable DPSs, they can shine extremely well as Burst DPSs or Supports, being through passive effects or raw damage. In Xinyan's case, it lies in her ability to shield characters and in her high damaging Elemental Burst;
That said, as with most characters on the supporting role, the Noblesse Oblige set would be a great fit, but since we will be focussing on building up her Elemental Burst, ''Riff Revolution'', a 2 piece Noblesse Oblige, 2 piece Bloodstained Chivalry would be our choice, even more, if you have her second constellation, ''Impromptu Opening'', with increases her Elemental Burst's Crit Rate by 100%.
If you want to focus on her Elemental Skill, using a 2 piece Gladiator's Finale or a 2 piece Crimson Witch of Flames with the Noblesse Oblige can work well, but for this build in question, it wouldn't be advised. Using a Physical Damage Goblet is advised for this specific build, but an ATK should also work fine.
Sweep Them Off Their Feet!

From right to left, Blackcliff Slasher, Snow-Tombed Starsilver, Whiteblind, and Favonius Greatsword.
On the weapons department, if you have her second constellation unlocked, the Blackcliff Slasher would be our main choice, for its high damage input, which is on par with the Serpent Spine, and its Crit DMG stat. The Snow-Tombed Starsilver can also be a great choice for those focused on her Burst damage, on that note, the Favonius Greatsword can provide a great amount of energy recharge, and the Whiteblind is a great choice for those focused on her Elemental Skill.
Talent-wise, we recommend you to focus on her Elemental Burst First, and then on her Elemental Burst if you plan on focusing on it as her main source of damage, and on her Elemental Skill if you plan to use her ability to shield against Pyro as effectively as possible.
With the release of the first banner of the Ver. 1.3, players not only get a chance to get the ''Conqueror of Demons'' Xiao, but also the chance to complete the constellation set for not only Xinyan but Beidou and Diona as well. So, what are you waiting for? Go bring the Rock to Liyue!
Genshin Impact is available for the PlayStation 5, PlayStation 4, PC, and mobile devices. You can check in more builds on the game's official Reddit page or the Xinyan focused page, r/XinyanMains.