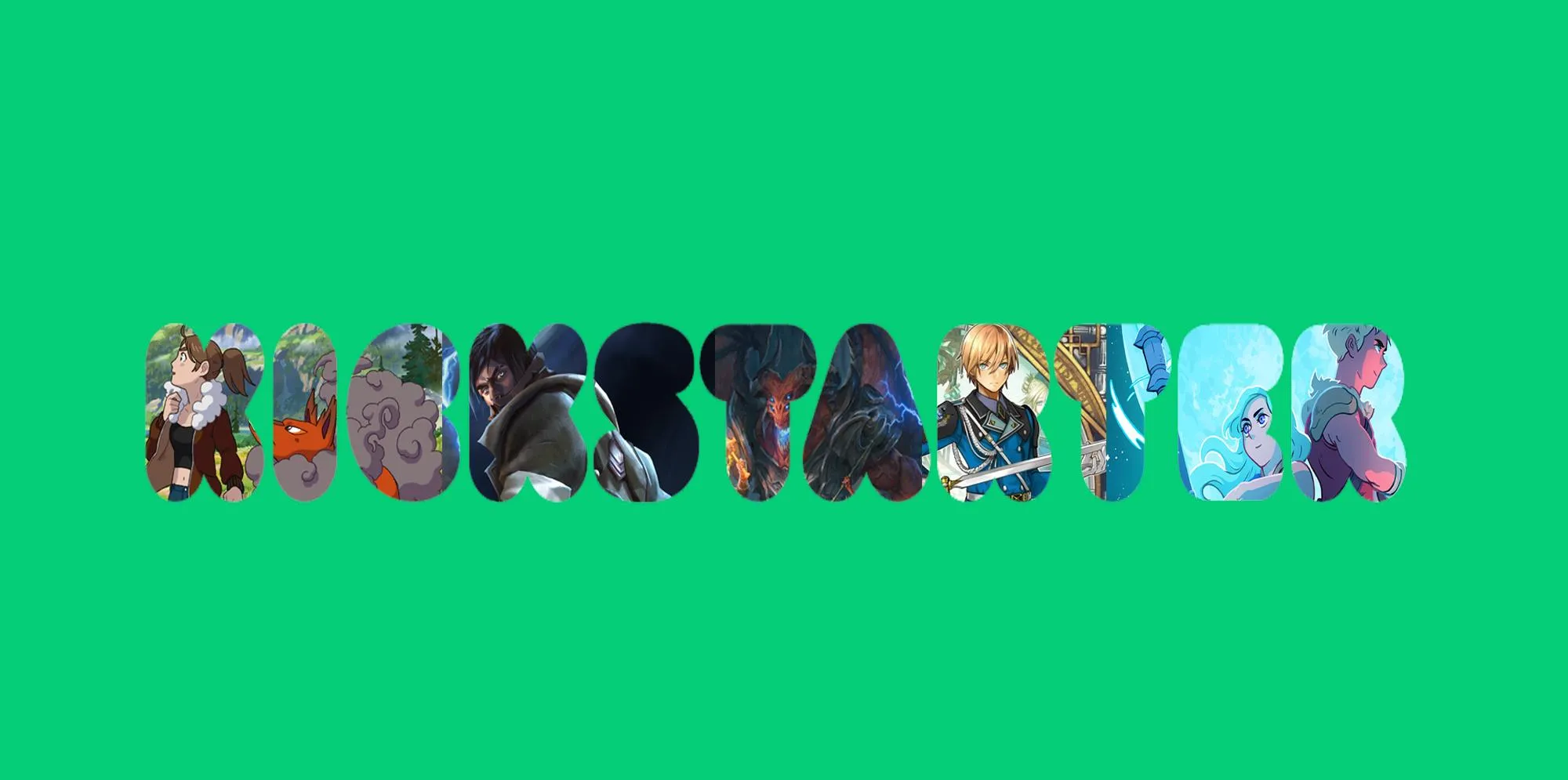 Kickstarter has been a huge boon to small developers and a great way for consumers to help fund the games that they are truly interested in playing. Divinity Original Sin was crowdfunded via Kickstarter, as were Shenmue III and Wasteland 2, all of which received critical acclaim and were praised by the fans who funded them.
Having said that, there are a lot of projects being developed via crowdfunding sites, and it can often be difficult to tell which ones are actually worth looking into.
Here are five of the most promising games being funded by Kickstarter campaigns:
Eiyuden Chronicle: Hundred Heroes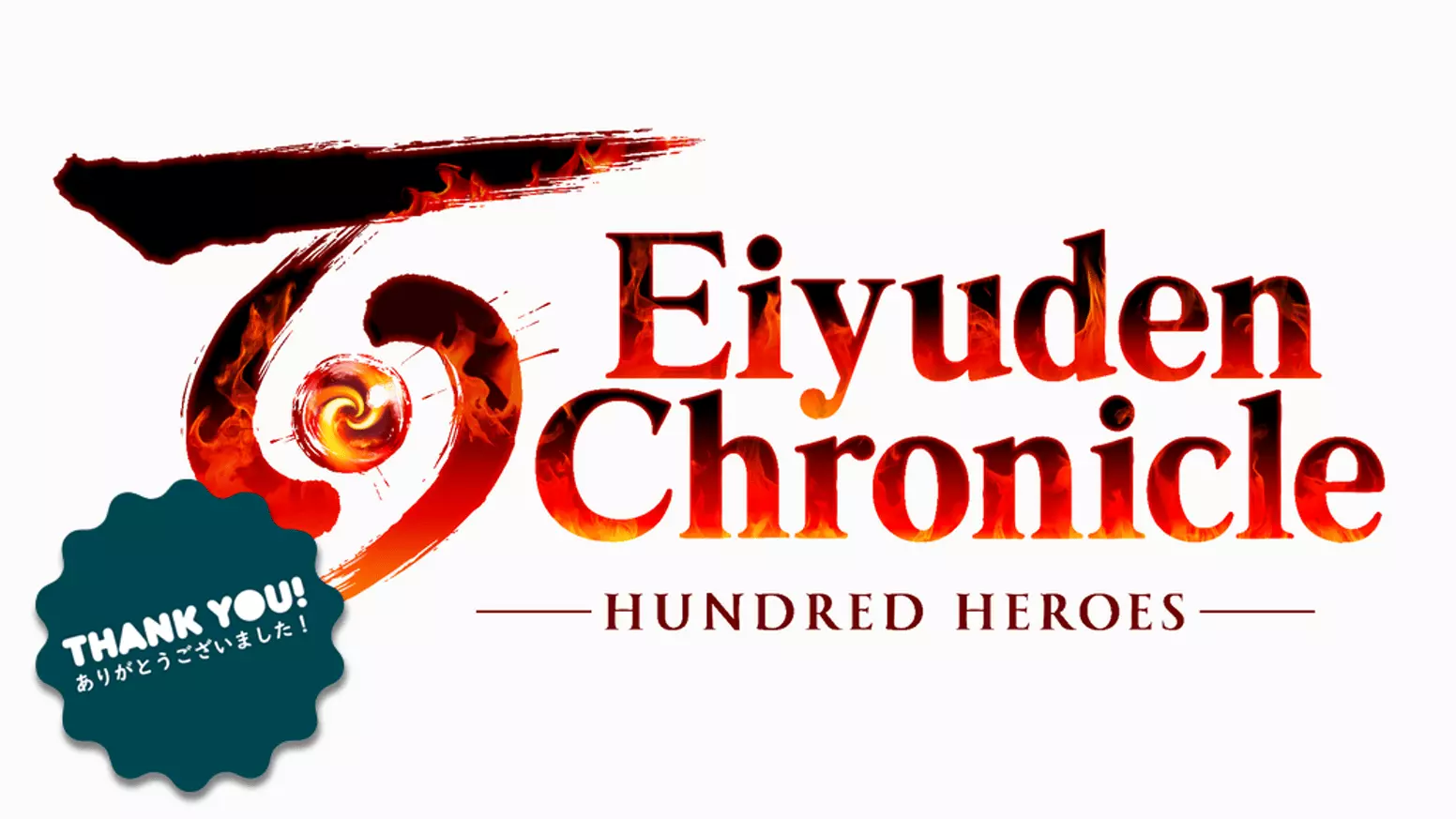 Eiyuden Chronicle: Hundred Heroes is a classic JRPG brought to us by Rabbit & Bear Studio. It was the most funded video game on Kickstarter in 2020, with an immense ¥481,621,841 (approximately $4.6 million USD) raised. Rabbit & Bear is mostly made up of developers from the Suikoden series, a tactical role-playing franchise, that started with Suikoden Tactics on the PlayStation 2 in 2005.
Eiyuden, at its core, is a love letter to the classic JRPG. An entire section of their Kickstarter page is dedicated to gushing over the era of games like Chrono Trigger and Final Fantasy. There is even a specific mention of how the success of Octopath Traveler showed the studio that "JRPG fans still crave a classic style JRPG with modern additions."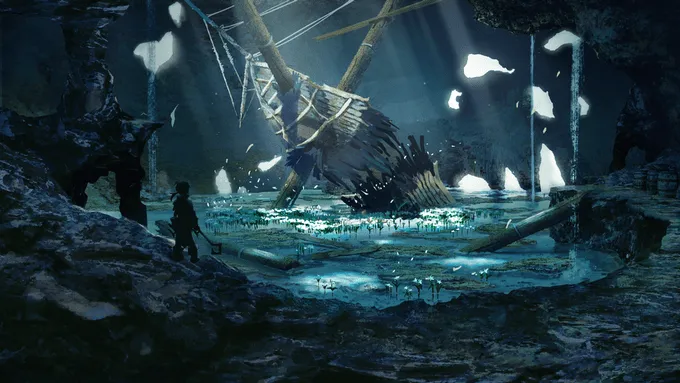 The art-style of this game certainly has the 16-bit flair of a 90s Square Enix title, but it also brings its own personality into the mix to create something unique and beautiful. Areas are made vivid with modern lighting techniques and crisp animation. Scenes feel vast with 2.5-dimensional depth added to backgrounds and combat encounters are slick and cinematic.
The battle system is, as you would expect, centred around classic turn-based mechanics found in many JRPGs. You control up to 6 team members, using their unique abilities to take down packs of monsters and tackle large-scale boss fights.
Eiyuden's developers are boasting a roster of over 100 characters for the game, which would put it in the top end of RPG roster size. How the game will go about introducing this many characters, the Kickstarter page doesn't say. Since the game is a more traditional RPG, we can assume it's not a Gacha-style game, like Genshin Impact. We can only hope for quality as well as quantity when it comes to character design.
Eiyuden is packed with features. There is a fortress to rebuild, with various structures to unlock such as a theatre, farms, and a cafeteria. Eventually, as your fortress grows, you can create a guild, where you can assign your team members to tasks to earn rewards.
There are also cats. The developers really like cats (and who can blame them?)

Rabbit & Bear Studio are aiming to release the Eiyuden in October 2022, for PC, Xbox One, Xbox Series X, Playstation 4, and Playstation 5. They also make mention of a release for "Nintendo's next generation" console. Their hope is that Nintendo will release a more powerful console before Eiyuden comes out so that they can ensure a "similar quality and gameplay experience across all platforms."
Eiyuden Chronicle: Hundred Heroes looks incredibly well designed. With a team of veteran JRPG developers who are passionate about the genre behind it, along with the composer of Golden Sun's soundtrack in the mix, the resultant game is sure to be an incredible ode the classic era Rabbit & Bear Studio love so much.
Pathfinder: Wrath of the Righteous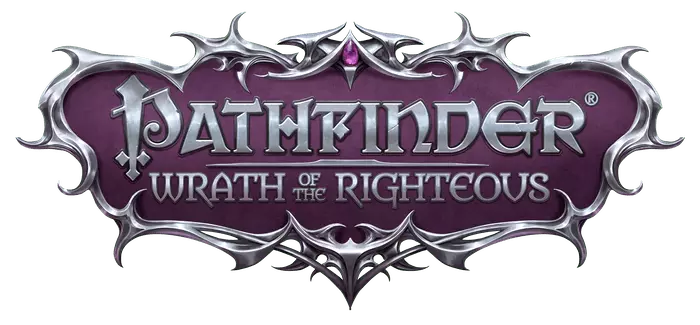 Owlcat Games brings us Pathfinder: Wrath of the Righteous, the sequel to the isometric RPG Pathfinder: Kingmaker released in September of 2018. Kingmaker was also a crowdfunded venture, raising US$909,057 in one month, a figure that has been completely eclipsed by Wrath of the Righteous' massive $2,054,339 Kickstarter campaign.
Both Kingmaker and Wrath of the Righteous are based on the Paizo table-top game of the same name and as with any table-top game, this means that they both boast an insane amount of customisability for your character. With ten races, 21 classes, and a further five 'archetypes' to choose from, the game seems to allow for incredible specificity. You will also be able to choose from "a thousand spells, feats and abilities" to really create an experience entirely unique to you.
The way you customise your character will also have a lasting impact on the world around you, affecting the way you interact with NPCs and even how the story unfolds.
Interestingly, while there is the usual isometric combat that players of the genre have come to expect, you can also "step into the role of the Commander", where you can build up and defend a stronghold and send out parties to acquire rewards. This certainly sounds like an interesting way to have the player's impact on the world feel more concrete and adds another layer of complexity to the game's RPG elements.
Owlcat seems to acknowledge this complexity as well, with the inclusion of an "enhanced tutorial" for new players. Tabletop games are notorious for their intricacy and with how closely the developers seem to follow their source material, you can expect the same from Wrath of the Righteous. Owlcat has been working with Paizo Inc., the creators of the original tabletop game, to ensure that the Pathfinder video game series is as faithful as possible.
All of this sounds extremely promising, and considering Kingmaker's approximately 90-hour campaign, fans of the isometric RPG genre are sure to get a lot of content. Pathfinder: Wrath of the Righteous has an estimated release date of June 2021.
Sea of Stars 2022
Sea of Stars comes to us from Sabotage Studio. They developed The Messenger in 2018, which went on to win Best Debut Indie Game at the Game Awards, along with a plethora of other wins and nominations across multiple platforms.
The team at Sabotage has doubled in size since their last release and they are looking to tackle a new genre. Much like Eiyuden, Sea of Stars is a JRPG that puts its love of the classics on front street. There are modern features, such as enhanced graphics, dynamic lighting, and intractability with the environment, but Sabotage Studio is still "offering a hearty slice of nostalgia" with their latest title.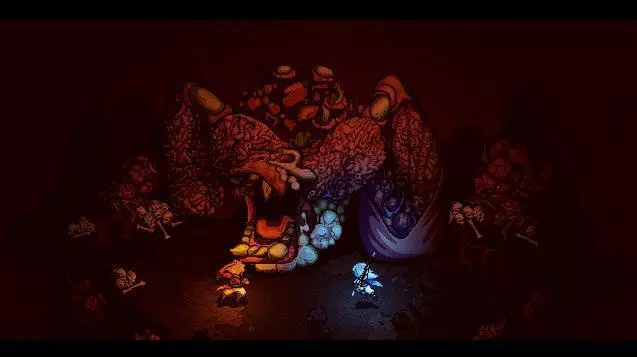 Despite the shift in genre, from action platformer to top-down RPG, Sea of Stars is a prequel to The Messenger. It is set in the same universe and will build on it with an expansive world full of characters to recruit and areas to explore. If you're a fan of The Messenger then you're in luck, as you will likely meet some familiar faces and even gain "meaningful insight on some origin stories."
Combat in Sea of Stars isn't your standard JRPG fare. The game features six playable characters and they all have moves that synergise with one another. This seems to be a big part of the battle system, with an emphasis on building up to big attacks throughout a fight in order to "unleash massive damage by cashing out on your build up."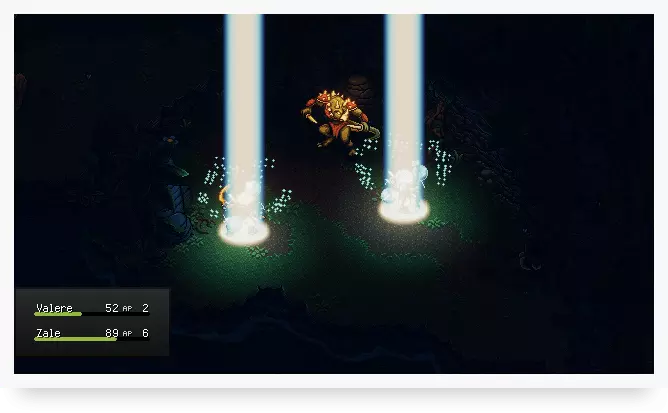 Sabotage Studio seems to be making a real attempt to break up the "rinse and repeat" mechanics of old-school RPGs by putting some new systems into encounters that force the player to think quickly and react properly.
When an enemy uses a spell, you will have a short window to stop their attack by hitting them with the correct damage-type. This means you can't just auto-attack your way through battles, as regular monsters have been designed to inflict a decent chunk of damage. There is also a mechanic called "Boost" that allows you to save orbs, acquired by hitting enemies and use them to unleash stronger attacks later in the fight.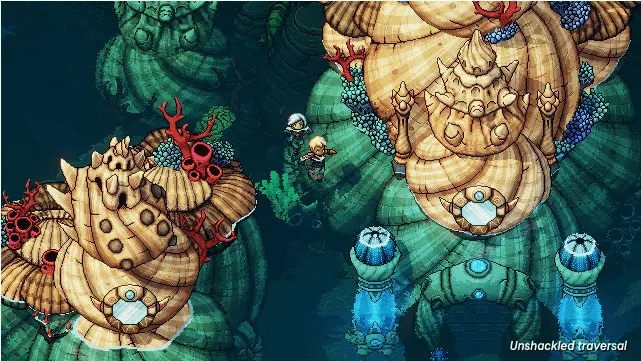 Traversal is also less standard. You can jump, swim and climb without restriction and you are not held to a square grid of movement.
Where Eiyuden seems to have a strong focus on being an homage to JRPGs, Sea of Stars makes a firm point to differentiate itself. Yasunori Mitsuda, the composer for both Chrono Trigger and Chrono Cross, cited Sabotage Studio's attempts to improve the classic genre as the main reason for joining the team, stating:
"Although there are still many games being released with this classic style, I don't think players are satisfied with just nostalgia. As seen in their previous game, by adding new systems and ideas to classic formulas, Sabotage Studio breathes fresh, new air into their work."
Sea of Stars will be available on PC and consoles from April 2022. In preparation for its release, you can already wishlist the game on Steam!
Kindred Fates
Kindred Fates describes itself as an "open world monster battling RPG", a clear statement of intent by the developer, Skymill Studios, to create a worthy competitor for the worldwide phenomenon, Pokémon. Their website makes the statement that Kindred Fates "is the game many fans have been asking for from the genre for over a decade." If you are a fan of the Pokémon series, you likely have been waiting for a game like this to come along since you were a child. Kindred Fates boasts a large open world, with varying terrain to explore and a host of ways to travel —mostly on the backs of your 'Kinfolk', who are more than happy to assist you on your journey.
There is character customisation, as well as a home for you to live in and edit to your liking. Instead of a breeding mechanic, like Pokémon, you can recruit new Kinfolk to your team by sending one of your current team members on a scouting mission. They will return with a Kinfolk of a similar type and will pass down some abilities to the new recruit in order to give it some basic stats to work with. This recruit system could help alleviate some of the grind of having to get specific Kinfolk, as you can continue doing other things while you search for members to flesh out your roster.
Kindred Fates seems to have a much stronger focus on battling. In contrast to Pokémon, you will control your Kinfolk in battles, as opposed to simply being their trainer. Kinfolk will also actually die in battles, rather than just fainting, with a memorial in your town for those that have been lost in combat —Kinfolk can be revived however if you collect their soul after their untimely demise.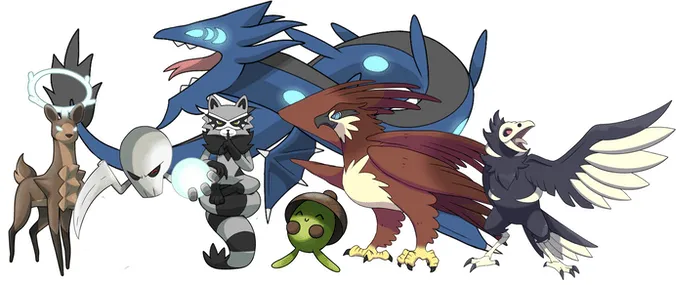 Gyms are present in the form of guilds. Guilds are much more in depth in Kindred Fates, where you can actually create your own, complete with a custom name and insignia. The game also has online battling, with 1v1 and 2v2 matchmaking, along with the ability to challenge other people's guilds and have others come and face you at yours.
While Kindred Fates is a while away from release, with an estimated date of 2023 on their website and Kickstarter page, it is certainly ambitious enough to wait for. Every aspect of the game seems like a direct response to its absence from the Pokémon franchise. However, Kindred Fates is also much more than just a fan-letter, it is an attempt to put the entire genre on notice.
The Last Faith
The Last Faith is a Metroidvania-style action RPG from Kumi Souls Games, a small studio started by brothers Duilio and Riccardo Guglielmino. It has an art-style and setting heavily influenced by the Castlevania franchise, as well as a heavy dose of Bloodborne. The settings are gorgeous. Gothic cathedrals and castles loom overhead and there is a sense of foreboding in every frame. Animations are beautiful and fluid and elevate the game from a pixelated throwback to something unique among the vastness of the retro genre.
In terms of gameplay, the team at Kumi Souls Games makes a point to emphasise that The Last Faith is a Metroidvania game at its core. This means that levels are non-linear and exploration is a key element. The map is described as 'giant' and there will be puzzles, secrets, and "unique enemies" to discover if you are willing to look.
Combat seems to be well fleshed out. You can choose to do a standard melee build, with a variety of weapons available, or you can wield magic spells or firearms to blast your enemies from range. There are also elemental buffs you can find as drops from enemies you kill, allowing you to increase your damage and add other passive abilities.
The movement system is interesting, with three different types of dodging (two used in offensive manoeuvres and one for evading large attacks), the usual running and jumping, and what looks to be a flight mechanic.
If you are a fan of Metroidvania games or you love the Gothic aesthetic of Bloodborne and want to see it translated to 2D, then this might be the game for you. The Last Faith has an estimated release date of September 2021 and will be available on Steam, Nintendo Switch, PlayStation 4, and Xbox One.
The Last Faith's Kickstarter page makes no mention of PlayStation 5 or Xbox Series consoles, but judging by their goal to release on "as many platforms as possible", it's likely we can expect it to appear on next-gen at some point in the future.
The wonderful thing about Kickstarter is that it is allowing small studios and developers with out-of-the-box ideas to fund their games without having to worry as much about receiving money from large publishing companies. All of the games on this list have reached (and surpassed) their crowdfunding goals, but there are plenty of other games that need funding, so head over to Kickstarter and give what you can!