Festivale!
Just last month, Animal Crossing New Horizons received a brand new update, related to the Festivale celebration and a visit from our old friend, Pave! Since its launch in March 2020, the game has received regular updates every month and a half or so with new content and temporary events. The last one, launched in November, introduced us to the events that we have enjoyed these holidays, such as Toy Day at Christmas.
The Festivale event in Animal Crossing New Horizons. What is it, exactly?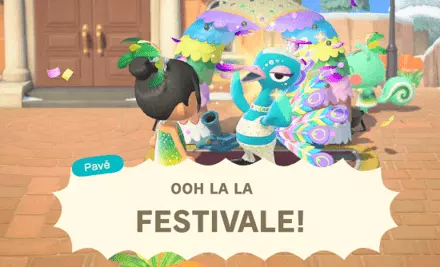 Pave first appeared in Animal Crossing: City Folk on the Wii, and is back as the main host to the Festivale event and he is dancing like there's no tomorrow. So you may ask yourself, when will Pave arrive at my island, well island representatives, we can expect our multicoloured friend to appear on the 15th of February, just 1 week away.
And what can we expect from this update? As we saw in New Leaf, we will have to find the very colourful feathers and give them to Pave. It is very likely that it will stay the same in New Horizons, so we will have to use the net to catch the feathers that are flying through the air, just as we do now with snowflakes, we did the same in autumn with maple leaves and in spring with the petals.
There are eight types of feathers according to the colours and sometimes Pave will ask us for one colour or another. This will make him shake and dance and as a prize, will give us furniture from the all eccentric Pave Collection. These include furniture like a feathered balloon, a feathered stand-up banner, feathered lamps, awesome party garlands, drums (that I hope are interactable) and so much more… Wait, my favourite item in the bunch, there's also a confetti machine. In addition to having feathered styled furniture, your buddies will be ready to dance as they're gonna be dressed with the fancy Festivale themed outfits and frilly feathers that will top them off. Also, the Resident Services building will be fashioned with a lovely banner.
Seeing the importance that they have given in this Animal Crossing to the animations of gestures and emotions (in the last update gestures such as taking selfies, giving scares). It is a delight to find out that you can now go to Nook's Cranny, go to the shelves and straight-up purchase the gestures, allowing to match Pave's style when he rolls around next week. Maybe even a dance-off with your friends. There's also little bits and bobs including fancy chocolates you can buy in the Seasonal tab of Nook Shopping's Special Goods section! This will be available until February 14th. So be quick to buy those chocolates so you can use them as gifts.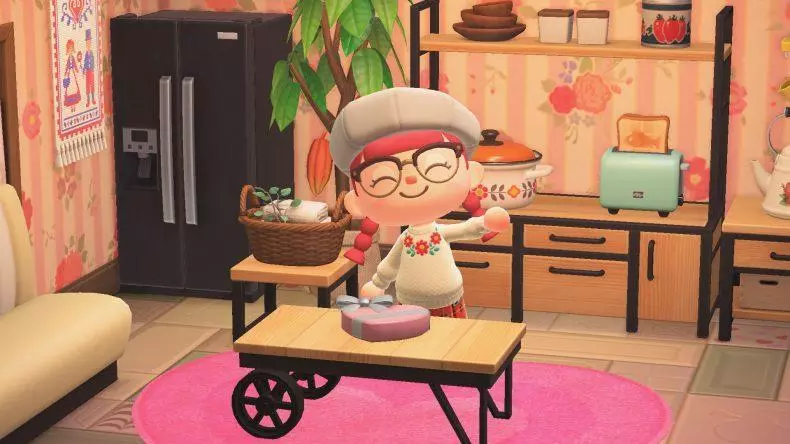 Festivale is the first big event of the year, although hopefully, they will bring more news on this update. We do know that a Mario themed event will be coming sometime in March, we don't exactly know what this will bring. Probably a giant mushroom furniture item, some awesome costumes we can wear, we might even get a rendition of some Super Mario tunes covered by the one and only K.K Slider, we just have to wait and see.
What's coming in the future? Well, here's what we know
According to some data mining, the museum could receive a new floor, which would be the cafeteria, having Brewster as your islands Barista (both being classics of the series). There are still many characters and functions from previous Animal Crossing that haven't reached New Horizons, although knowing that Nintendo's intention is to offer updates for years, perhaps they will arrive bit by bit and satiate our hunger as we are simply running out of things to do. Well, time will tell...