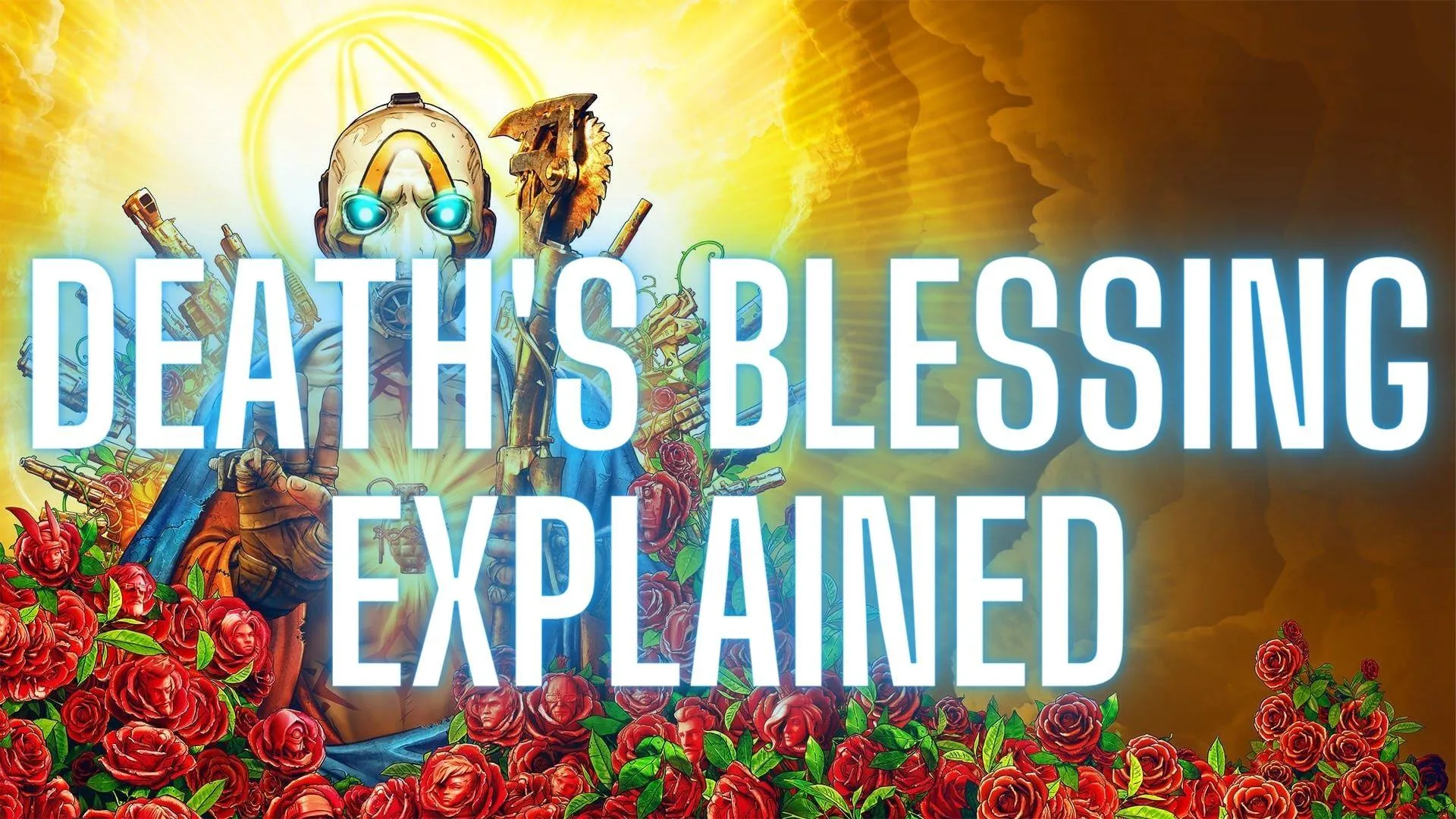 With the brand new Borderlands 3 Director's Cut DLC we also got four new class mods, one for every Vault Hunter. Today I will take a look at the new Amara Class Mod called "Death's Blessing".
New Amara Class Mod Explained
This new Amara Class Mod works in a very special way. If you get a kill from an orb that spawns and seeks an enemy via Remnant skill in Amara's blue skill tree, then the bubble will appear and fly towards you. It looks very similar to Maya's action skill. It will grant you a protective shield and boost your damage by 250%. In theory at least.
The true power behind this class mod that instead of giving an additional 250% damage, it gives a 150% multiplicative damage bonus. This means that all damage you do is increased 2.5 times. You gain 250% damage overall while under the effects of this bubble.
Death's Blessing Class Mod Specification
Special Ability: On kill from a Remnant Orb, spawn a Blessed Orb that increases Amara's weapon damage by 250% for 20 seconds.
Skills:
Remnant – maximum +5 skill points
Wrath – maximum +4 skill points
Atman – Maximum +4 skill points
Red Text: "Where focus goes energy flows."
Drops from: The Seer at Scryer's Crypt
Class Mod Card: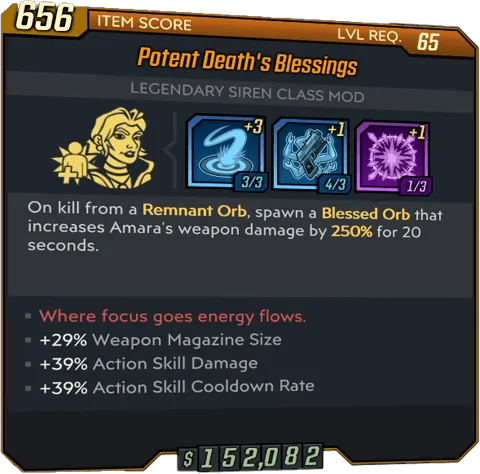 Credit: Lootlemon
Every Class Mod in Borderlands 3 can roll with between 2 and 3 random statistics out of 4 categories. Each statistic can appear only once.
Possible Damage Stats:
Weapon Damage
Crit Damage
Fire Rate
Action Skill Damage
Melee Damage
Grenade Damage
Splash Damage
Weapon Specific Damage [Pistol, Shotgun, Submachine Gun, Assault Rifle, Rocket Launcher, Sniper Rifle]
Possible Survivability Stats:
Damage Reduction
Health
Health Regeneration
Shield Capacity
Shield Recharge Rate
Shield Recharge Delay
Elemental Resistance [Cryo, Fire, Shock, Corrosive, Radiation, non-elemental]
Possible Utility Stats:
Magazine Size
Reload Speed
Weapon Charge Speed [for Maliwan weapons]
Action Skill Cooldown
Splash Damage Radius
Grenade Radius
Grenade Capacity
Accuracy
Handling
Possible Manufacturer Specific Stats:
Weapon Damage [Atlas, Children of the Vault, Hyperion, Jakobs, Maliwan, Tediore, Torgue, Vladof, DAHL]
Fire Rate [Atlas, Children of the Vault, DAHL, Hyperion, Maliwan, Tediore, Vladof]
Crit Damage [Atlas, DAHL, Jakobs, Hyperion]
Reload Speed [Atlas, DAHL, Hyperion, Jakobs, Maliwan, Tediore, Torgue, Vladof]
Accuracy [Children of the Vault, DAHL, Jakobs, Maliwan, Tediore, Torgue, Vladof]
Projectile Speed [Torgue]
Is Death's Blessing Meta?
Yes. Amara was lacking variety in regards to her class mods for some time now. Most builds consist of using Phasezerker or Spiritual Driver class mods. Death's Blessing gives Amara a very needed damage increase and will work great with many builds.
It also increases her Wrath skill, which gives her a lot of additional Gun Damage, so while farming for the class mod, keep an eye on the highest rolls on that skill as possible. Melee was rocking a lot of melee builds, so this will be a great addition to diverse her end-game potential.
New Amara Build
I will present a brand new Amara build that will make use of this class mod soon. It is a work in progress at the moment. This article will be updated as soon as the build is ready to go.
UPDATE: New Amraa Build is available right now.
---
Borderlands 3 is out now on PC, PS4, PS5, Xbox One X/S, and Xbox Series X/S.
For more Borderlands 3 news, check out our DLC Release article.