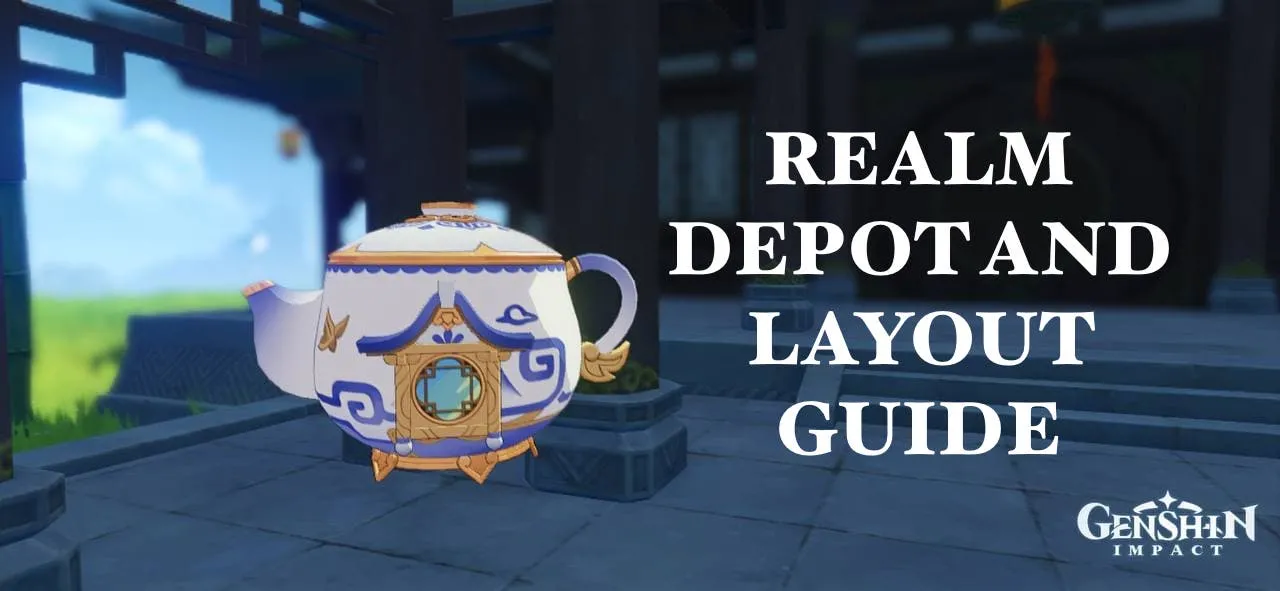 After a month of the 1.5 Update from Genshin Impact, many players have already reached high Trust Ranks and unlocked more items within the Realm Depot. This article will discuss the different items on sale to see which are worth the price and guide you on the different realm layouts systems.
Realm Depot
The Realm Depot can be accessed by speaking to Tubby and there are three sections, Realm Treasures, Furnishings and Furnishing Blueprints. The Realm Treasures section refreshes every week on Monday, 4 am. As you attain higher trust ranks, you will be able to purchase more items in the shop as seen below.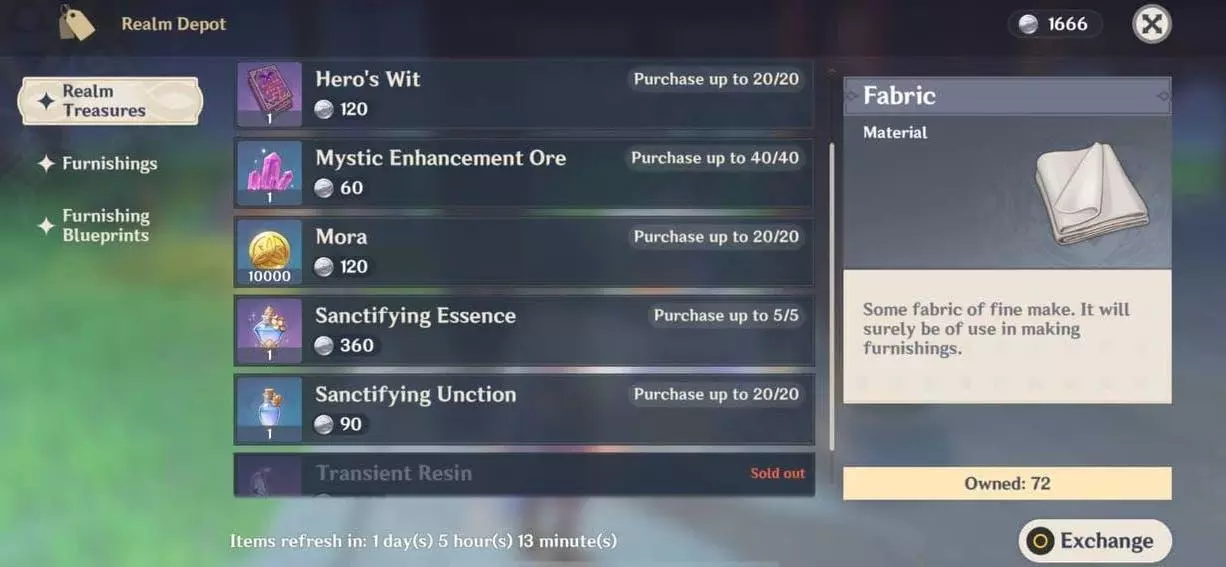 Of all the items sold, Transient Resin is the most important item that you should purchase. Transient Resin can be used to replenish 60 Original Resin but unlike Fragile Resin, it will disappear after a certain amount of time. Transient Resin is your best buy if you are currently at a higher AR where you require more artifacts to use as fodder or to reroll artifacts for your characters. At a lower AR such as AR35, you might prefer saving your Realm Currency for future Transient Resin for better artifact runs.
For Hero's Wit and Mora, I would recommend running Ley lines instead (perhaps using your Transient Resin!) as the Ley lines give more EXP Materials and Mora than what you will obtain from the store. If you are short of Mora, you can take a look at my Mora Farming Guide here!
Mystic Enhancement Ores should definitely not be bought as they can be crafted from Crystals and Expeditions daily.
Fabric should not be purchased as it can be crafted using Silk Flowers.
Sanctifying Essence gives 10,000 EXP material for artifacts, while Sanctifying Unction gives 2,500 EXP for artifacts. Instead of purchasing these materials, doing artifact domains would be more beneficial. Through domains, you have the chance to reroll for artifacts and have more control over what artifacts you use for fodder. If you do not have great luck on artifacts, you would be better off using artifacts as fodder as you can level the artifacts to level 4, 8, 12 etc. to decide whether it is worth raising to level 20.
Given that each week you will obtain 5,040 Realm Currency at the highest Adeptal Energy rank, you should be able to purchase 1 Transient Resin and several other furnishings. If you feel, however, that you have too much Realm Currency, you can spend it on other items in this store to save your resin on Ley lines.
Realm Layouts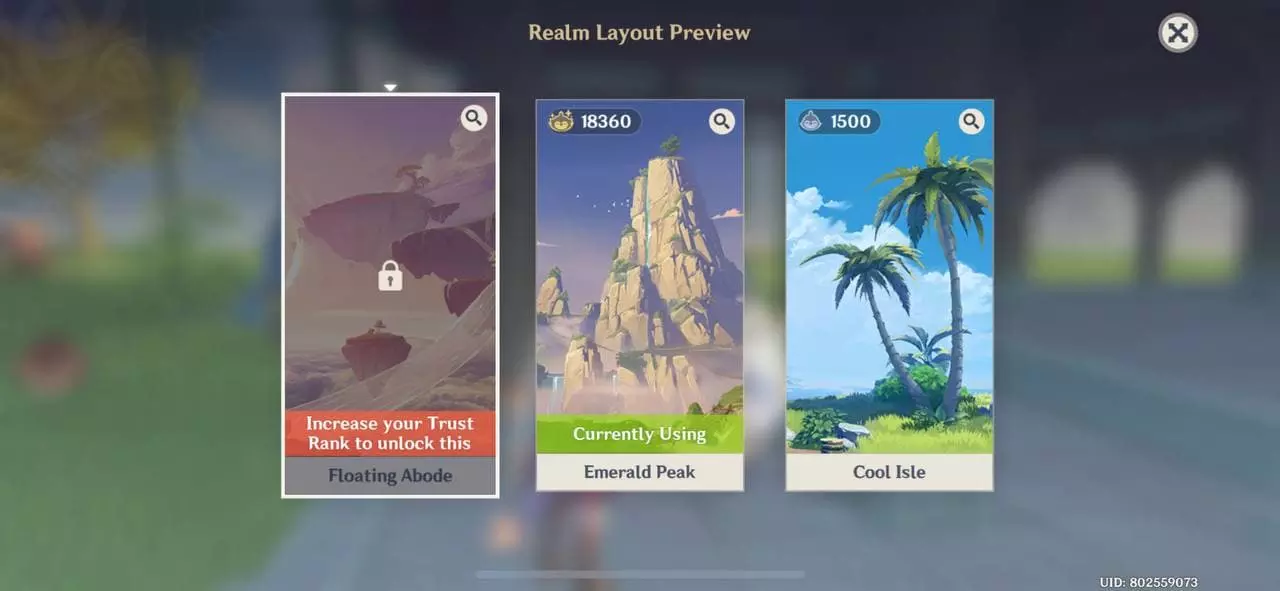 Though you were initially only able to pick one Realm Layout, you will be able to unlock more layouts as you attain higher Trust Ranks. At Trust Rank 9, you can unlock one more realm layout while at Trust Rank 10, you can unlock all the layouts. You will be able to change your Realm Layout after speaking to Tubby. There are several features to note with regards to the different layouts:
You do not need to learn furnishing blueprints again, the blueprints that you have already attained and learnt from your original layout will remain in your new realm
You can earn a maximum of 30 Realm Currency per hour, regardless of the Adeptal Energy of each Realm. The currency between realms does not accumulate, the game will reward you the highest amount from the Realm with the highest Adeptal Energy
Switching your Realm Layout (after reaching Trust Rank 9 or 10) will shift Tubby and your base home over to that new Realm Layout. This will cause you to spawn into that realm after entering your teapot
You need to re-design your whole Realm, including the interior of the house after shifting realms
Furnishings placed in other realms can be placed in your current realm. For example, if I am using the Crafting Table in my Emerald Peak realm, I can still place it in my Cool Isle realm, without needing to craft a duplicate of it
We hope that you have found this article helpful and that you will enjoy the new updates in the 1.6 version of Genshin Impact! Head here to read more about what the 1.6 Version has in store, here for Wood Farming tips or here to read more tips on your Serenitea Pot. Let us know if there are other articles you would like to read!