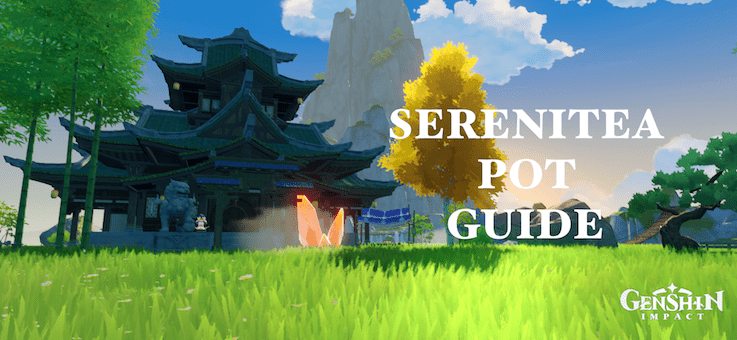 With the 1.5 update of Genshin Impact, there are many new mechanisms within the Serenitea Pot that you need to take note of. This article will introduce you to the key aspects of this teapot and give some tips on teapot load, accumulating currency, crafting furniture and collecting blueprints.
Trust Rank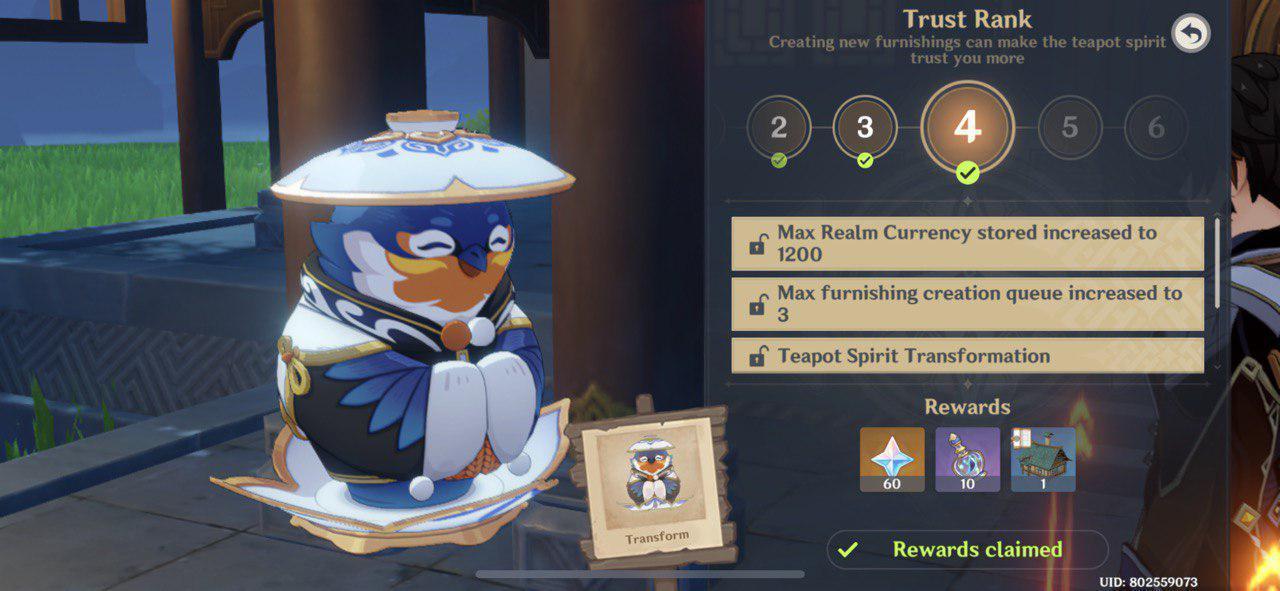 Your trust rank can be increased after obtaining new types of furniture and creating blueprints for the first time. Reaching a higher rank increases your maximum realm currency storage capabilities and sometimes furnishing creation queues, or even unlocks new areas. Each time, you will obtain more Vials of Adeptal Speed, Primogems and new blueprints. Additionally, you will be able to purchase more goods from the travelling merchant Chubby when he visits your abode. Do note that at trust rank 5, the "outside" area will be increased.
The best way to increase your trust rank would be to purchase as many blueprints from the Realm Depot or earn the blueprints from the Adeptal Mirror. Additionally, blueprints can also be purchased from furniture merchants, which are 2 NPCs found in Mondstadt and Liyue. I have included their locations below: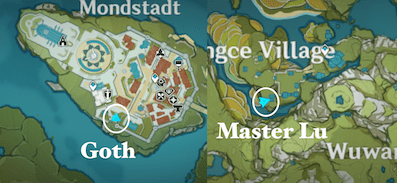 Goth located in Mondstadt (shown on right) is only present in the day, while Master Lu is always at his location in Qingce Village. The blueprints cost Mora but it is definitely worth the purchase since the sooner you reach trust rank 5, the better!
Adeptal Energy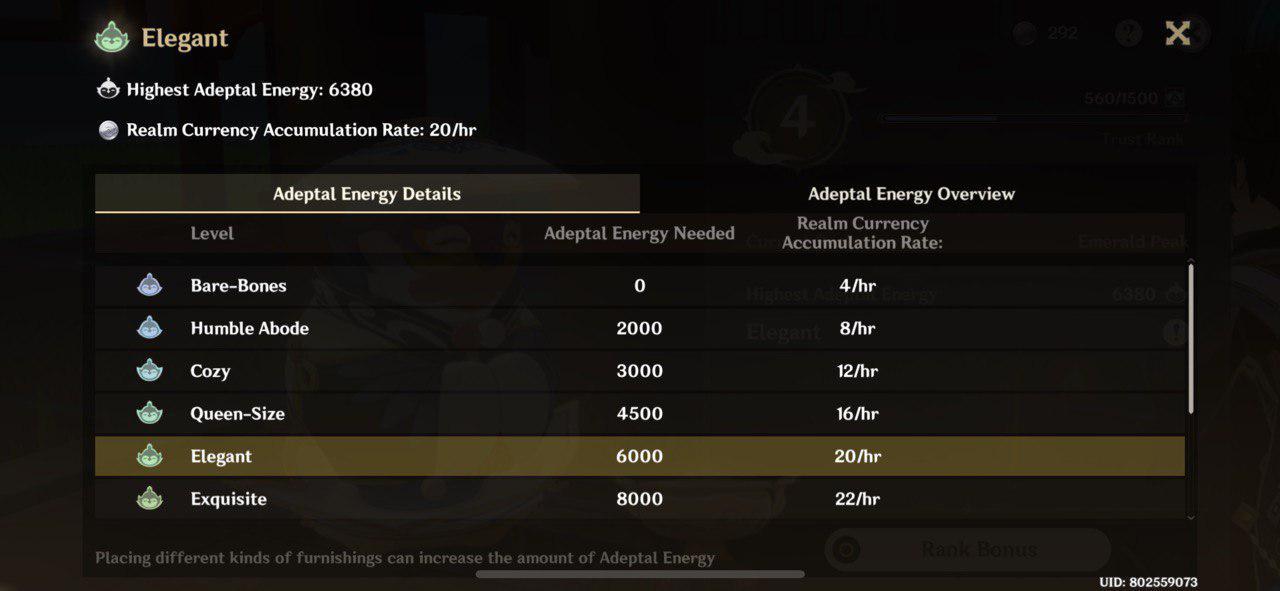 Adeptal Energy is increased by placing more furniture within your teapot -- this includes furniture that is outside your house and the furniture indoors as well. Note that using furniture sets (both indoors and outdoors) just make your arrangement neater and gives you inspiration. You do not get any additional bonuses or adeptal energy from using them! As your adeptal energy increases, you will obtain a higher realm currency accumulation rate. This allows you to purchase more blueprints in the store. You can read more about what you should purchase in the store below, under "Realm Depot".
Load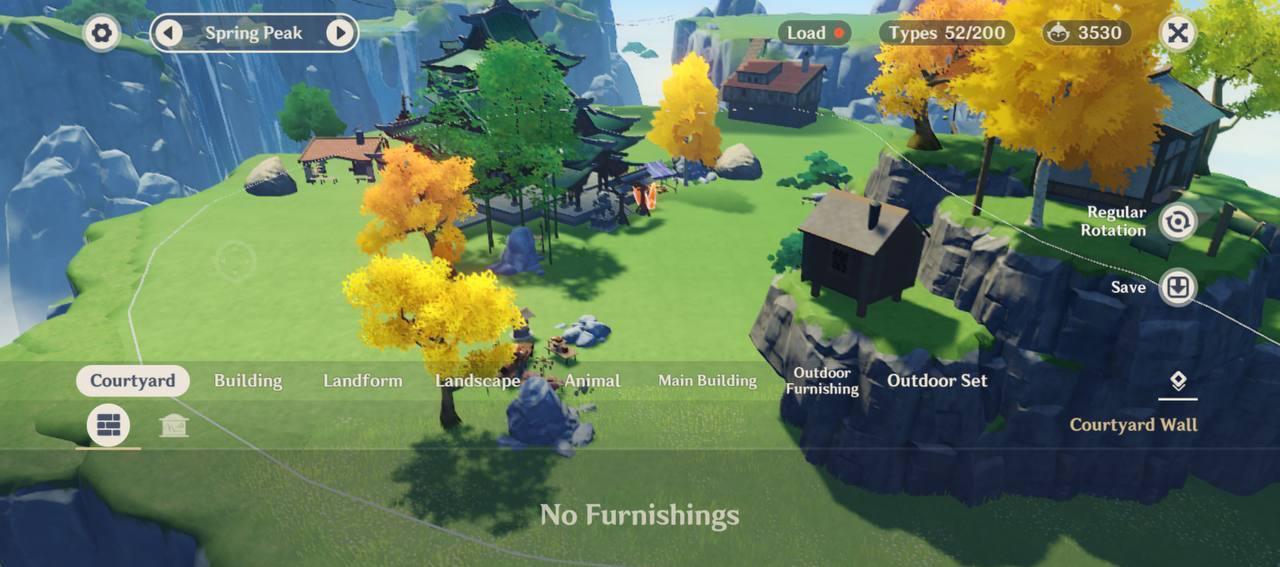 The load of an area within your teapot is dependent on the specific area. For example, the load for your living room is independent of the load for your corridor. Hence if you have too much furniture in one room, you can move the indoor furniture to another one of your rooms. You can check your load in Build mode, by looking at the small circle next to the word "Load". A red circle indicates a full load.
At this point, many have reached a maximum load for the outside. I would recommend refraining from purchasing outdoor blueprints until you reach Trust Rank 5 to lighten the load. Trust ranks 5, 7 and 9 unlock exterior areas 1, 2 and 3 respectively. Also, try to place your pets indoors as they take up more load. You can try to swap out furnishing such that you maintain higher Adeptal Energy while staying under the maximum load. If you are struggling with the maximum load for the interior, Trust Rank 7 allows you to build another house -- either Mondstadt or Liyue style!
Crafting Furniture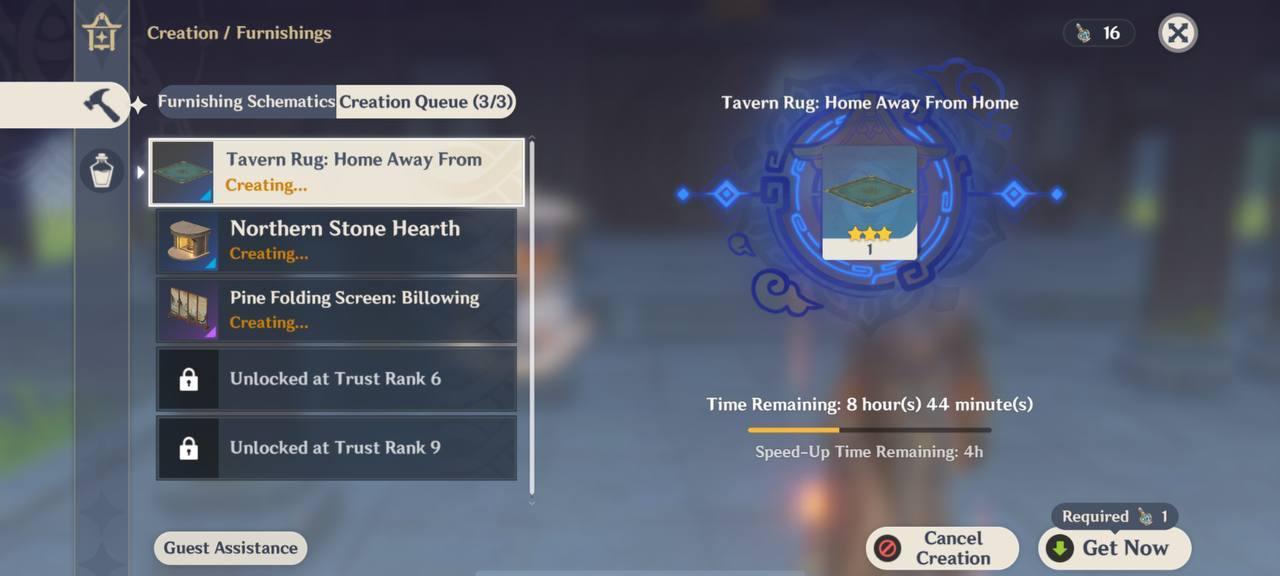 Ensure that you allow your friends to visit your house whenever you are online, by toggling the setting in the Realm map. Your friends will be able to visit your teapot anytime to decrease crafting furniture time. I would recommend using Vials of Adeptal Speed to craft furniture quickly when you are awake and only allowing it to fully load when you are about to log off the game for the day. That way, you can maximise the furniture crafted and increase Adeptal Energy quickly.
Chubby
Chubby is a travelling merchant that sometimes visits your realm, with more items in his inventory if you are at a higher Trust Rank. You should try to save at least 100 Realm Currency to purchase items from your friends' realms. Chubby arrives at 4 AM every Friday, and he leaves at 4 AM every Monday. Since there is a weekly achievement in the Battle Pass, aim to purchase 2 items from your friend's merchants before he leaves!
Realm Depot
The most important item to purchase would be 5 Vials of Adeptal Speed daily since the shop resets daily. This allows you to make more furnishing faster, increasing your trust rank and adeptal energy. It is integral to get to Trust Rank 5 as soon as you can, since it increases the maximum load of your outside area, allowing you to maintain even more adeptal energy. Try not to purchase the cloth as those can be crafted from silk flowers, you can collect silk flowers daily from the area around Wangshu Inn and Liyue Harbour yourself.
When purchasing blueprints, refrain from purchasing lights, tiles, walls and ceilings. This is because it will only replace the current furnishing you have and the adeptal energy of your house will not increase.
Adeptal Mirror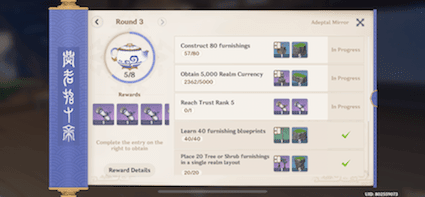 If you are at a loss as to where to start or how to continue, you can always use the Adeptal Mirror as a guide. Each achievement will give you more blueprints or furnishings for your teapot. These are a great way to increase your Trust Rank and Adeptal Energy, so try your best to fulfil the achievements. The end goal is to increase your trust rank so you have more spaces to design, but most importantly, enjoy your teapot!
We hope that you have found this article helpful and that you are enjoying the new updates in the 1.5 version of Genshin Impact! Head here if you would like to read a Yanfei build guide, here to read about the Energy Amplifier Event or here to read about the new domain, Ridge Watch. Let us know if there are other articles you would like to read!