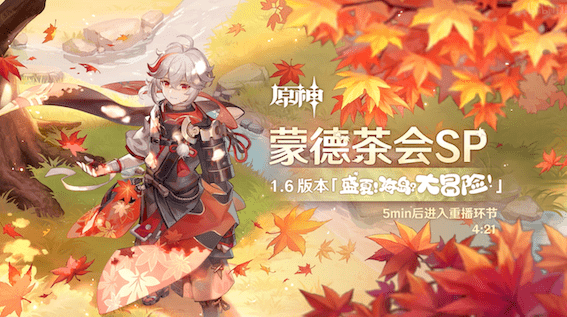 Codes
The codes for tonight's live stream are below:
8A6ABHTH2N9Z
WTNTBYSZJNRD
UTNBBGSZ3NQM
Banners
There will be 2 banners in the 1.6 version, with the first being a Klee re-run and the second being a Kazuha banner. You can read more about Kazuha's skills below!
Kaedehara Kazuha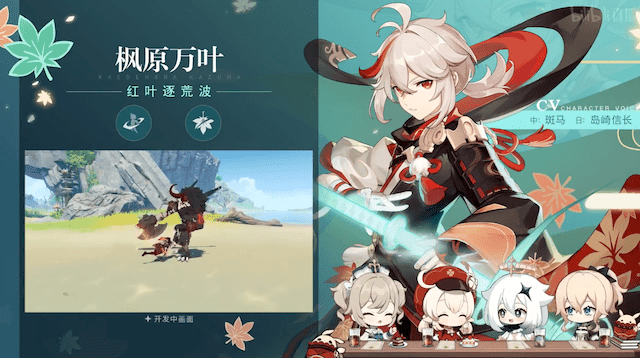 Kazuha is a 5-star Anemo Sword wielder that hails from Inazuma, making him the first obtainable Inazuma character despite Ayaka being present in the first beta test. Kazuha's story quest is said to be the start of the journey towards Inazuma. His skills are below:
Normal Attack: Garyu Bladework
Elemental Skill: Chihayafuru - unleashes rushing wind that pulls objects and opponents towards Kazuha before launching the opponents within the AoE, dealing Anemo DMG and lifting Kazuha into the air on a rushing wind current. Within 10 seconds of being in mid-air due to the effects of Chihayafuru and if maintaining a mid-air state, Kazuha can unleash a particularly powerful Plunging Attack known as Ranran Haishi.
Ultimate: Manyou no Ittou - a single slash akin to a coming storm that deals AoE Anemo DMG. The Blade's passage will leave behind a field named Ruka Akino that deals AoE Anemo DMG at set intervals to opponents within it. If Ruka Akino comes into contact with Hydro/Pyro/Cryo/Electro, it will deal additional elemental DMG of that type.
I will include more information about Kazuha nearing his arrival in a Kazuha guide so do look out for that!
Archipelago and quests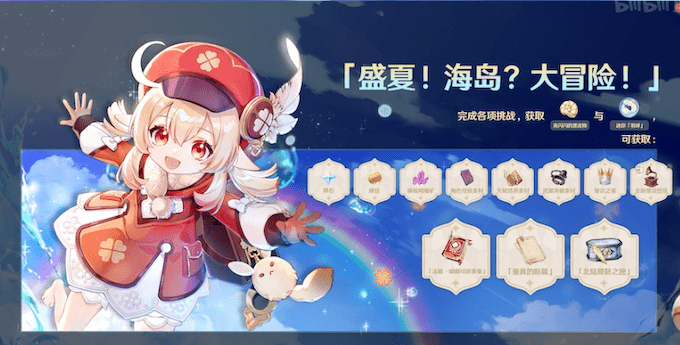 You will be able to access the archipelago through the waypoints called Skiff Waypoints, which will spawn a Skiff. You will be able to steer the Skiff around the Archipelago islands, as a mode of transport. This can be done in Co-Op mode as well, so do bring some friends along while exploring! The Archipelago will also have several quests that you can complete as part of the event (event rewards can be seen above). These include skilful steering on your skiff, using bombs to attack hilichurls on your skiff and gliding challenges.
You will be able to obtain a free 4-star catalyst, Dodoco's Tales, through this event!
Skins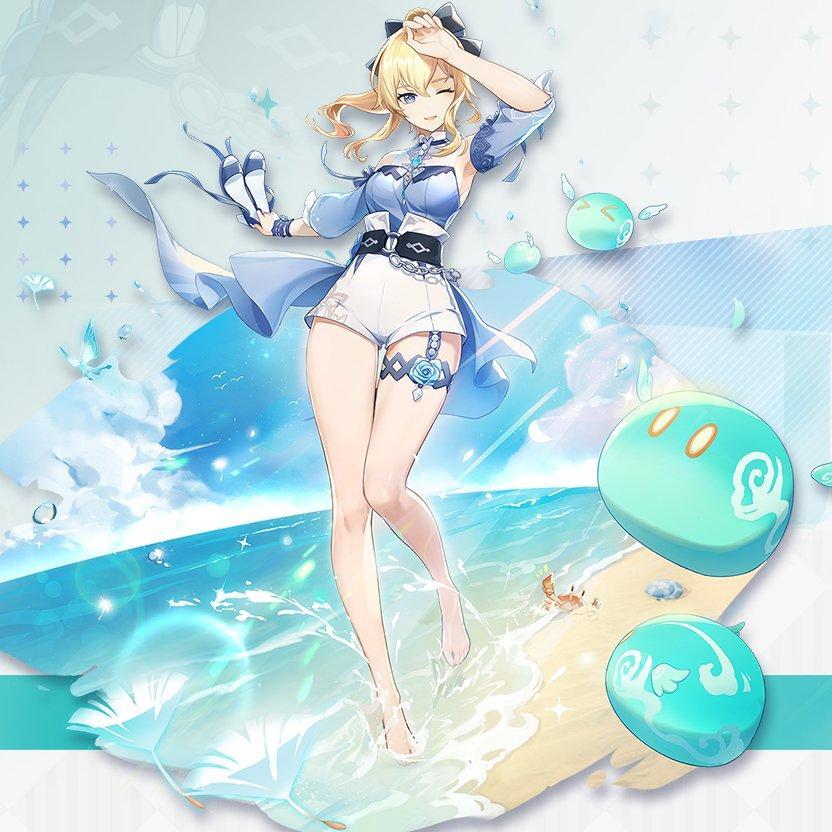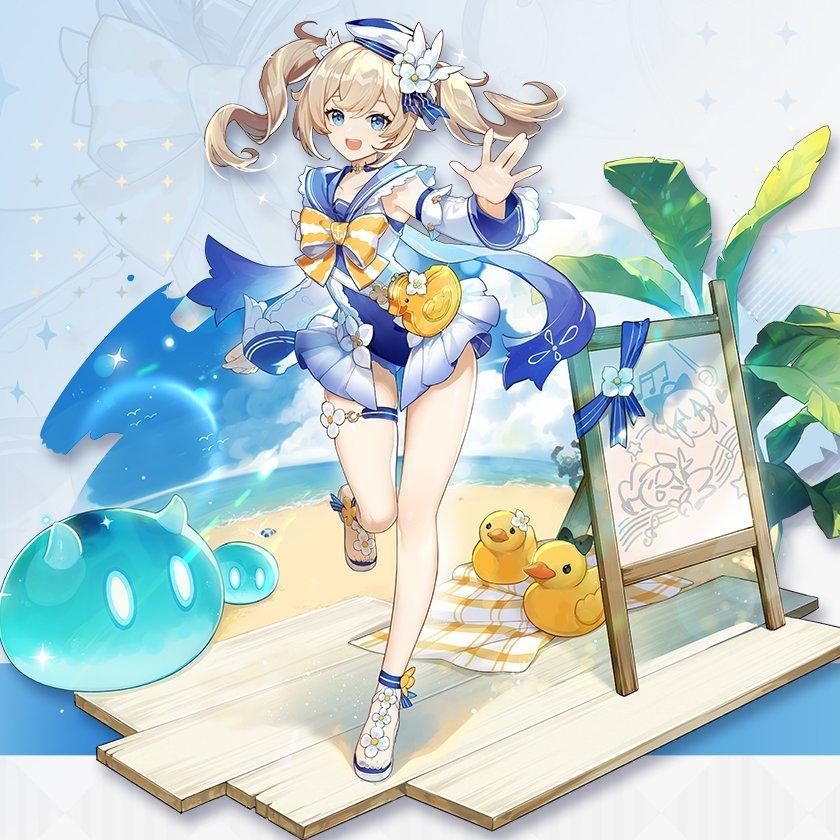 There will be two different sets of skins for Jean and Barbara. During the 1.6 event, you will be able to obtain Barbara's skin for free, while Jean's skin will have a discount. According to Dimbreath on Twitter, the Jean skin will cost 1350 Genesis Crystals during the event promotion. If you purchase it after the event, it will cost 1680 Genesis Crystals. You can obtain Barbara's skin through this event below: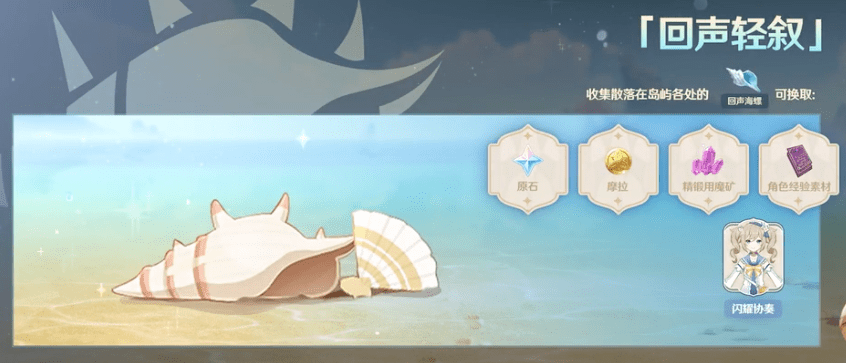 Maguu Kenki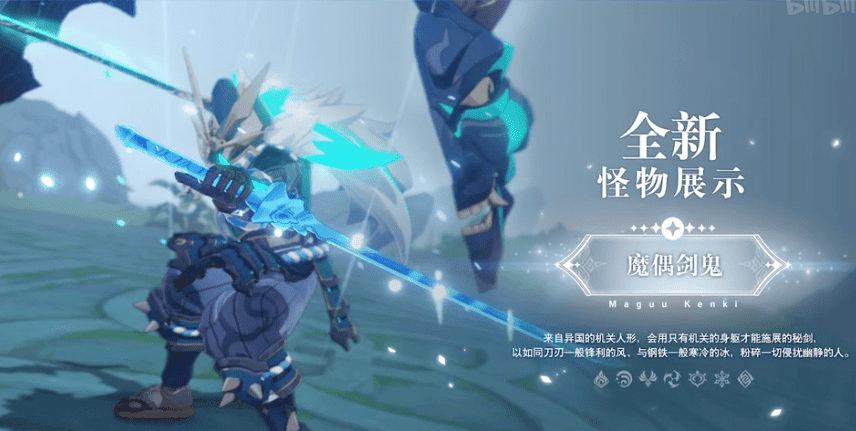 Maguu Kenki is a new world boss that will be available in the Archipelago region. He has two elemental forms, Cryo and Anemo, and can clone himself to summon 2 more Maguu Kenkis.
New Archon Quest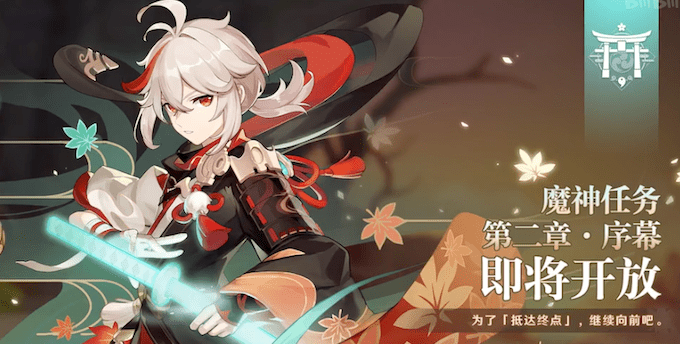 Through the new Archon Quest, you will meet Beidou who will help you to enter Inazuma. Kazuha explains that Inazuma is currently under lockdown due to the Raiden's reign and is currently part of the Crux Fleet. The Inazuma journey is near!
New Weapons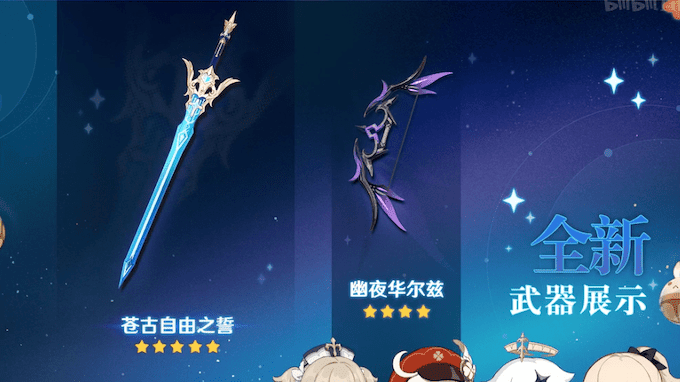 There will be two new weapons on the weapon banner, a 5-star sword called Freedom Sworn and a 4-star bow called Mitternacht's Waltz. The 5-star sword seems to be from the same series as the Song of Broken Pines, though its current sub-stat and passive are unknown. The Mitternacht's Waltz might hint towards Fischl as a user since it fits her colour scheme. I will write about the weapons and how to use them when more information is released!
Events
There will be four new events in the 1.6 Version, though we are currently unsure of the release sequence.
Kaboomball Kombat: This works similarly to a Badminton game where you are fed several balls to hit back to the target. You can complete this event in Co-Op!
Windborne Martial Legend: This is Hypostatic Symphony 2.0 where you can select the difficulty of the event and get rewards based on your highest cleared score. On each day, you can fight a different boss from the following: Oceanid, Primo Geovishap, Maguu Kenki
Sudden Endless Battle: You have to fight several different enemies on the archipelago and obtain rewards along the way.
Serenitea Pot Updates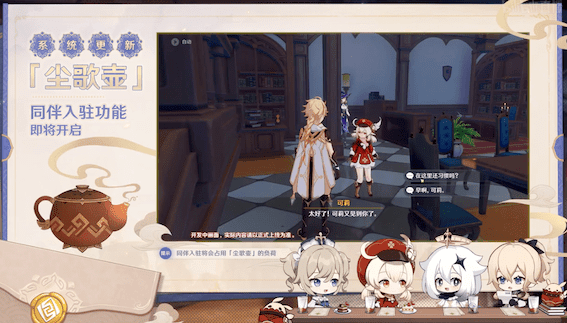 You will be able to place characters that you own inside your Serenitea Pot and doing so will increase your friendship EXP with the corresponding character. Doing so might give you some gifts such as Primogems, Mora and Talent Books. Each character has their own signature furniture sets that you will be able to place in your world.
Inazuma Teasers
Ayaka was present to explain some regions in Inazuma that you can see below: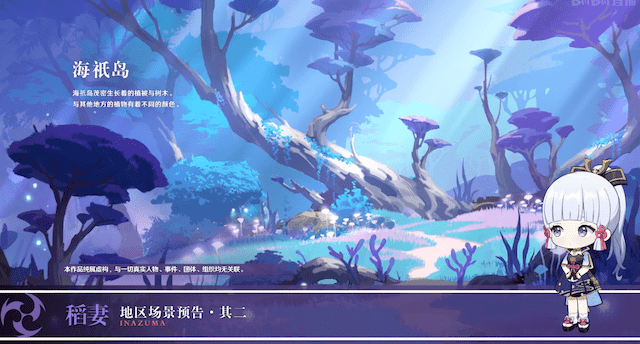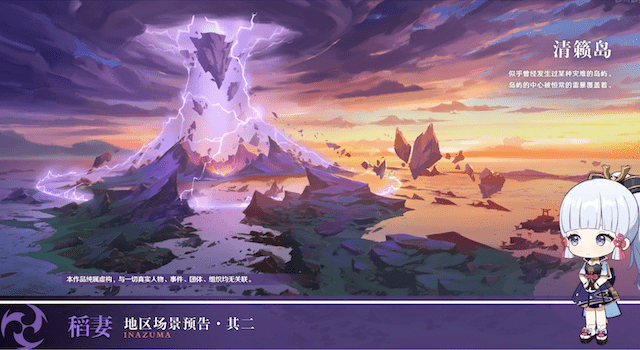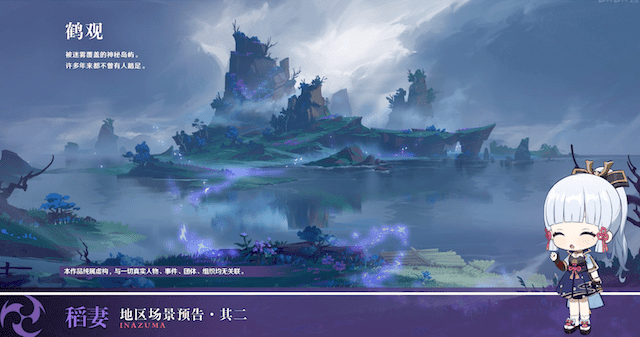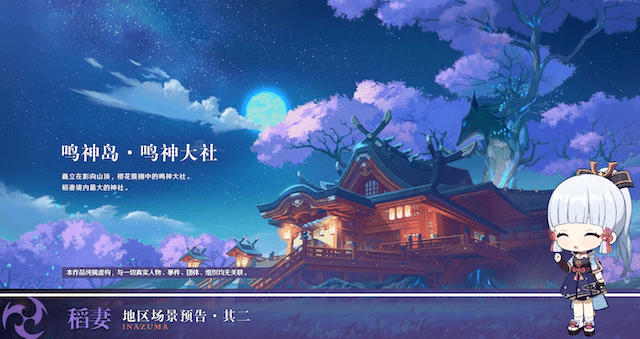 QoL Updates
Your Adventurer's Handbook that locates enemies on your map will automatically navigate towards the next available enemy once you have obtained the materials from the previous enemy.
There will be keybinds to access your Friend's list and your Team Setup for PC players.
We hope that you have found this article helpful and that you will enjoy the new updates in the 1.6 version of Genshin Impact! Head here to read a Eula build guide or here to read about the Battlefront: Misty Dungeon Event. Let us know if there are other articles you would like to read!