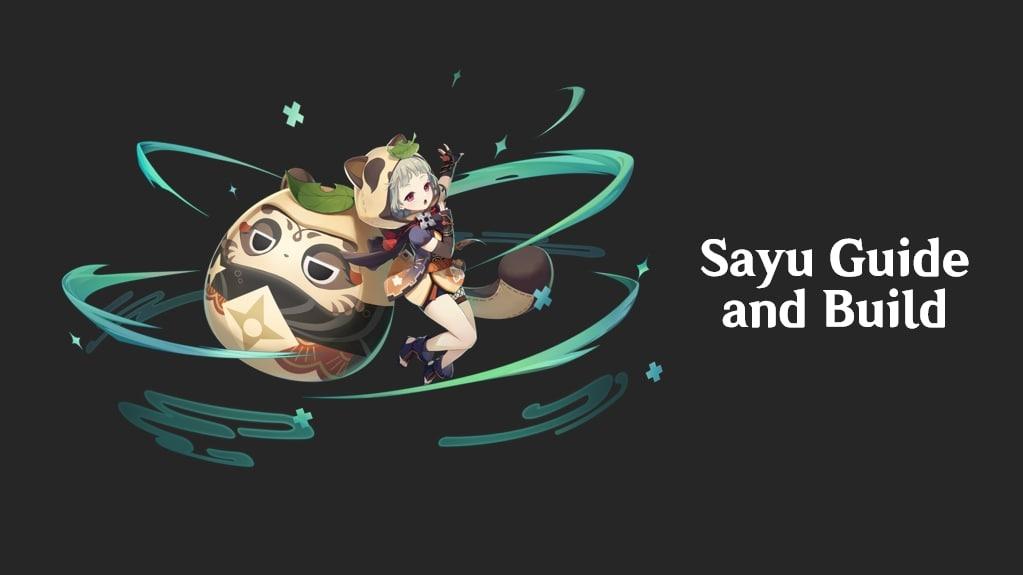 Preview
Sayu is an Anemo 4-star claymore character that is currently in Ayaka's banner. She has a Healer role and an interesting skill that allows her to roll around at high speeds. The materials she requires are below: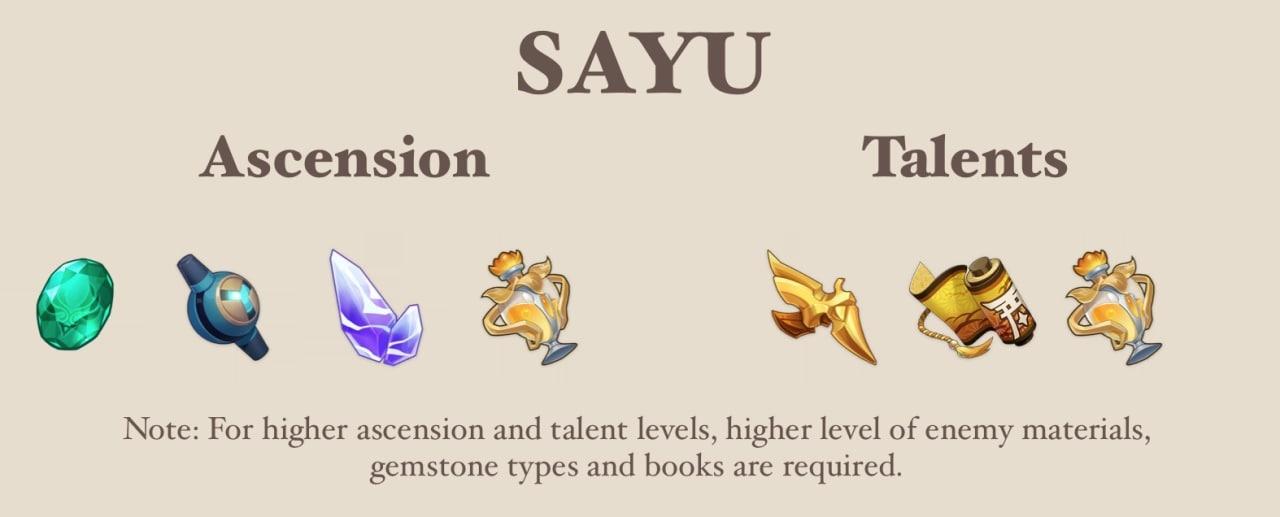 The Gilded Scale is earned through defeating the weekly boss Azhdaha, giving 1 or 2 each time at higher levels, while the Marionette Core required for levelling is obtained from the Maguu Kenki. The Energy Nectar is used to level Sayu and her talents and is dropped by Whopperflowers that can be found throughout Teyvat. Her talent books required are Philosophies of Light, which can be obtained in the Violet Court Domain. She uses Crystal Marrow as her levelling material.
This article will introduce you to the weapons and artifacts to use on Sayu and the party setup you can use with her. I will include options for free-to-play players, as well as beginners.
Sayu Weapons
Sayu works best with Energy Recharge/ATK sub-stat weapons. If possible, I would recommend using a 5-star weapon (Wolf's Gravestone, Skyward Pride). Otherwise, you can also use the F2P weapons Katsuragikiri Nagamasa and other 4 star weapons. You can use the weapons below: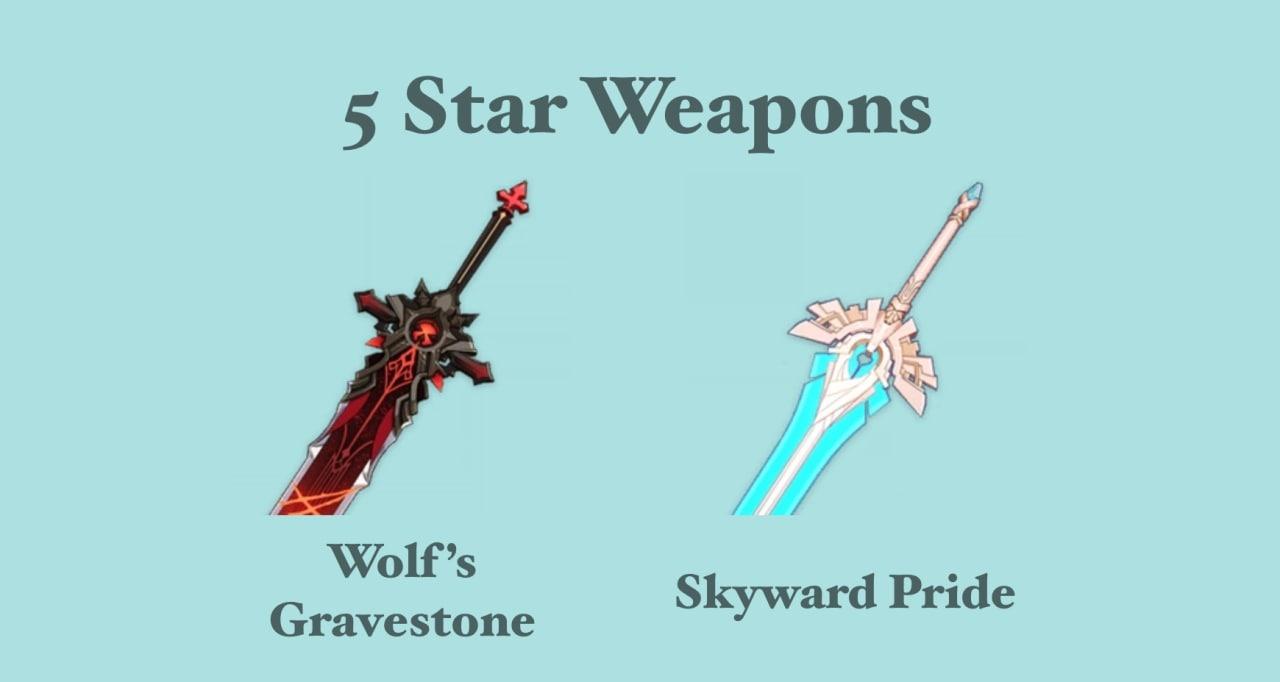 The Wolf's Gravestone claymore is the best option for Sayu, but might not be very attainable for F2P players, despite the current weapon banner wishing system. The passive of the greatsword increases ATK by 20%. On a hit, attacks against enemies with less than 30% HP increase all party members' Base ATK by 40% for 12s. Though this can only occur once every 30s, it can help buff your Main and Sub DPS characters greatly.
Alternatively, you can use the Skyward Pride which also has an Energy Recharge sub-stat. It increases all DMG by 8%. After using an Elemental Burst, Normal or Charged Attack, on hit, creates a vacuum blade that does 80% of ATK as DMG to opponents along its path. Lasts for 20s or 8 vacuum blades.
The 5-star weapons are rather unattainable but since Sayu's heals scale off ATK, the high base ATK of these weapons would increase her heals as well.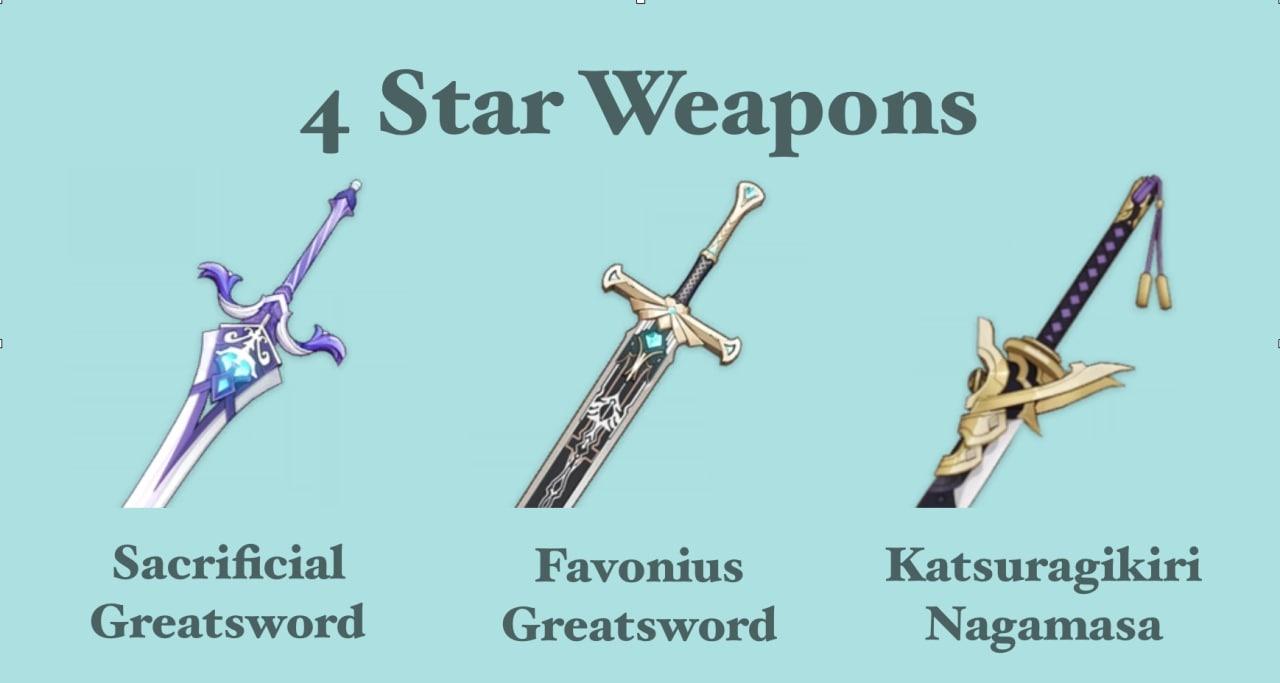 For Energy Recharge sub-stats, you can use the 4-star Favonius Greatsword. CRIT hits have a 60% chance to generate a small number of Elemental Particles, which will regenerate 6 Energy for the character, which can only occur once every 12s. This is great to continuously generate Sayu's ultimate.
Alternatively, you can use the F2P friendly Katsuragikiri Nagamasa. It increases Elemental Skill DMG by 6%. After Elemental Skill hits an opponent, the character loses 3 Energy but regenerates 3 Energy every 2s for the next 6s. This effect can occur once every 10s and can be triggered even when the character is not on the field. As a craftable weapon, this is the best F2P and beginner option.
The Sacrificial Greatsword has an Energy Recharge sub-stat and is also viable. After damaging an opponent with an Elemental Skill, the skill has a 40% chance to end its CD and this can only occur once every 30s.
Though Sayu's heals scale off her Elemental Mastery, I would recommend focusing on Energy Recharge for the weapon and building EM in artifacts instead.
Sayu Artifacts
Sayu should use a 4-set of Viridescent Venerer. The Viridescent Venerer set increases Anemo DMG Bonus by 15% and increases Swirl DMG by 60%, decreases the opponent's Elemental RES to the element infused in the Swirl by 40% for 10s. Though some might recommend 2-set Gladiators to increase ATK for heals scaling with 2-set Viridescent, 4-set Viridescent is still preferred due to the buffs that Sayu can give to your Main and Sub DPS.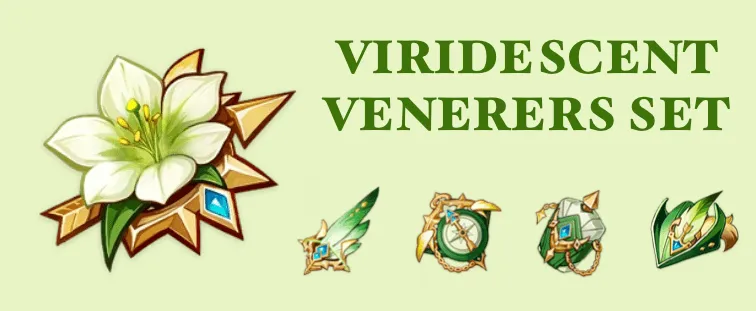 The Viridescent Venerer set can be obtained from the Vallet of Remembrance Domain. For a guide on completing the domain, you can click here.
The stats and sub-stats that you should prioritise are as below:
Flower sub-stats: ER%, EM, ATK%, ATK
Feather sub-stats: ER%, EM, ATK%, ATK
Watch stat: EM
Goblet stat: EM
Mask stat: EM (can use Healing Bonus if you require more heals)
Sayu Talents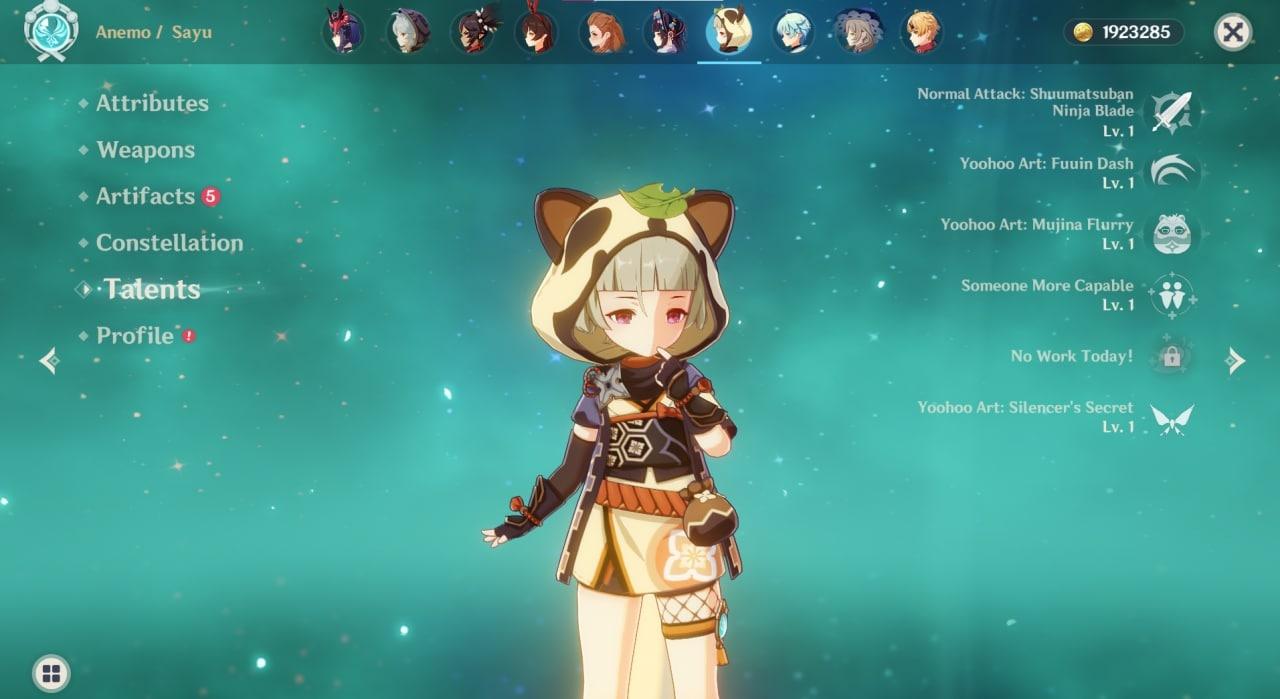 The best order to upgrade your talents is below.
Yoohoo Art: Fuuin Dash > Yoohoo Art: Mujina Flurry > Shuumatsuban Ninja Blade
Party Setup
With Sayu as the healer/reaction buff, you should use characters that can deal DMG off-field with Sayu's rolling skill. I would recommend Xiangling for her Pyronado ability to infuse Pyro in the swirl reaction. As support, Sayu can greatly decrease RES and increase Elemental Mastery. I use Fischl for Electro Swirl, Xiangling for Pyro Swirl, Zhongli for shield and Sayu for buffs and heals. Another team composition could be Diluc with Xingqiu for Vaporise composition and Sayu acting as a Swirl buff.
Conclusion
Overall, Sayu seems to be a very fun healer that some have described as 4-star Jean and even her replacement.
We hope that you have found this article helpful! For more information on Ayaka, and the permafreeze comp, you can take a look at this article. Do look out for more Genshin guides from me and let us know if there are other articles you would like to read!