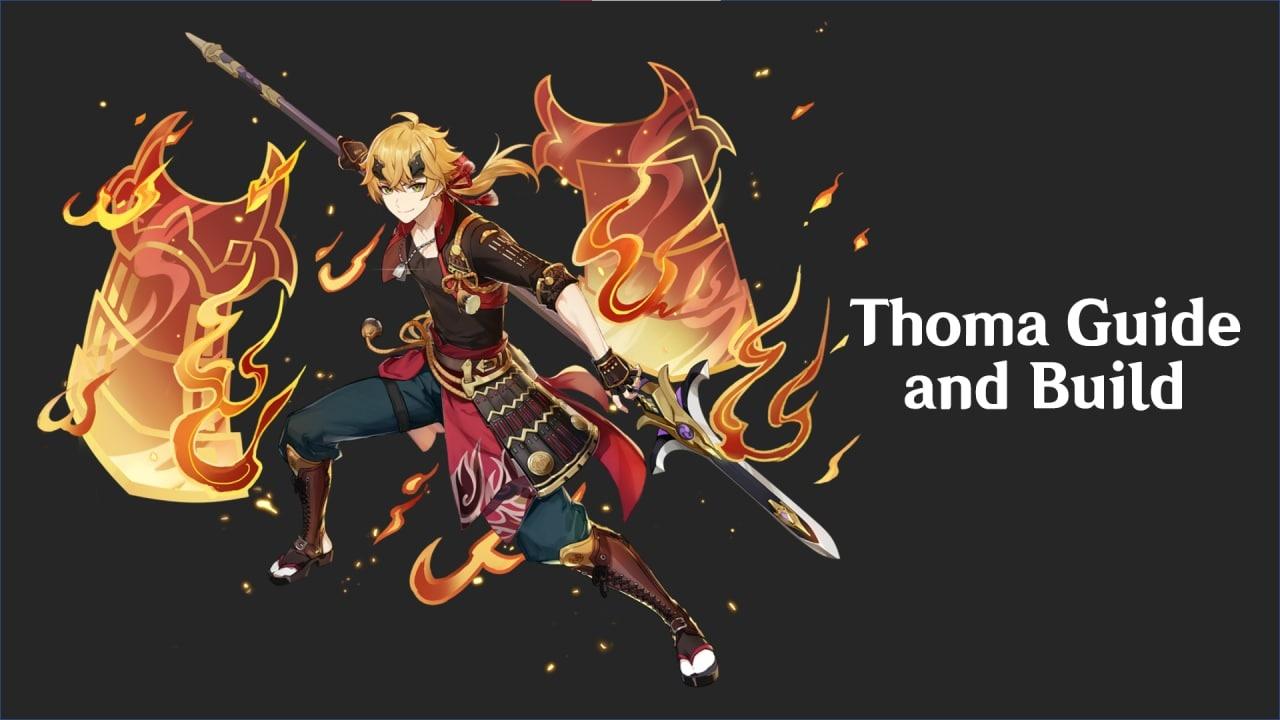 Preview
Thoma is a Pyro 4-star polearm character that was released along with Hu Tao's rerun. He has a Support/Shield role and can act as a great Pyro support for other Pyro characters. The materials he requires are below: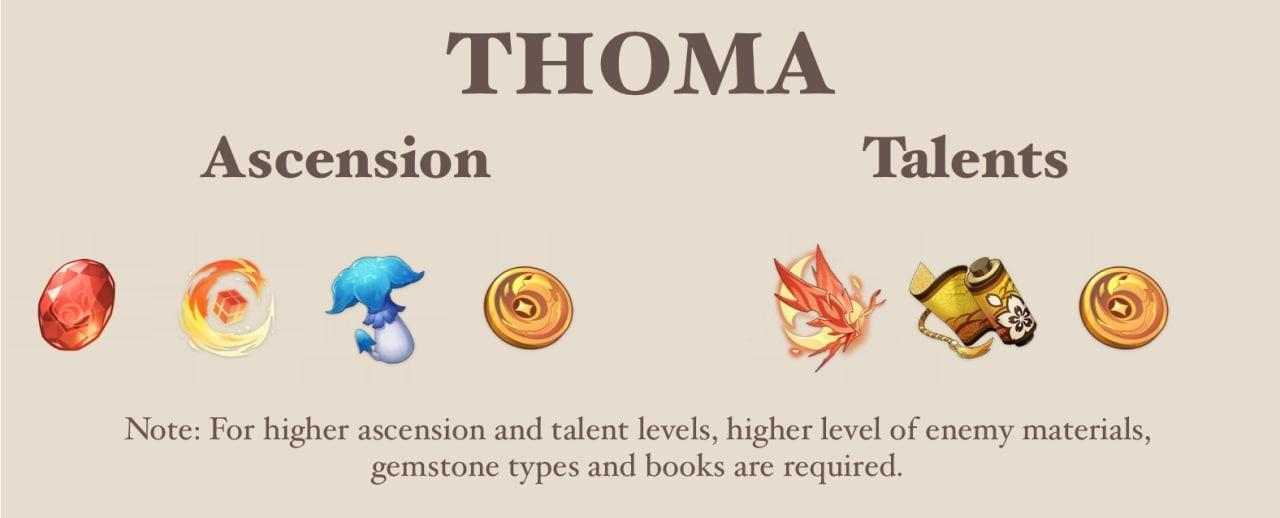 The Hellfire Butterfly is earned through defeating the weekly boss La Signora, giving 1 or 2 each time at higher levels, while the Smoldering Pearl required for levelling is obtained from the Pyro Hypostasis. The Golden Raven Insignia is used to level Thoma and his talents and is dropped by Treasure Hoarders that can be found throughout Teyvat. His talent books required are Philosophies of Transience, which can be obtained in the Violet Court Domain. He uses Fluorescent Fungus as his levelling material.
Thoma Weapons
Thoma works best with Energy Recharge sub-stat weapons. If possible, I would recommend using a 5-star weapon (Skyward Spine). Otherwise, you can also use the F2P weapons The Catch and other 4 star weapons. You can use the weapons below: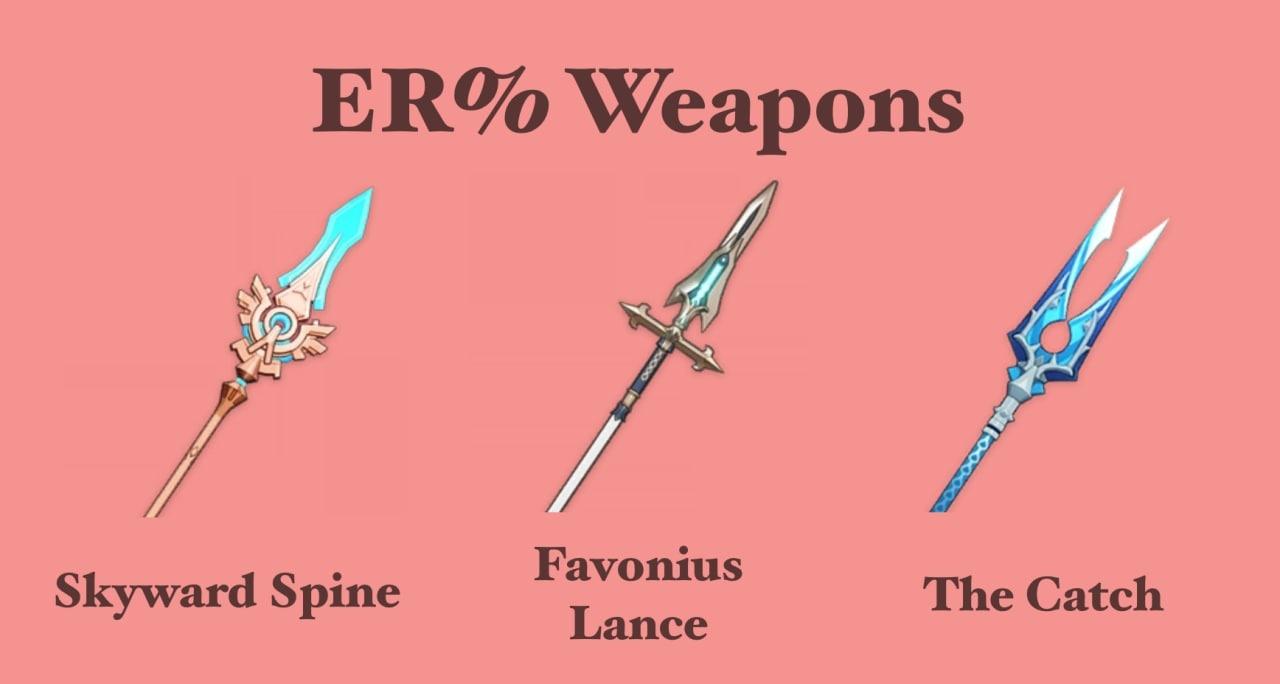 The Skyward Spine polearm is the best option for Thoma, but might not be very attainable for F2P players, despite the current weapon banner wishing system. The passive of the spear increases CRIT Rate by 8% and increases Normal ATK SPD by 12%. Additionally, Normal and Charged Attacks hits on enemies have a 50% chance to trigger a vacuum blade that deals 40% of ATK as DMG in a small AoE. This effect can occur no more than once every 2s.
Alternatively, you can use the Favonius Lance which also has an Energy Recharge sub-stat. CRIT hits have a 60/70/80/90/100% chance to generate 1 Elemental Orb, which will regenerate 6 Energy for the character, this can only occur once every 12s.
Alternatively, you can use the F2P friendly The Catch. It increases Elemental Burst DMG by 16% and Elemental Burst CRIT Rate by 6%. Though this weapon is more focused on a Sub DPS Thoma, it works well for a support as well and is generally good for beginners. Due to low damage scaling on Thoma, I would still recommend a support build instead of a Sub DPS.
Thoma Artifacts
Thoma should use a 4-set of Noblesse Oblige. The Noblesse Oblige set increases Elemental Burst DMG by 20% and increases all party members ATK by 20% for 12s after performing an Elemental Burst. Though some might recommend 2-set Tenacity of the Millelith to increase HP for shields with a 2-set of Emblem of Severed Fate to increase Energy Recharge, 4-set Noblesse is still preferred due to the buffs that Thoma can give to your Main and Sub DPS.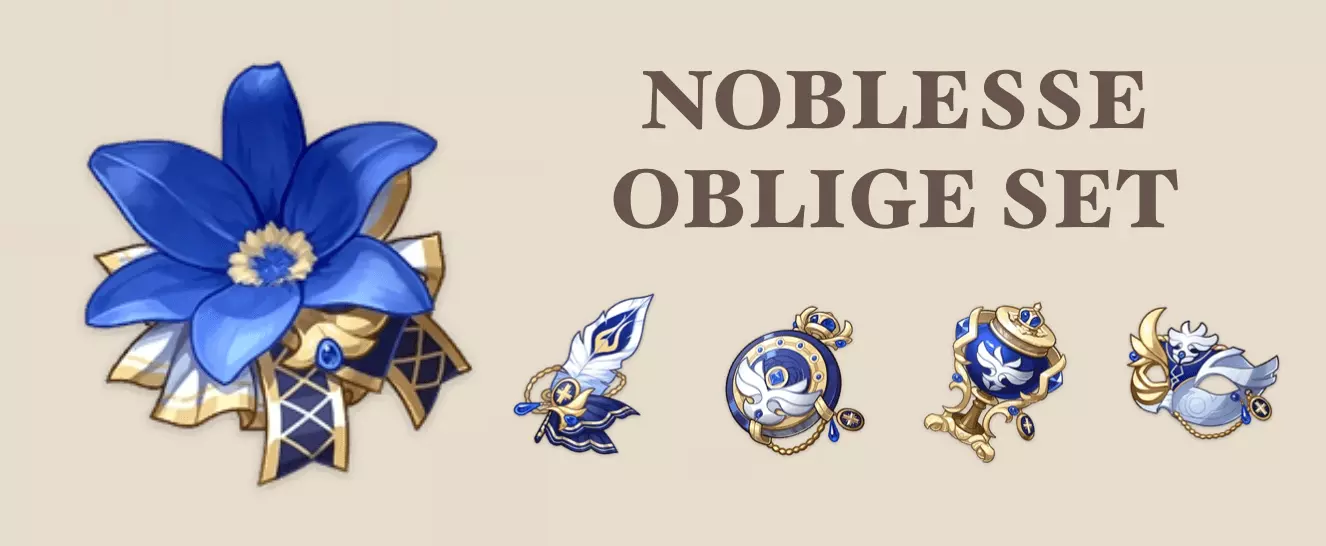 The Noblesse Oblige set can be obtained from the Clear Pool and Mountain Cavern Domain. For a guide on completing the domain, you can click here.
The stats and sub-stats that you should prioritise are as below:
Flower sub-stats: ER%, HP%
Feather sub-stats: ER%, HP%
Watch stat: ER%
Goblet stat: ER%
Mask stat: HP%
Thoma Talents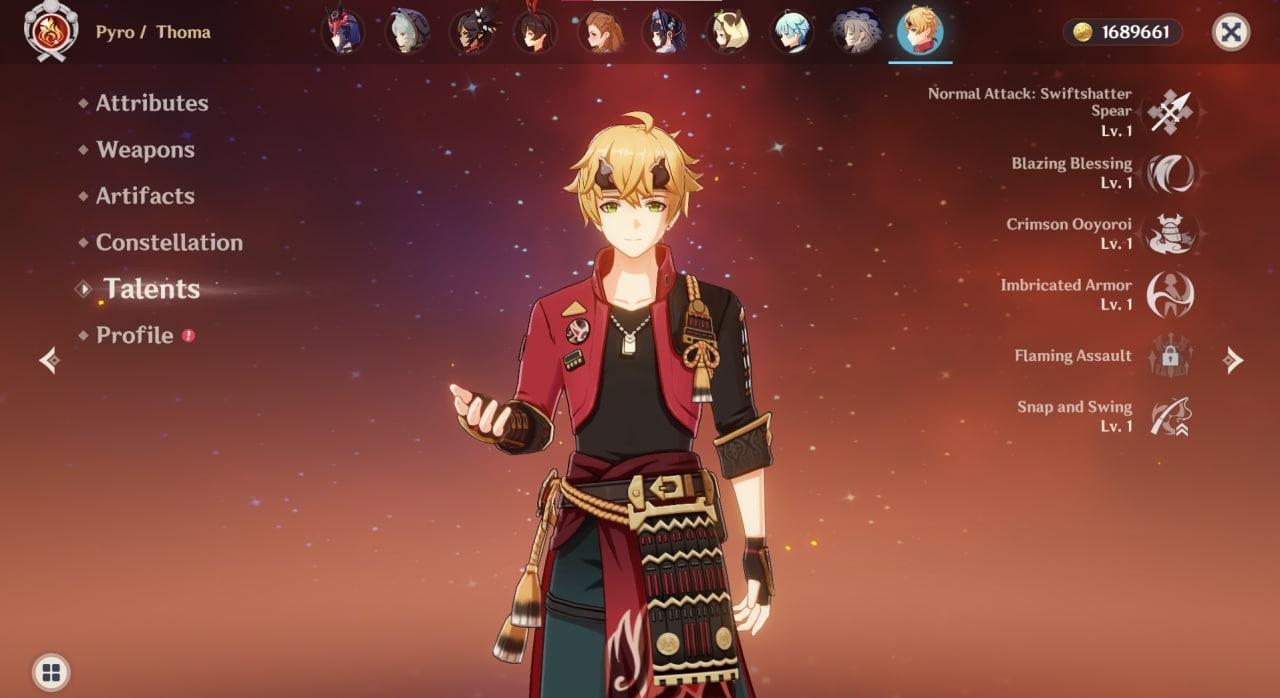 The best order to upgrade your talents is below.
Crimson Ooyoroi > Blazing Blessing> Swiftshatter Spear
Party Setup
With Thoma as the shield/support, you should use characters that can deal Pyro DMG with Thoma's ultimate that infuses normal attacks with Pyro. I would recommend Hu Tao or Diluc. Hu Tao is a great character to use with Thoma due to the cooldown of her skill. As support, Thoma can allow for more Pyro related reactions and give some buffs depending on the amount of HP he has. I use Hu Tao for Main DPS, Xingqiu for Vaporise reactions, Kazuha for support/shred RES and Thoma for shield and support. Another team composition could be Tartaglia for Vaporise and Thoma acting as a support and Venti/Sucrose providing Swirl reactions. However, do note that Thoma's skills don't allow for consistent Vaporise with Childe and you are better off using Xiangling instead.
Conclusion
Overall, Thoma seems to be a rather overlooked character due to his targeted support role for Pyro DPS and shortcomings with Childe. However, he definitely plays the Pyro support role very well. I would recommend giving him a try if you are a Hu Tao main and are bored of the standard meta teams with the walnut girl.
We hope that you have found this article helpful! If you would like to learn more about building Hu Tao, you can refer to this article or here to read more about Tartaglia. For more information on Ayaka, and the permafreeze comp, you can take a look at this article. Do look out for more Genshin guides from me and let us know if there are other articles you would like to read!