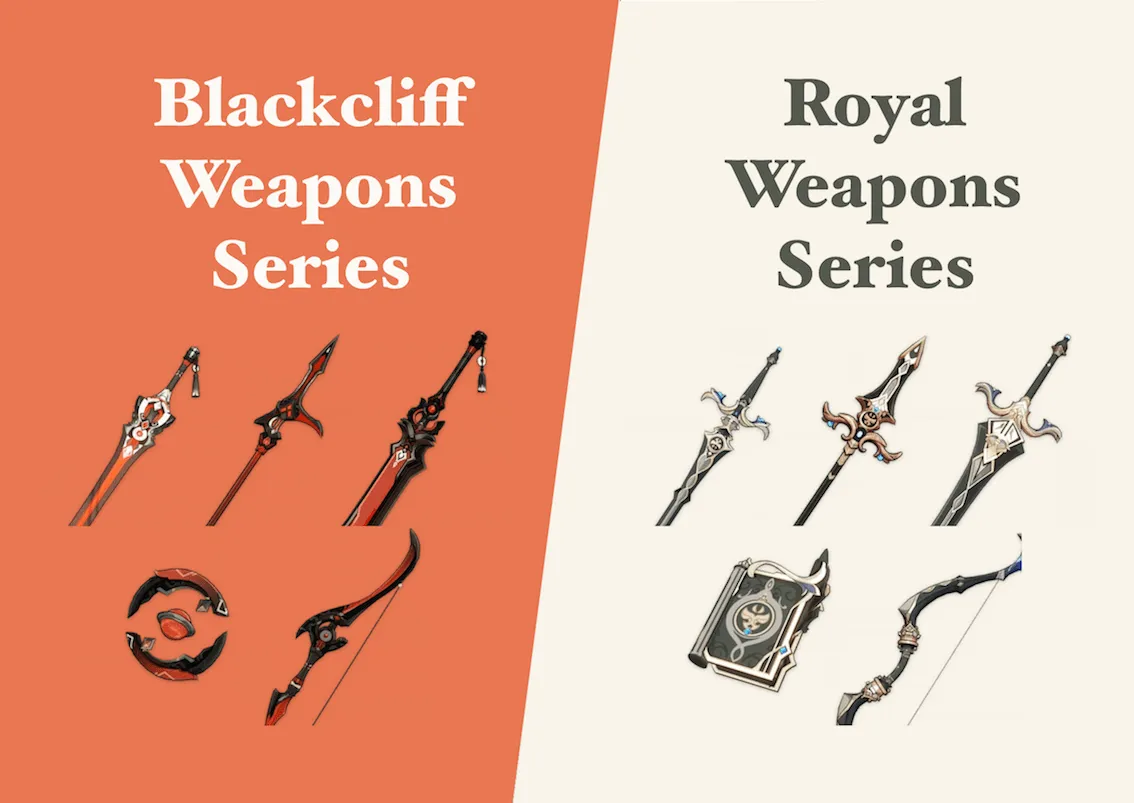 The weapons available in the Paimon Bargains Shop are available for purchase for F2P players, as long as you have saved up enough Masterless Starglitter. The weapon sets rotate every month between the Royal Series and the Blackcliff Series and this guide will detail the benefits of each weapon type, as well as the characters that the weapons can be used for.
Royal Series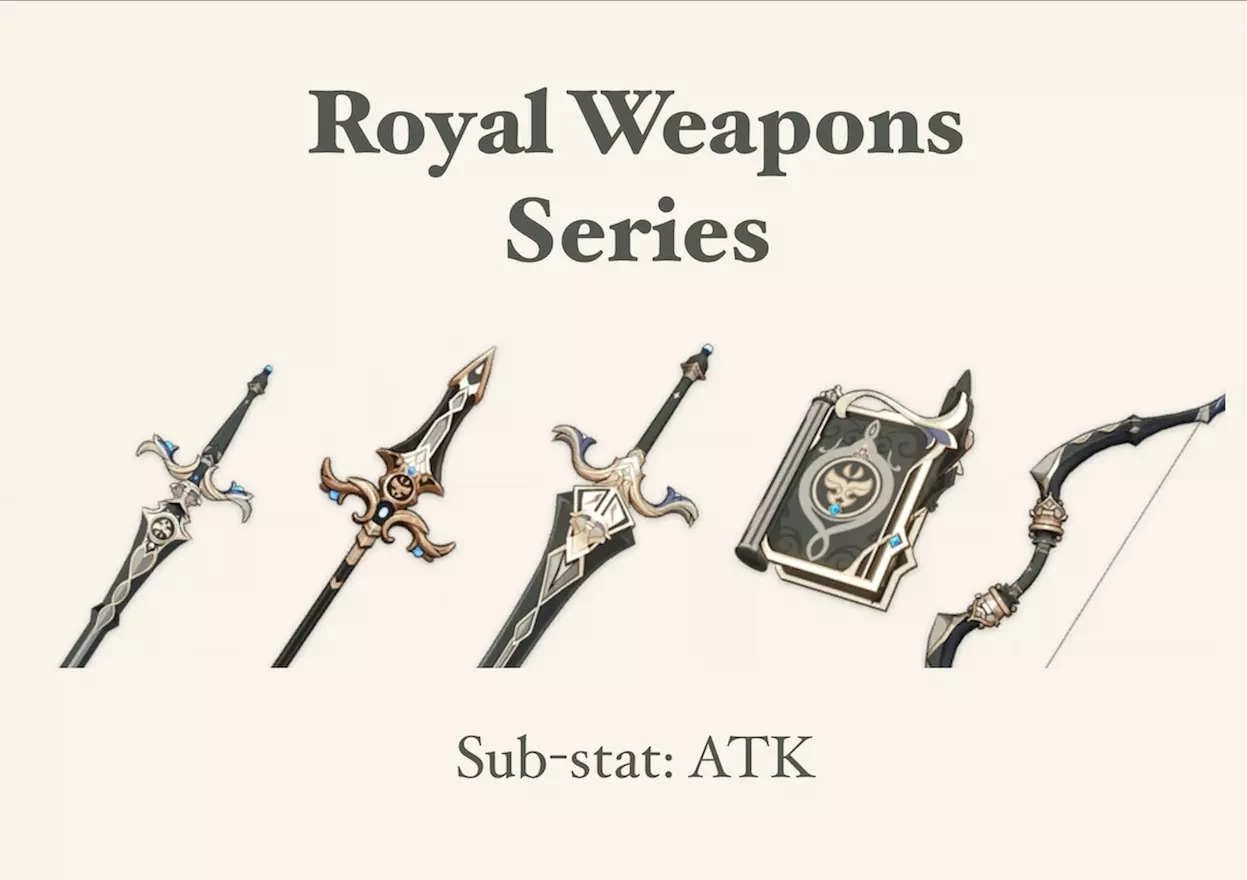 The Royal Series of weapons in Genshin Impact all have a sub-stat of ATK, which is greatly beneficial for a Main DPS character or a Physical DMG focused Sub DPS. The sub-stat of increased CRIT Rate by 8% with each hit allows for higher DMG output and allows for increased CRIT Rate up to 40%. This is definitely a strong weapon series that you should consider, especially if your character has a low CRIT Rate. With this weapon and a CRIT DMG artifact, your characters will be able to deal massive DMG.
Of the Royal Series, the best weapon would definitely be the Claymore. The slow attack style of the Claymore with the Sub-stat of the weapon allows for higher CRIT DMG, especially for Physical DPS characters such as Razor. For example, using Razor's ultimate with the Royal Greatsword will allow for CRIT hits with each attack. The Royal Greatsword works well on all Claymore characters, particularly Razor and Diluc. Do note that the craftable Prototype Archaic (previously known as Prototype Aminus) is another good option for a claymore that you can consider.
For the Royal Grimoire, given that all Catalyst characters perform elemental attacks, a weapon with Elemental Mastery Sub-stat might be more suitable. For example, the craftable Mappa Mare might benefit Sub DPS characters such as Mona and Main DPS Characters such as Klee more.
Unfortunately, the Royal Longsword might not be the best option for sword characters. As of now, most of the Sword characters are Sub DPS or Utility, such as Bennett, Albedo and Xingqiu. As such, few "hits" will be performed on enemies using your Sub DPS/Utility character and you should use an Energy Recharge sword (such as the Festering Desire from the Dragonspine update) instead. Additionally, Keqing works well with a consistently high CRIT Rate, making it difficult for this weapon to work on her. With a high CRIT Rate, the sub-stat of the weapon is rendered useless.
The Royal Spear has the potential to be great for polearm characters due to the faster attack style, but do note that the current polearm characters will benefit from other weapons more. Xiao and Zhongli will both benefit from a CRIT Rate sub-stat weapon, such as the Deathmatch, while a Sub DPS Xiangling will work better with an Elemental Mastery weapon, the Dragon's Bane. Hence, I would not recommend using the Royal Spear as there are better options.
Lastly, the Royal Bow will work for a Main DPS Ganyu build, since the increase in CRIT Rate will allow for each charged shot to do more DMG. With a good 1:2 ratio of CRIT Rate to CRIT DMG, the Royal Bow will definitely allow Ganyu to do insane numbers per double-charged shot. Tartaglia could also use the Royal bow, though he would perform better with a Rust.
Overall, the Royal series works best on Claymore characters due to their attack style and the current characters available.
Blackcliff Series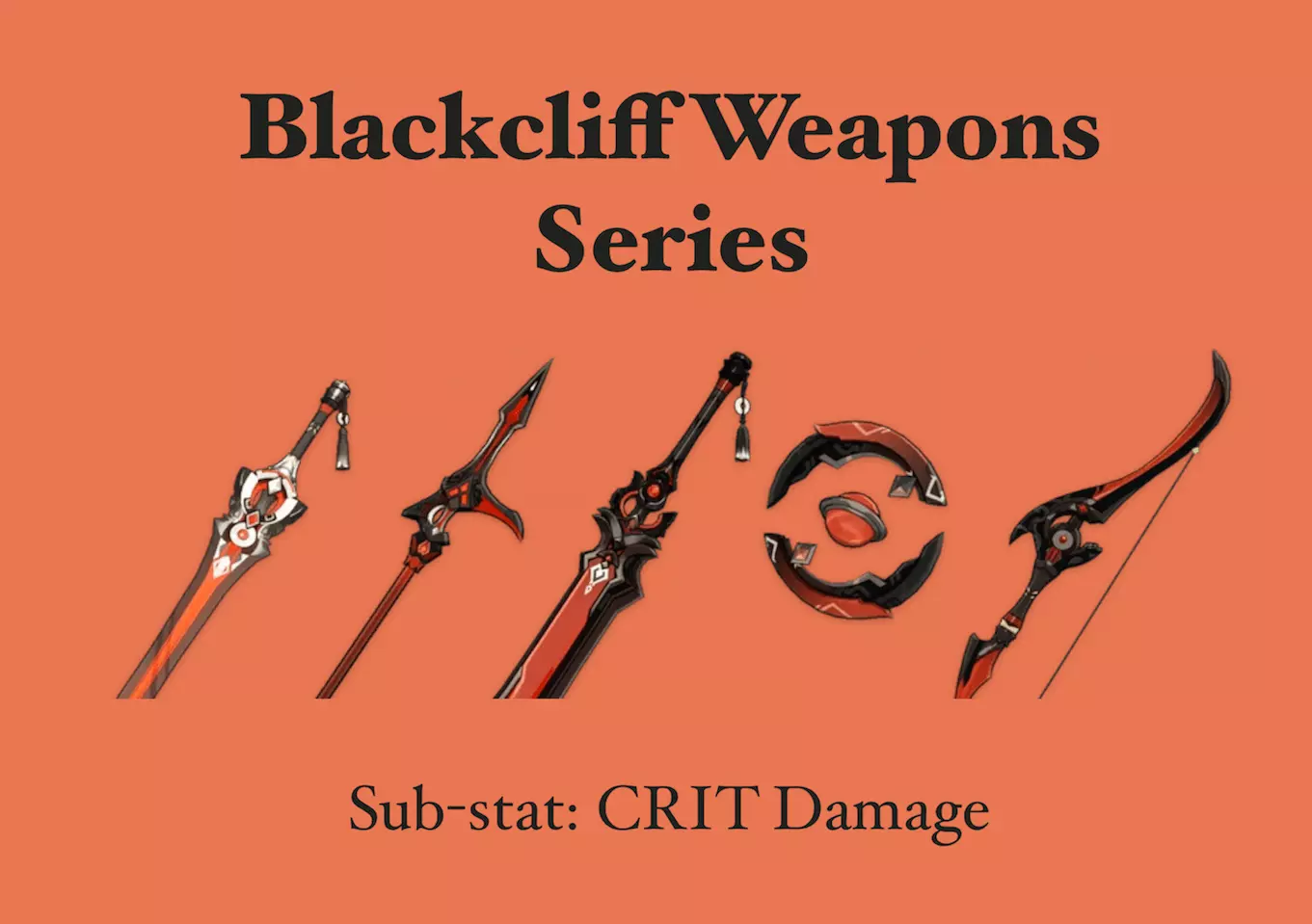 The Blackcliff Series of weapons have a sub-stat of CRIT DMG and has the potential to increase your DMG output for your Main DPS or Burst Support character. If you have bad rolls on your artifacts and weapons, this Blackcliff weapon allows for higher CRIT DMG. Accompanied by a CRIT Rate artifact, this could allow for the desired 1:2 Ratio of CRIT Rate: CRIT DMG. As someone with poor rolls on artifacts, I am saving to get the Blackcliff Pole for Xiao to increase his CRIT DMG. The other sub-stat of increased ATK for 30 seconds after defeating an opponent could be amazing in Spiral Abyss (particularly floors with more enemies) and other domains.
The Blackcliff Slasher is another formidable Claymore weapon that you can consider claiming. With a CRIT DMG sub-stat and ATK buff, you should definitely consider this weapon for characters such as Beidou and Xinyan due to their Physical DPS nature.
For the Blackcliff Agate, it is an option for Ningguang especially if she has a low CRIT DMG. Though Solar Pearl is ultimately the best weapon for her, having the Blackcliff Agate with a CRIT Rate artifact instead could give you the 1:2 ratio that you need. Hence, I would say that Blackcliff Agate is a F2P weapon for Ningguang.
The Blackcliff Longsword is one of the best weapon options for Keqing. As one of the few Main DPS sword characters in the game, Keqing could use the extra CRIT DMG sub-stat on the sword. Additionally, a high CRIT Rate: CRIT DMG ratio is needed for an Electro build Keqing to do more damage. This weapon is definitely great for Keqing, but apart from her, few characters can use this sword. If you would like to get this weapon, I would suggest getting Keqing first as she is most fitted for this weapon.
The Blackcliff Pole is highly recommended for characters that need high CRIT DMG but you are unable to achieve this due to bad rolls on artifacts. Xiao and Zhongli could benefit from this, while an Elemental Mastery build would benefit Xiangling more. However, if you are focused on a Main DPS build for Xiangling or Zhongli, I would recommend a Physical DMG Bonus sub-stat weapon instead, such as the Crescent Pike which is craftable.
Lastly, the Blackcliff Warbow could be a weapon for Main DPS Ganyu due to the CRIT DMG stat. Do note that the Prototype Crescent has performed better for Ganyu so far as it is less reliant on defeating enemies and hence deals more consistent damage, but the Blackcliff Warbow could still do insane amounts of damage once enemies have been defeated. It is up to you based on your playstyle and what you prefer to decide between these weapons.
Overall, this Blackcliff series is a strong contender for the Wish obtained weapons.
Should you Save?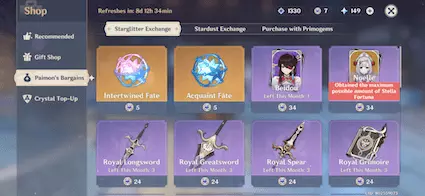 I understand the urge to spend Masterless Starglitter on wishes once you obtain 5, especially if you did not get the character that you want and are close to 5 star pity, but do consider the weapons in the shop since they are F2P friendly. Apart from both of the weapon series, you can also consider the character constellations that you can obtain from the shop. Certain characters get considerable buffs with each constellation, so research exchanging your Starglitter for more pulls. If you would like to read my other weapon guides, you can check out the BP weapons guide here or the Dragonspine weapons guide here and do let us know if there are other articles you would like to read!