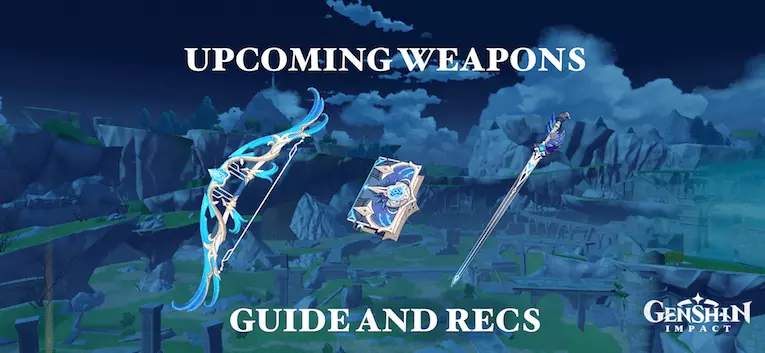 The 1.4 update will come with a new weapon banner on 17th March, with the rated up weapons shown below.
Elegy for the End, a new 5 star bow, will be rated up along with the Skyward Blade. The new 4 star rated up weapons are Wine and Song and The Alley Flash, while the old weapons are Dragon's Bane, Favonius Greatsword and Favonius Warbow.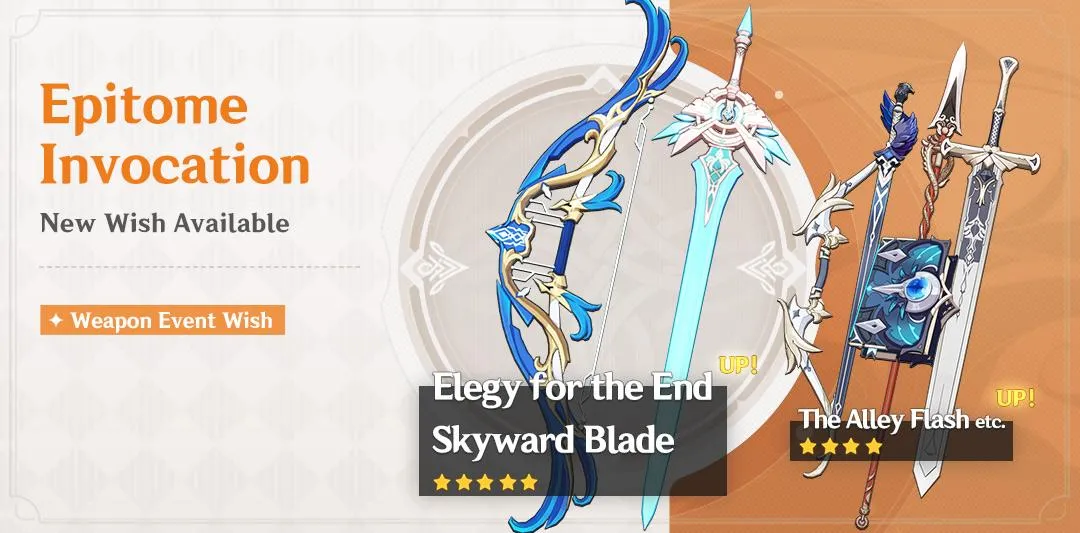 This guide will introduce the characters that work best with each new weapon in the weapon banner, as well as the free weapon from the event shop of Windblume Festival. I will also give suggestions of other weapons and discuss the practicality of summoning on the weapon banner.
Free Bow - Windblume Ode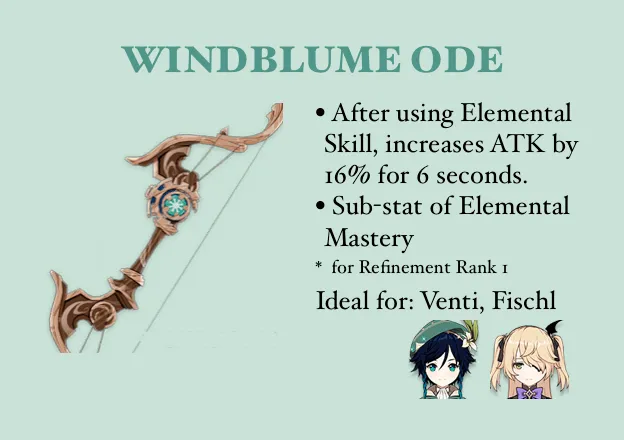 The Windblume Ode will be purchasable from the Event store that comes along with the 1.4 Windblume Festival update. You will be able to exchange event currency (assumably obtained through purchasing in the event) for the bow. With an Elemental Mastery sub-stat, this weapon will work well on Sub-DPS characters that are heavily reliant on making elemental reactions.
For example, Fischl or Ganyu with a Sub DPS build will greatly benefit from the sub-stat. To fully utilise the passive, ensure that you perform a few normal bow attacks after using elemental skills. Given that there will be a Venti banner rerun in 1.4, it makes sense that this bow will work for Venti as well. His role as a utility will help your team shine with higher Elemental Mastery. Characters such as Diona that require Energy Recharge will work better with a Sacrificial bow instead.
Since we cannot be sure of whether the event allows refining the weapon (like the Festering Desire released in the Dragonspine update), it is difficult to compare this weapon with the Stringless. A Refinement 5 Stringless definitely has its merits but test-runs will definitely be needed to compare the two bows. As of now, I would say that both the Stringless and the Windblume Ode are great options for Venti or any Elemental Mastery build characters.
Elegy for the End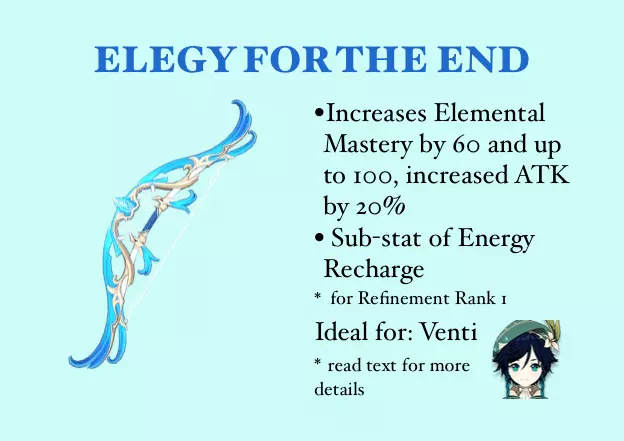 Elegy for the End is one of the best weapons to get for Venti. The Energy Recharge sub-stat definitely makes it an amazing choice for Venti's role as a Utility character. This allows for Venti to consistently gain his Ultimate and use it to group enemies, as well as boosting your Energy Recharge for other characters such as Xiao. Since this is the first 5 star bow with an Energy Recharge sub-stat, I would definitely recommend using it on this 5 star character.
The passive for this bow is slightly complicated. It allows for an increase in Elemental Mastery by 60. By doing damage to enemies four times, Elemental Mastery increases by 100 and ATK is increased by 20% for all your characters in your party. This can occur even if your character is not on the field, so you can switch out to your Main DPS character instead.
However, do note that this bow should not be used on characters such as Tartaglia if possible, as an ATK sub-stat on Tartaglia's weapon will definitely do more damage. The Energy Recharge will benefit Diona as well, to use her Ultimate to heal. Another Energy Recharge weapon you could use instead would be the Sacrificial Bow obtained from Gacha.
Wine and Song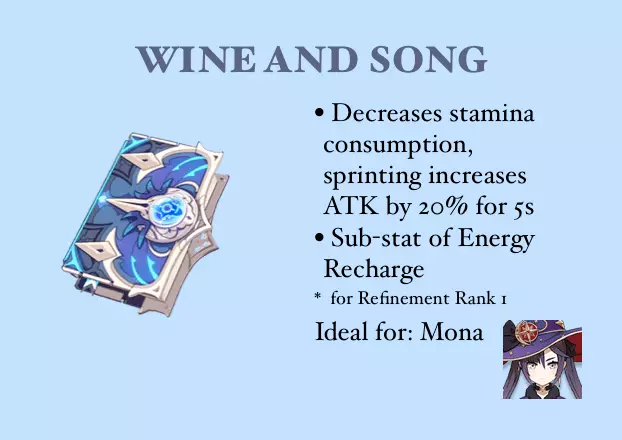 Wine and Song seems to be only viable on Mona. Though the Favonius Codex is already in-game, this new Energy Recharge weapon seems rather promising on Mona. Since Mona gains a Hydro DMG Bonus with Energy Recharge after ascension, this weapon's sub-stat and ATK increase passive work best on her. The other catalyst characters will not benefit from the Energy Recharge as much, as Main DPS such as Ningguang will work better with ATK or CRIT Rate/DMG. Utility characters such as Barbara will work better with Thrilling Tales of Dragon Slayers that buffs other characters. If you are unable to obtain this weapon, the craftable Mappa Mare with Elemental Mastery could work on Mona as well.
Comparing this to Favonius Codex, this weapon seems better on Mona due to the ATK bonus, while the Codex only gives more Energy particles.
The Alley Flash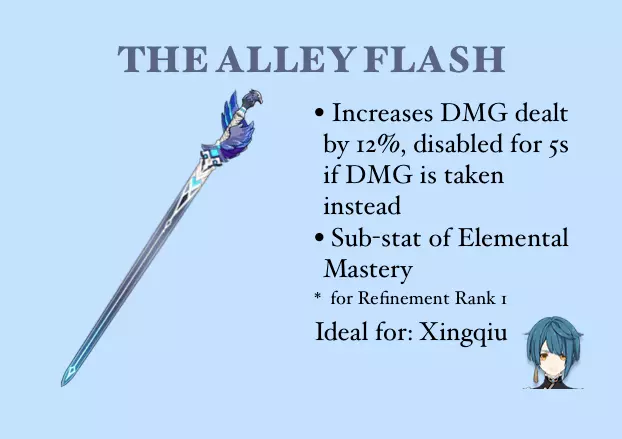 Truthfully, there isn't really an ideal character for this sword at the moment. Xingqiu works better with an Energy Recharge weapon instead, but this could work on him as well, particularly if you have Diluc or Hu Tao in your team and would like to make more Elemental reactions. Healers such as Qiqi, Bennett or Jean could use an Energy Recharge sword instead as well, while DPS characters like Keqing are better with CRIT Rate/DMG or ATK. Perhaps the right character for the weapon is not yet released, Xingqiu or maybe the Anemo Traveller seems to be the best option for now.
When using this sword, ensure that you have a shield character to prevent you from taking DMG, such that you can fully utilise the weapon's passive. Alternatively, I would recommend the craftable Iron Sting if you are looking for an Elemental Mastery sub-stat.
Should you pull on the weapon banner?
The weapon banner has a lower rate of receiving characters but could be helpful if you have confirmed your main characters in Spiral Abyss. The weapons on the banner are undoubtedly powerful and can bring your characters to the next level. This weapon banner is definitely a strong option, with good 4 star weapons rated up as well.
As someone who has spent around $90 on my account getting Battle Passes and Welkin Moons, I personally have not yet pulled on the weapon banner. I enjoy getting new characters and having more constellations for the 4 star characters that I like instead. Ultimately, it is your choice to pull on the banner or not as there is no right way to wish in Genshin Impact!
If you would like to read more of our weapon guides, you can take a look at the Battle Pass weapons guide here. Do let us know if you are interested in any other Genshin articles!